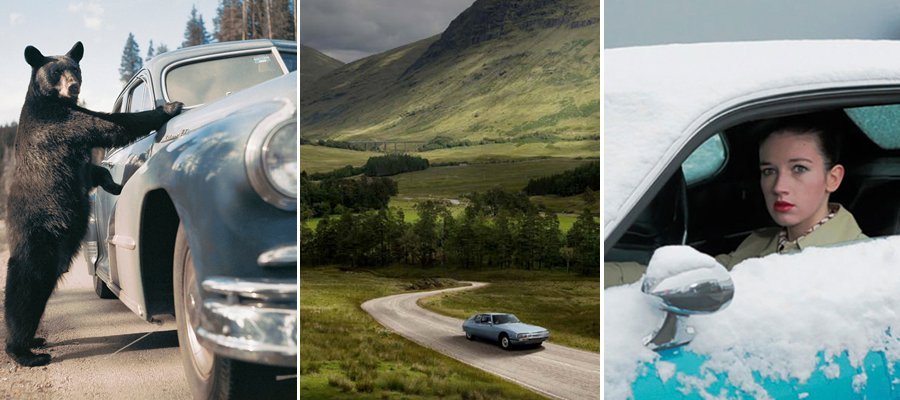 "A chariot can be made that moves at an unimaginable speed without horses," the philosopher Roger Bacon predicted in the 13th century. Another six centuries had to pass before cars finally became a reality. Over the years, cars, which started as a simple means of transport, have become an expression of power and freedom, a symbol of the American dream. In the popular imagination, cars represent the rise of the middle class and individual self-worth. Throughout the twentieth century, but especially from the 1950s onwards, cars have inspired movies and made us dream. Many films have cars that are practically co-stars, like James Bond's Goldfinger, Batman's Batmobile, the Ghostbusters' Ectomobile, the DeLorean from "Back to the Future" and the Spear from "The Easy Life." This fascination has also spread to photography, where cars have played various roles throughout the decades: decorative elements of a landscape in transformation, mechanical monuments to modern aesthetics, a means of transport, but above all an individual space, an intimate space, where people talk, eat, sleep, love, as if they were in their own small, mobile houses. Cars have become a favorite subject for many masters of street photography, as with the 23 photographers showcased as part of the Drive In exhibition (until May 2 in the Bildhalle Gallery in Kilchberg, Switzerland). Among these are the master Robert Frank, who traveled by car with his family for two years to tell the story of America; Elliott Erwitt, who brought sedans to the collective imagination with skillfully employed irony; René Burri, who crossed Brazil to document how traffic has changed the face of the country; Simone Kappeler, enraptured by the charm of a colorful America where cars are an intrinsic element of '80s culture; and Emil Schulthess, where cars help to build an aesthetic founded on the grotesque. Check out a selection of photos from the Drive In exhibition below--but don't blame us if you suddenly have an urge to snag a vintage car of your very own.
This post was originally published on HuffPost Italy and was translated into English.
Calling all HuffPost superfans!
Sign up for membership to become a founding member and help shape HuffPost's next chapter