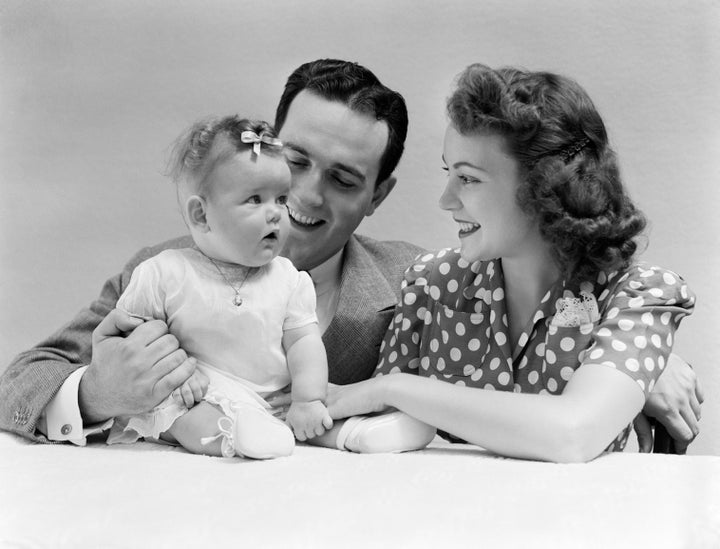 Baby naming fads come and go, but plenty of names have staying power.
The Social Security Administration tracks these trends over time and has compiled lists of the most popular names every year since the 1880s. The SSA also shares lists of the top names for each decade.
We decided to take a look at the most popular names of the 1940s. Naturally, there were a lot of baby girls named Mary, Nancy and Carol. As for the boys, names like James, William and Charles are still popular today.
Keep scrolling to see the 50 most popular names for boys and girls born in the U.S. from 1940 to 1949.
Girls
Mary

Linda

Barbara

Patricia

Carol

Sandra

Nancy

Sharon

Judith

Susan

Betty

Carolyn

Margaret

Shirley

Judy

Karen

Donna

Kathleen

Joyce

Dorothy

Janet

Diane

Janice

Joan

Elizabeth

Brenda

Gloria

Virginia

Marilyn

Martha

Beverly

Helen

Bonnie

Ruth

Frances

Jean

Ann

Phyllis

Pamela

Jane

Alice

Peggy

Cheryl

Doris

Catherine

Elaine

Cynthia

Marie

Lois

Connie
Boys
James

Robert

John

William

Richard

David

Charles

Thomas

Michael

Ronald

Larry

Donald

Joseph

Gary

George

Kenneth

Paul

Edward

Jerry

Dennis

Frank

Daniel

Raymond

Roger

Stephen

Gerald

Walter

Harold

Steven

Douglas

Lawrence

Terry

Wayne

Arthur

Jack

Carl

Henry

Willie

Bruce

Joe

Peter

Billy

Roy

Ralph

Anthony

Jimmy

Albert

Bobby

Eugene

Johnny