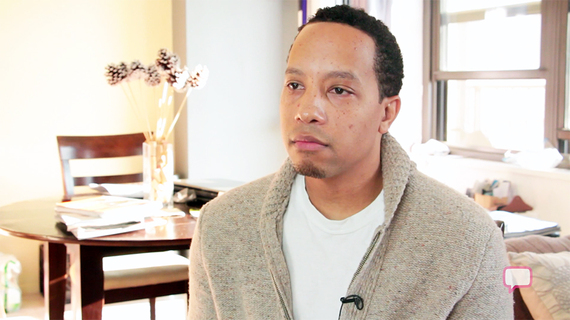 I'm From Driftwood is a 501(c)(3) nonprofit archive for lesbian, gay, bisexual, transgender, and queer stories. New stories are posted on the site every Wednesday.
James Felton Keith went back to his hometown of Detroit to help rebuild the city after it went bankrupt. On his first day working in the new mayor's office, a colleague was giving him a tour of the office when two gay men walked by and were introduced. After they left, James was shocked at what he heard from his colleague:
She nudges me and says, "You know, these white gay guys are coming to take all our jobs."

And my first reaction was to kind of smirk or laugh but I knew that it was wrong. I was also in the city to assume the role as the president of the new newly-established LGBT Chamber of Commerce. And having to kind of wear my truth on my sleeve, I let her know that I'm also here to work with the LGBT Chamber of Commerce.

And she paused and said, you know, like, "You too?"

I say, "Yeah, I'm with them."

And she said, "Oh, you know it's fine, it's fine. I was just saying, I was just letting you know that, you know, they're here and they're getting a lot of these jobs. You know what I mean."
Months later, leading up to Pride week, James was interviewed in the mayor's office by the local LGBTQ magazine. During Pride weekend, James participated in the Pride March, shared photos on Instagram, and had what felt like a "regular weekend." Unfortunately, Monday morning, he was told it's not working out and was fired. James recalls:
And I thought, "What do you mean it's not working out? It's working out. The strategy that I came there to implement was working out."

And so he told me that my "associations" weren't aligned with the administration. And that's specifically what he said. I will never forget it.
Despite being fired for no apparent reason, James still believes it was the right thing to do to speak up and live his truth:
All those thoughts crossed my mind but at the end of the day, I think, the most valuable thing that happened was, I got to own myself, I got to own my own identity. And there's a new sort of comfort that comes with that.
Calling all HuffPost superfans!
Sign up for membership to become a founding member and help shape HuffPost's next chapter