Poverty isn't something new to me. Four years spent in Vietnam with long days on the road and longer nights, and numerous adventures in rural communities, it's something that just isn't shocking to me anymore. From buying trinkets and beads from the Hmong near China's southern border to watching Vietnamese school children devouring instant ramen flavor packets on Cambodia's Tonle Sap Lake, every experience has made me a little bit more aware of the plight of the real people behind tourist destinations. But, I don't think anything really prepared me for my visit to Vinh Chau, Soc Trang: A town of 1000 blind and a 1000 disabled people.
It's both simple and complicated. There are about 700 people blind in one eye and 300 more blind in both eyes. Most of them are ethnic Khmer residents who farm, process or handle onions. Vinh Chau is one of, if not, the most fertile red onion production centers of Vietnam, and it is a major reason for their vision loss. As the workers peel onions, tear dust and the preserving chemicals enter their eyes, and the frequent rubbing of their eyes causes ulcers. Unfortunately there's really no other way to make money here unless you own land or work for the landowners, and there's little medical treatment available. There are also numerous disabled people from birth defects, likely caused by wartime chemicals meant to wipe out the jungles, living in this town. It's a troubled place no matter which way you spin it.
Many of the young people have migrated to the major cities like Saigon or Can Tho to work, and the main occupants now include not only the ethnic Khmer people, but also the Hoa Chinese. The same people who run Ngoc Chau Nhu Temple. I was given the temple's phone number by a cousin of mine. She told me stories of a village of blind people, blinded because of onions, and of course, I was skeptical of her claims. This was just too unreasonable to me. I was also curious and wanted to contribute something. I asked some of my most loyal-viewers-turned-friends for their help and they gave what donations they could and I also added to the pot. Altogether we raised about 2000 US dollars to donate to Ngoc Chau Nhu Temple. Because of the seven-hour drive from Saigon, Soc Trang province sees no tourism and Vinh Chau has remained relatively unknown to most of the world. In 2004 human rights issues were brought up to the UN concerning the blind Khmer people, but nothing resulted from it.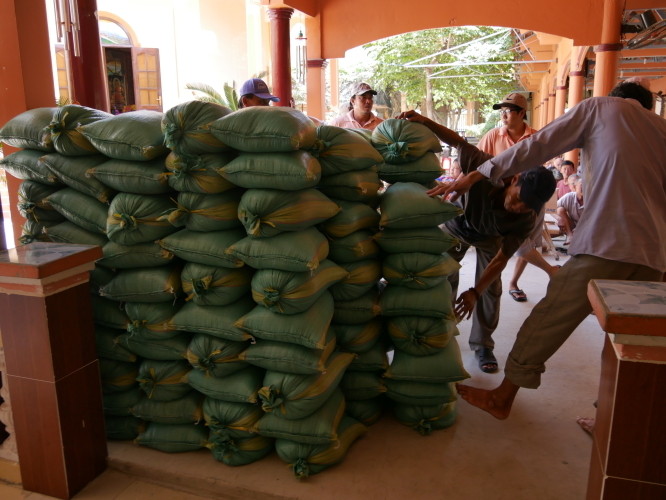 I just had to see the town for myself, and so I left Saigon one early morning.
When I got down to Vinh Chau, the temple treated my friends and I to the best vegetarian meal I've ever consumed in my life, and I've eaten many things many times. And as we ate outside, more and more people were showing up in the courtyard. Off in the distance, I could faintly see the elders being lifted off of bikes, unable to walk on their own without assistance, a few blind people wearing sunglasses, a few of them walking in a line a hand on each other's shoulder and finding their spots, and one man was even missing half of his head. With the money I raised, I was able to help 200 people, by donating a 10 kilo bag of rice, a bundle of temple made incense sticks, and 100,000 VND to each person. The average onion laborer makes less than that each day, while some of these people rely almost entirely on temple donations for their survival.
I decided to meet and talk to some of these people, so I hopped on the back of a motorbike and visited a Hoa lady down the street. She was shy at first. I had a pretty big camera with me after all. But as soon as we started talking casually, I could sense that she was as friendly as anyone else. We had a slight language barrier, because her Vietnamese wasn't perfect and neither was mine. I learned that her heart condition put her in the hospital quite often and that the bag of rice she received would feed her family of four for three meals for five days. Not too far away, there was a 90-something-year-old Khmer woman who could not speak Vietnamese at all. Even with translators around, I couldn't engage much with her because her neighbors showed up and were chatting up a storm. They were very decent people, friendly, and interested in hearing me talk about America, but I couldn't help but be perplexed about the desolate conditions of this neighborhood where children ran around in trash as if it was grass. And that is an extremely rare site in modern Vietnam these days where major cities are developing at rapid speeds while neighbors like these seem lodged in time.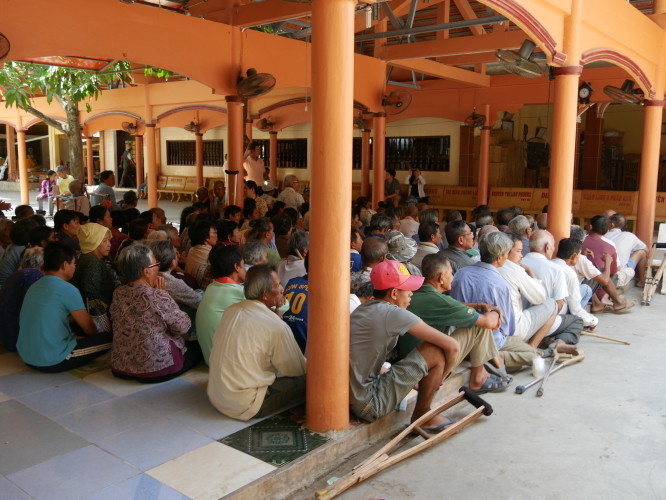 In the end, I don't want anyone to blame and point fingers at this situation. It is easy to blame past war crimes, onions with pesticides, onions without pesticides, landowners, or past actions or inactions. But, the real blame should be put on poverty. It's the given situation, where some places have it worse than others. This is apparent in all major cities and towns all over the world and not just in Southeast Asia. Vinh Chau just happens to be in the latter category.
The good news is, according to the female monks, residents are starting to wear eye protection and they're learning about the dangers of an eye infection and how it can spread. So, before you go and start sending money over to Vietnam through any random agency, I suggest that you take time to just inform others who might be visiting, especially the Mekong Delta region, to help those in need. Instead of signing up for the day tours where a python is placed on your shoulders or the ones where you hold an active beehive for picture purposes, consider visiting a rural temple or church and donating whatever you can. Trust me, your trip will be a lot more memorable and rewarding when you see how happy these people are to receive a bag of rice.