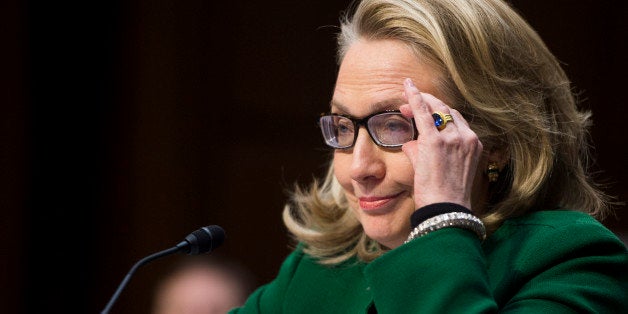 THE STORY
There's a reason you've been hearing a lot about the 2012 Benghazi attacks lately.
REMIND ME WHAT HAPPENED.
On September 11, 2012, a US diplomatic post in Benghazi, Libya was attacked. Dozens of heavily-armed militants broke into the compound and set fire to the main buildings. Hours later, the nearby CIA annex came under fire. Four Americans were killed, including US Ambassador Chris Stevens. Almost right away, there were opinions, and lots of pointed questions.
WHAT KINDS OF QUESTIONS?
Your basic 'who knew what and when?' Specifically, why didn't the State Department -- which was headed by Hillz at the time -- have better security in place? Why wasn't there any backup? And why did the State Dept. at first call it a "spontaneous protest," when that wasn't actually the case?
EXPLAIN THIS "SPONTANEOUS PROTEST" THING.
Right after the attacks, then-UN ambassador Susan Rice went on the Sunday talk shows. She said that the attacks were unplanned, and inspired by protests over an anti-Muslim viral video going around on YouTube. These were talking points prepped by the CIA and State Department based on the info they say they knew at the time. Which turned out to be very wrong -- there was a viral video, but no protest in Benghazi. And the attacks were planned.
WHAT THEN?
The controversy over the 'who knew what and when' eventually got big and loud enough that the House created the Select Committee on Benghazi to do a full investigation into the attacks. Hillary Clinton has always been a main focus for lawmakers -- mainly Republican lawmakers. She testified about the attacks in 2013, and now she's gearing up for round two.
DOES THIS HAVE ANYTHING TO DO WITH HER INBOX?
But of course. Earlier this year, the Benghazi committee discovered that Hillz had used a private email server during her time as sec. of state. Enter: new questions about whether she had turned over all of the Benghazi-related emails. Hence, why she has to testify before Congress. Again.
WHAT ARE PEOPLE SAYING?
The GOP says it wants to understand what happened before, during, and after the Benghazi attacks to make sure it doesn't happen again. Meanwhile, at least two GOP lawmakers have hinted that they're not sad the Benghazi committee could be damaging Clinton's presidential campaign. Dems say the committee is purely political at this point. And that everyone's "sick and tired" of hearing about Clinton's "damn emails."
theSKIMM
The Benghazi investigation has gone on longer than the investigation into Watergate. The is a hugely divisive political issue, and while it happened three years ago, it's coming up a lot now. Just in time for 2016.
REAL LIFE. REAL NEWS. REAL VOICES.
Help us tell more of the stories that matter from voices that too often remain unheard.