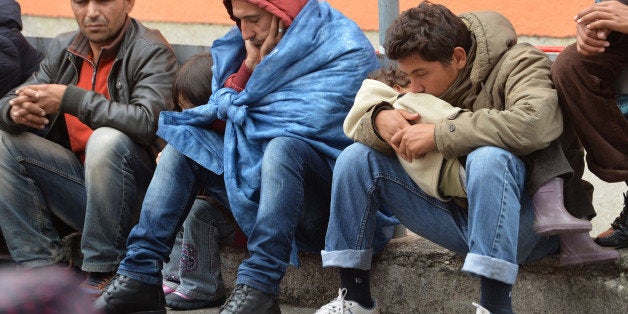 THE STORY
PSST...WHAT'S THE DIFFERENCE BETWEEN A MIGRANT AND A REFUGEE?
Refugees are forced to flee home to escape things like war. Migrants leave home voluntarily to try to make their lives better with a new job or education.
HOW DID THIS ALL START?
HOW ARE THEY GETTING TO THE EU?
Not easily. Some of them are paying smugglers for spots on overcrowded fishing boats or inflatable dinghies. And some of them are paying smugglers for spots on overcrowded trains or buses. Thousands of them have died while trying to make it to the EU.
WHAT'S BEEN DONE?
For a while, not much. After a boat capsized between Libya and Italy, killing up to 900 migrants, the EU thought it might be a good idea to figure out a new strategy. Leaders met to discuss how to distribute migrants and refugees. But it turned into a game of 'not it,' with many countries arguing that if they started letting people in, more would come knocking.
SO WHAT CHANGED?
Migrants and refugees kept knocking, and EU countries kept turning a blind eye. Then in September, everyone saw photos of Aylan Kurdi, a drowned Syrian toddler who washed up on a beach in Turkey. That, plus the massive numbers of migrant and refugee deaths, made EU leaders decide they better shape up.
WHAT NOW?
The EU is proposing to redistribute 160,000 refugees across its member countries. Key word: refugees. These are people who've fled home because of war or persecution. Looking at you, Syrians. Less wealthy nations like Hungary and Greece have been more reluctant to give refugees a home. And Germany will be rolling out the biggest welcome mat. The US decided this all sounded fun and volunteered to take in 10,000 Syrian refugees. But since the UN expects more than 800,000 people to cross into Europe by next year, it doesn't look like these moves will do enough.
theSKIMM
Hundreds of thousands of refugees are continuing to make the trip across the border. And since everyone in the EU feels differently about how to handle the crisis, it's going to take a lot of all-nighters to agree on a concrete plan.
REAL LIFE. REAL NEWS. REAL VOICES.
Help us tell more of the stories that matter from voices that too often remain unheard.