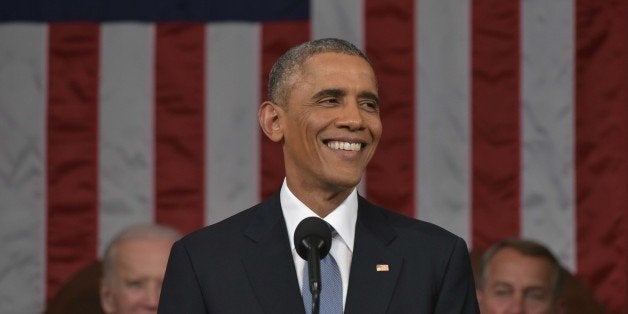 Vice President Joe Biden and House Speaker Paul Ryan (R-WI) have box seats behind Obama. Prepare for uncoordinated facial expressions. Also on the invite list: the Cabinet, the Joint Chiefs of Staff, the Supreme Court, and members of Congress. First Lady Michelle Obama's invited some VIPs to sit with her.
One lucky Cabinet member gets to hang back with all the important passwords in case something bad happens. This is supposed to comfort you.
But of course. Obama's advisers have been dropping hints about what he'll talk about. Spoiler alert...
"The economy"...as in the US unemployment rate is better than it was before the recession, and the Fed recently decided to back off the last of its post-crisis hand-holding. Obama will say that's because his policies are paying off. The GOP presidential candidates beg to differ.
"National security"...as in ISIS is still on everybody's sh*t list. Obama's leading the international coalition against the group in Syria and Iraq. But the group spent the last year recruiting supporters to carry out attacks on western countries, so he may have to address what the Carrie Mathisons are doing to keep the homeland safe.
"Gun control"...as in the First Lady's guest box will also include an empty chair for victims of gun violence. In the wake of Newtown, and more recent shootings in places like San Bernardino, tightening gun control laws has been on the top of the president's to-do list.
This speech will be less of a to-do list and more of a greatest hits tour of Obama's presidency. But it's still an election year. And the president would really like to pass the torch to a Democrat. So if it feels kinda like a campaign speech, that's because it is.
REAL LIFE. REAL NEWS. REAL VOICES.
Help us tell more of the stories that matter from voices that too often remain unheard.