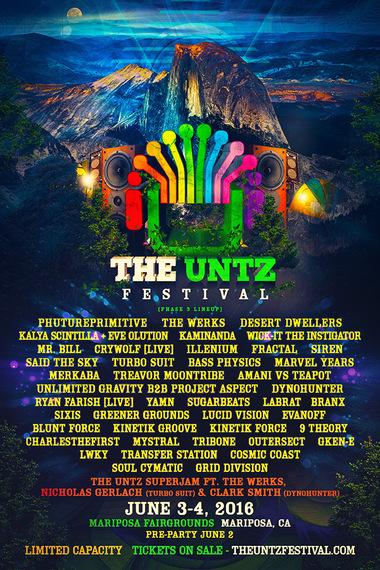 The current counter-culture is seeing a music festival Renaissance that is spreading inspiration, art and sound with those who yearn for it the most. One of the leading media outlets of this community is electronic music news and events website, TheUntz.com. For years they have been the go-to source for everything electronic and music festival oriented and now, it is only natural that the time has come for them to organize their own event.
The first annual The Untz Festival will be taking place at the Mariposa County Fairgrounds in Mariposa, California on the weekend of June 2-4, 2016. Having connected fans of underground electronic music through their online publication, The Untz is now taking the opportunity to gather their readership and connect them in person. Music draws people together like a magnet, pulling them from all walks of life and geographic locations. Readers, writers, musicians, labels, and artists from the community will all join together on the dance floor, freeing themselves from worry and filling themselves with bliss.
Perched at the mouth of Yosemite National Park, there will be no shortage of natural beauty to be immersed within while enjoying the four stages of music, two of which will be indoor, late-night stages. The lineup includes artists such as Phutureprimitive, The Werks, Desert Dwellers, Kalya Scintilla & Eve Olution, Kaminanda, Wick-it The Instigator, Turbo Suit, Illenium, Said the Sky, Fractal, Siren, Bass Physics, Marvel Years, DYNOHUNTER, Mr. Bill, MerKaba, Trevor Moontribe, Sixis, and many more. The lineup celebrates the several beloved sub-genres of the underground music scene, ranging from trap and glitch-hop to livetronica and future funk.
Diverse in its genres yet cohesive in its sound, The Untz has curated a music festival that will surely create seas of smiles, tornadoes of dancing, and miles of illumination. Adding yet another event to California's rich tapestry of festivals, The Untz Festival is a welcomed party that will undoubtedly grow, evolve, and continue to be the voice for the ever-expanding transformational community.
REAL LIFE. REAL NEWS. REAL VOICES.
Help us tell more of the stories that matter from voices that too often remain unheard.