Maneetpaul Singh, a 22-year-old Sikh filmmaker from Connecticut, is hoping to help change that. He recently took to the streets of New York City with YouTuber Jagraj Singh to see just how much people knew about Sikhism and to help them learn more about its origins, principles, and people.
Some of the people Jagraj spoke to in New York's Times Square had never heard of the religion before. Maneetpaul told The Huffington Post that it is these folks that he's hoping to reach. 
"This film is truly intended for those who have never heard of a Sikh before," Maneetpaul told The Huffington Post. "It is to show people we are an independent religion, separate from Islam or Hinduism. However, at the same time, the goal is not to shift blame to Muslims or any other religious group. The film aims to showcase that it is simply not right to judge someone based on their appearance."
In the video, Jagraj takes a few people aside and leads them through a crash course on the religion.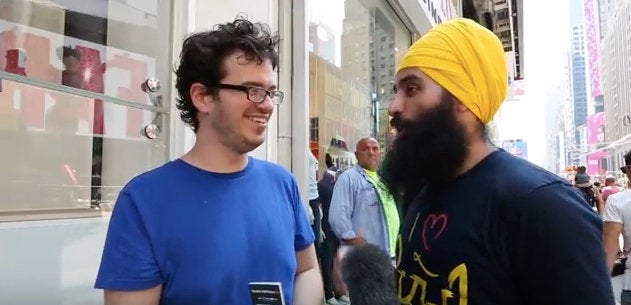 The resulting short documentary, "They Called Me Osama," covers everything from Sikhism's founding in Punjab, India in 1469 to its core belief in the equality of all people, to what it's like to be Sikh in America today. 
Although Maneetpaul said he was fortunate enough to go through school without having any major problems with bullying or racism, he still feels he can't leave the house "without receiving some sort of 'look', double-take, or flat out inappropriate comment."
"I feel that having a Sikh identity comes with a certain degree of responsibility," Maneetpaul wrote. "It is our job to make that first impression, and put ourselves out there. The only way misperceptions towards Sikhs will change, is if we engage with our communities and show the world what our real beliefs are."
Sikhism is the fifth largest religion in the world. It is a monotheistic faith. Unshorn hair is one of the five elements of the Sikh faith. It is an outward sign of their faith and a way for Sikhs to allow their body to grow in the way that nature intended it. Some Sikhs wrap their hair in a turban, or dastaar, which is a reminder of the equality and royalty of all people.
In the documentary, Kaur said that she hopes the incident helped teach people that it's okay to step out of your comfort zone to get to know people who are different.
"The whole incident hopefully taught not only me but others how to embrace diversity and offers a glimpse of the sheer amount of diversity we have in our world," Kaur said.
Watch Maneetpaul Singh's documentary above.  
REAL LIFE. REAL NEWS. REAL VOICES.
Help us tell more of the stories that matter from voices that too often remain unheard.
BEFORE YOU GO