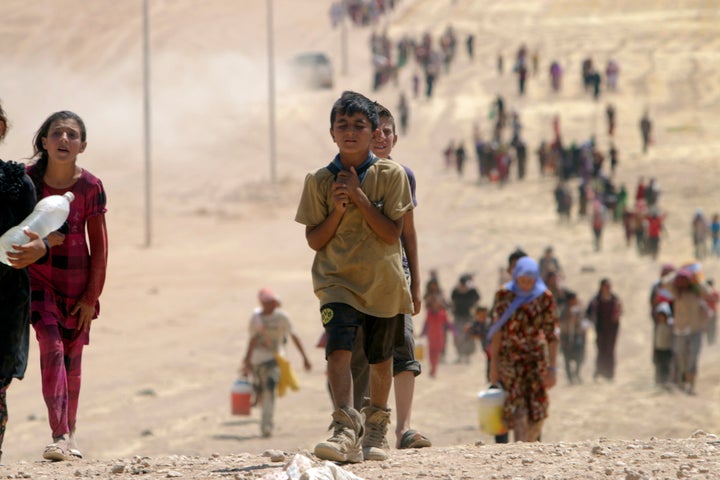 August 3, 2014, remains one of the most disgraceful dates in modern times. It was then that ISIS invaded Sinjar, the ancestral home of the Yazidis in northern Iraq. Thousands of women and girls were kidnapped and sold as sex slaves. Approximately three thousand of them are still in captivity. Thousands of men and older women were slaughtered. Thousands of young boys were captured to be sent to the brainwashing factories of the murderous sect, and then to be used as suicide bombers and human shields.
Fight for redress
Ever since the invasion of the Nineveh Plains and the Sinjar area in northern Iraq, human rights organizations and a few politicians around the world have fought to have the atrocities that ISIS committed against non-Muslims and Muslims recognized as genocide. European MEP Lars Adaktusson from Sweden has been a leader in this fight. He contributed to the recognition of the genocide by, among others, the U.S. Congress and the U.S. Government, the European Parliament and the British Parliament.
When representatives of Assyrians/Syriacs/Chaldeans from Iraq in 2016 were invited to a meeting with the International Criminal Court (ICC) in The Hague, in the Netherlands, the asked for help: "For us to be able to move on with our lives after ISIS disappears from our areas, we must know that the world is aware of what has happened to us, that the perpetrators are brought to justice and that we will receive compensation. Only then can we breathe freely," said Petrus Mouche, Archbishop for the Syriac Catholic Church in Mosul.
The ICC asked them to collect evidence and testimonies, but said at the same time, that the United Nations must act for to ensure that investigations and trials take place. ICC pointed out that the Iraqi Government must also ask international organizations for help, since this was the usual practice.
The Dutch parliamentarian Pieter Omtzigt asked whether ISIS members who returned to countries such as the Netherlands and Sweden could be brought to justice. ICC replied that everything was possible if the UN Security Council agreed to investigate the crimes of the terrorists and bring them to justice. I and Ewelina Ochab, PhD Candidate in International Law and author of the book Never Again were also at the meeting.
At the same time, the internationally recognized lawyer Amal Clooney is fighting for the same thing, that the Yazidi victims of ISIS will get redress. She is representing Nadia Mourad, who managed to escape from ISIS after three months of captivity. Mourad has since spoken, among other things, in the UN Assembly. She has received numerous prizes and awards for her bravery. In March 2016, she was invited to Sweden by FM Margot Wallström to testify to the genocide.
Margot Wallström was also present during the vote in the UN Security Council. In connection to the meeting she spoke at length with Mourad and Clooney. In an email to me, she writes: "The devastation Daesh mercilessly spread and inflicted on the civilian population in Iraq, not least, the Yazidis and other minorities, is a human disaster. It is our responsibility to help make those who commit these crimes accountable. The resolution is an important step towards bringing the war criminals from Daesh to justice. Accountability is a prerequisite for a long-term and stable peace.
Extracts from Clooney's speech:
"What is shocking here is not just the brutality of ISIS, but how long those who know about it can remain passive. Excellencies, it is not too late to turn things around. I believe there is a common will among those in this room among leaders in Baghdad and capitals around the world, that ISIS should be held accountable in court of law for its crimes. What is needed now is making moral leadership to actually make this happen."
Background
"We were registered. ISIS noted our name and age, where we came from, whether we were married or not. The ISIS members could come and take girls. The youngest girl that I saw being taken was around nine years old. One girl said to me "if they try to take you, it's best that you kill yourself"."
In the report is also the interview of a young woman with whom I also have spoken. She told me that ISIS forced them to watch as they tied the hands their male relatives and then lined them up to cut their throats.
A twelve-year-old boy who escaped told the authors of the report: "They told us that we had to become good Muslims and fight for Islam. They showed us beheading videos and videos of ISIS battles. My instructor said, "You must kill the unfaithful even if it is your fathers and brothers. They belong to the wrong religion and they do not worship God"."
Fifty thousand Yazidis fled up on Mount Sinjar and were surrounded by the terrorists, without water, food and medicine. Many of them died of thirst. The photos of them were cabled all over the world.
For more than three years I have listened to their sad stories, one after the other, ever since the first telephone call about ISIS having attacked the Sinjar area came to us in the organization A Demand For Action at the beginning of 2104, something that we had predicted already in June of the same year.
On August 11 of this year I met one of the women who had been liberated from ISIS in their self-proclaimed capital of Raqqa in Syria. She was raped almost daily for three years, sometimes up to ten times a day.
"Early on I decided to leave my body, it didn't belong to me anymore, my soul was mine and my body theirs, their tool. For me it was also a tool for staying alive. While it worked and they needed the tool, I would live. They could use it as much as they wished, it wasn't entirely mine, I was hovering above it, above them, above the abuse. Now it belongs to me again, and I am struggling to make it whole."
In the summer of 2014, shortly after ISIS began to kidnap women and girls they published a price list for sex slaves. The price was set according to age, and eye color, for instance. The younger she was, the more expensive a sex slave. If she had blue eyes she was exotic and expensive. ISIS proudly filmed the kidnappings and sale of girls and women.
"Sara's" story
In the Swedish Radio P1 documentary Hennes resa till IS (Her journey to IS) a Swedish woman recounts for the first time her life under the rule of ISIS. She tells the tale of sex slaves, corporal punishments and a huge inequality, in that Syrians are worth less than European jihadists.
"Sara" (a pseudonym) says that even Swedish terrorists had "sabies", which means mistresses, who were in fact sex slaves. A Swedish terrorist sold one of the women to a man in a wheelchair, and since the man was unable to move, the Swede taught her other ways to satisfy the cripple.
"Sara" says she ended up in the same prison as kidnapped Yazidi women in Raqqa because she refused to obey ISIS. She claims to have witnessed several sales, including the sale of 13- and 14-year-old girls. She also says that she saw so much abuse of the sex slaves that she in the end couldn't take in everything they went through.
Karwan Faraj, the journalist who made the documentary, says that he is not sure whether "Sara" was a prisoner, or whether she in fact was a prison guard.
But there are also stories with a happy ending.
On July 18, ÊzîdîPress, an online Yazidi magazine, published a photo of the Yazidi boy Imad. Iraqi soldiers in Mosul had found him. The child was covered in filth, his clothes were tattered and he was very thin. In the summer of 2014 he was separated from his family. A woman, who had managed to escape from ISIS and was taken to Canada for treatment, recognized his eyes and his forehead. It was her son.
He has now been reunited with his mother in Canada. The father and siblings are still missing.
The village of Kocho
The village of Kocho had 1,705 inhabitants. Three hundred and eighty men and boys and 80 older women were executed. Seven hundred and thirty girls and women were kidnapped.
The ten-minute documentary The Last Dance: The kidnapped Yazidi girls of Kocho, Iraq, produced by Voice of America, begins on a wedding just days before ISIS invaded the village. The villagers are dressed in their best clothes; they danced, laughed and enjoyed all the good things the event had to offer. The bride and groom, Najma and Nenyan, didn't know that this would be the last happy memory from their village.
The documentary reveals something very painful for the Yazidis, the fact that their neighbors will always betray them. Those interviewed say that 90 per cent of the ISIS terrorists, who attacked them, had been recruited from the local population. From one day to the next they had turned against the Yazidis.
When ISIS invaded the village two days later, the terrorists went to the village leaders and demanded that all Yazidis convert to Islam. The villagers had only a few days to decide. They refused. ISIS came back in vehicles filled with "bearded terrorists dressed in black". At gunpoint, they divided the villagers into groups, men and teenage boy into one, women and children into another. They forced everyone into the village school.
The men and the older women were taken away. Those who were left in the building heard the screams and the rattling of machine guns. The situation was chaotic, everyone screaming and crying. A couple of minutes later one of the ISIS leaders came back with a bloody sword. When those who were left in the school asked where the older women were, he boasted that they all been killed, and that s he had even beheaded some of them himself.
The kidnapped villagers of Kocho were taken to a building in Mosul where there were already thousands of Yazidis, destined to be given away or sold at slave markets. More than 6,000 women and children were kidnapped, most of them Yazidis, but there were also Assyrians/Chaldeans/Syriacs among them.
Now the rapes and group rapes began. They were sent from one town to another. Some ended up in Aleppo in eastern Syria, others in other parts of Syria. They tried to escape, they were tortured, and they were killed. Now the suicides began, too. Some managed to get up on the roofs and jumped down, others cut their writs or their carotid. The ones who got away either escaped or, as in most cases, were bought back by their families for large sums of money via mediators.
In the documentary The 74th command Kojo around twenty men sit on thin, patchwork mattresses. All of them are physically and mentally traumatized.
One of the young men recounts:
"I was in the group of prisoners to be slaughtered. We were forty men; the ISIS men were twelve. One of them filmed, the others shot us."
The stayed around for a while to make sure that all were dead before they left the mass grave. The young man tells us how the bodies fell on top of him when he fell into the mass grave. He held his breath and pretended to be dead, that is how he survived. His entire family was wiped out.
The men agree that the worse experience was that they were unable to defend their families.
The sex slaves
In August 2014, journalist and author Cathy Otten was among those who met with the first two young Yazidi girls who had managed to escape. She was horrified at what they had been through. She decided to collect material about the Yazidis, their history, culture and religion. She also wanted to describe the women who had managed to escape as heroines, not as victims. Their stories are incredibly powerful.
When I get to her she is close to a refugee camp, where the Yazidis were placed after fleeing from their homes. She points out that the worst thing is that they have not been able to return to their homes yet, that there is a dispute between the Regional Kurdish Government in northern Iraq and the regime in Baghdad about who should govern the Sinjar area. The Yazidis want self-government. Otten is very sad that those who managed to flee don't have access to trauma therapy. In her book, she recounts the stories of some of the women.
"When we came to the compound near Raqqa we saw four or five buses filled with ISIS members with long hair and beards", says Zahra, a farmer's daughter from Kocho.
"They were like animals. The first day they walked around among us and started picking out girls for themselves. Two or three captured the girls, blindfolded them and forced them into cars. The girls cried and screamed, but the men didn't care."
They tried to make themselves unattractive by smearing ash on their face, hoping not to be among those who were selected.
After two days Zahra and her sister were taken to an underground ISIS prison in Raqqa. Hundreds of women were trapped in three rooms in one of many similar places.
Inside the prison, the women were forced to share dirty, overcrowded toilets where they had to stand in the filth. Their bodies were full of sandflies. The only light came from two solar-powered lights that hung from the ceiling, one of the prisoners remembers.
Another woman, who Otten calls Khulka, was 30 years old and came from Tel Qasab. She had arrived at the prison with her four children in a freezer truck ordinarily used for transporting ice cream.
She recounted that some women were sitting on bags or clothes to avoid the filthy ground in the prison. The children cried incessantly from hunger. The women waited in constant fear of being raped or killed. "They beat us all the time and we got diarrhea from fear."
With the help of breast milk from a nursing woman mixed with ash and a needle, that she had smuggled into the prison, Khulka tattooed the names of her husband and father, so that her body would be identified and handed over to them if she was killed. With the same needle and some thread, she started to embroider names and numbers from her cell phone address book on her underwear, in case ISIS would find it and take it away from her. She also stitched the names and numbers of close ones in other women's clothes, so that they wouldn't forget them.
Khulka was taken with her children to a room in the prison to be photographed by ISIS guards who gave her the slave number 16. Before the photo was taken she cut her daughter's hair so that she would look like a boy to avoid being separated from each other.
The women were either sold via a cell phone app, where their photos and slave number were shared, or at markets and in prisons at certain specified times.
It was common that slaves were sent between markets in towns and villages held by ISIS. Leila was sold to a man named Mohammed that she thought looked familiar. Suddenly she remembered that his family was like godparents to her family.
When Leila recognized Mohammed, she was relieved. She thought that he would save her, that maybe he would sell her back to her family. Instead, he sold her to a stranger. Three days later Leila was taken to a military base near Ramadi where she was sold to an ISIS commander. Later, when she had escaped and was in Baghdad, someone asked her what she would do if she saw Mohammed again. "I would burn him alive," she said.
Many Yazidi girls were held captive in the same camp where the Libyan fighters lived in one or two hundred caravans. The women and girls were chained, beaten and raped. They were passed around like animals among the men. On the outskirts of the camp there was a barbed wire fence that prevented them from escaping. The stories of the oppression and torture that the Yazidi women were subjected to in this camp are among the worst in a long list of atrocities.
*Susan Korah, Agneta Wirberg and Karin Dahlström also contributed to this report
Popular in the Community