You've probably heard the one about the guy who raised $75,000 on Kickstarter to fund a nebulous potato salad project with no business plan, no recipe, and no particular sense of what kind of potato salad he was interested in making. I wish him well, but it's high time the Internet supported a group of savory snack food entrepreneurs with a viable plan for scaling up, and some surprising health and environmental benefits to offer their neighborhood and customers. A new pickle company has emerged in Philadelphia, going by the evocative name Gary Ducket, founded by five guys who love brine and sustainable farming practices.
Pizza Brain co-owner Brian Dwyer is one of five partners in Gary Ducket, along with Larry Andersen, Josh Taylor, an international musician and film maker, Mike Wert, and Joel Evey, graphic designer at large, who's handling the mysterious and unforgettable branding for the company. Gary Ducket has already partnered with some top-drawer Philly restaurants and food purveyors, like Cheu Noodle Bar, Little Baby's Ice Cream, and the Franklin Mortgage and Investment Co., a Rittenhouse Square bar named after a front for a notorious Prohibition alcohol ring.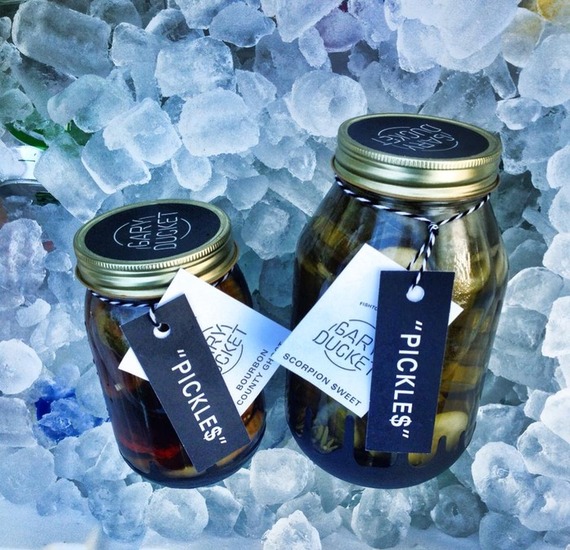 Gary Ducket currently brines four varieties. Reggie Dill is a classic garlic dill pickle with vinegar brine, described as appealing to "regular pickle folk," like me. Merky Mu$kit is a "familiar, alien, sour dill funk pickle with lacto-ferment brine, for ferment enthusiasts and beer fans." Scorpion $weet, not for the faint of heart or tastebud, is a Trinidadian scorpion pepper sweet hot pickle with vinegar brine, "for heat-lust, masochists, perverts, etc." (One wonders what the "etc." might indicate in this lively description.) And last but not least, the Bourbon County Gho$t, a ghost chili savory hot pickle with vinegar brine, which customers are advised to avoid putting "in direct contact with children, pets or eye sockets." Savory, spicy, or avoid-the-eye-sockets-spicy. You have options.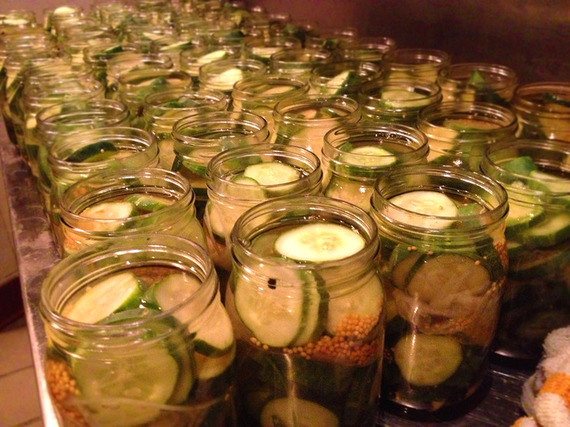 Now that you're hungry, here's the really good part: the Gary Ducket folks care about the community in which they live and grow the food they produce, and their aim is to personally cultivate everything that goes into their jars. The team uses the method of Korean Natural Farming, which was developed by Master Han Kyu Cho in South Korea in the 1960s, and was introduced to Hawaii in 1999. Korean Natural Farming (KNF) advocates the use of self-sustaining, closed-loop systems which it creates by eliminating herbicides, pesticides, and synthetic nutrients. The health and fertility of the soil and all the benefits that go with it are KNF's top priority. All of this leads to robust crops and delicious food.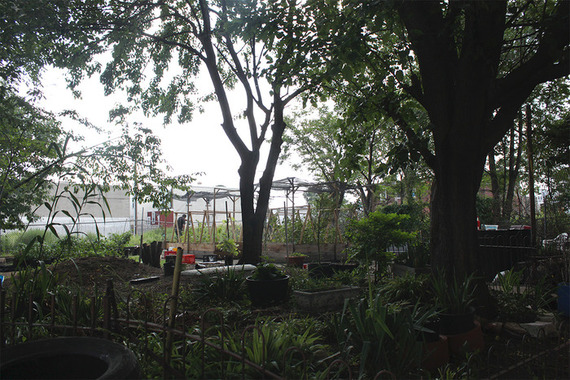 Gary Ducket Korean Natural Farmspace in Kensington, Philadelphia, PA
Gary Ducket's yeoman farmers know all too well that most of Philadelphia's urban landscape is not an ideal setting in which to produce food, which makes their efforts on behalf of their own small but mighty farming operation all the more laudable. Through KNF practices, at least one corner of the city's land will be turned back into nutrient-rich soil which will help Gary Ducket produce the highest quality food they can in the middle of the neighborhood they love, "repairing the soil," they say, "instead of destroying it." Some of the founders of Gary Ducket are even planning to become certified by studying with Master Cho at the Janong Natural Farming Research Institution in South Korea.
Gary Ducket's Kickstarter page goes into even greater detail about the benefits of KNF, and includes lots of beguiling videos (one is narrated in Polish, in deference to Central Europe's venerable delicatessen culture) promoting the various pickles they make. Supporters at the $25 level and above will get their very own jar of Ducket pickles. But supporting this business has its own rewards: helping a small but vibrant neighborhood cultivate entrepreneurs and improve its ecosystem, deliciously and sustainably.