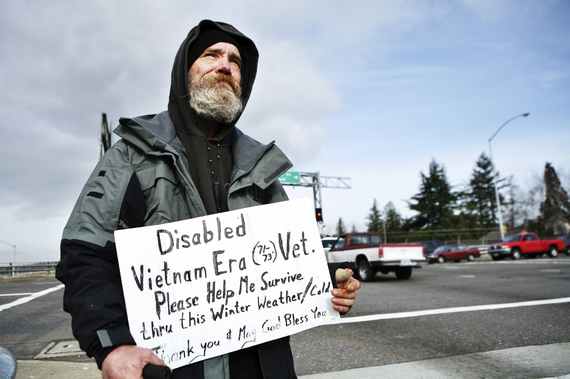 On a single night in January in 2012, hundreds of volunteers across the nation conducted the biennial homeless census. They scoured their communities, looking in shelters, and also parks, bus stations, underpasses, alleyways, and other places not fit for human habitation. That night they found more than 630,000 people without homes. Of those, 62,619 were veterans.
Think about that. Veterans make up 7 percent of the general population, but they make up almost 10 percent of the entire homeless population, and they make up a disproportionate percentage of those who are chronically homeless (those who spend years on the streets because of physical disability, mental illness, or addiction). Why are so many veterans becoming homeless?
Few of us realize how difficult it can be to move from military life to civilian life. Veterans face many challenges that civilians, who haven't served in the military, don't. And while veterans are often highly skilled in a wide range of areas, veterans' skills aren't always a good match for the civilian workplace. Many veterans also live with combat-related injuries or mental-health conditions can making finding and keeping housing difficult. Others live with severe disabilities or the lingering effects of military trauma, even, in some cases, sexual trauma.
Add to that the critical shortage of affordable housing in this country and a stubbornly high unemployment rate, and it's easy to see how transitioning to civilian life can be difficult under the best of circumstances. But what most people don't know about veteran homelessness is that the end is within sight. With continued funding and support, we will reach a day when every veteran has stable housing. We know what to do, and we know what it will take to get there.
62,619 is an overwhelming and unacceptable number. It represents a sad story of personal difficulty coupled with housing that isn't affordable and jobs that aren't available. But it also represents 17 percent fewer veterans than were homeless in 2009. What made that number go down? It happened because, believe it or not, a lot of things are going right.
Veterans Affairs Secretary Eric Shinseki has made a commitment that no one who has served his or her country in the military should be homeless. In 2009 he and President Obama set a goal of ending veteran homelessness by 2015. They have put together a full range of housing and service interventions to support vulnerable veterans, and Congress - on a bipartisan basis - has stepped up to the plate.
Turning policy into practice, talented nonprofits and government agencies, supported by determined communities, and committed corporate and philanthropic partners, are delivering the needed assistance. You can already see the impact as the number of homeless veterans goes down. There is a lot of consensus and a lot of knowledge about what to do; we're moving in the right direction, but not nearly fast enough.
We need your help. Will you join the Alliance's Never Another Homeless Veteran Campaign? All you have to do is sign this public statement calling for the resources and political will to end veteran homelessness, and share it with your friends and neighbors and anyone you know who cares about veterans. Over the next two years, we'll update you about what more is needed, and the progress that's being made.
You will be in good company. Already former U.S. Senator Patty Murray, President George H. W. Bush, the Hon. Leon Panetta, retired Four-star General Colin Powell, U.S. Senator Jack Reed, and retired Four-Star General David Petraeus have joined a host of military, government and corporate leaders in the effort.
Ending veteran homelessness is one battle in the larger fight to end homelessness. If we can end homelessness for veterans, we will show that we can end homelessness for all homeless people. But it won't happen without your help. Add your name to the statement and join the Campaign today. Together we can make sure there is Never Another Homeless Veteran.
Popular in the Community