When the late Hollywood comedian Rodney Dangerfield was ranting that he didn't "get no respect," he was actually building a solid foundation for his career. But when 19th century French painter Jean-Léon Gérôme (1824-1904) complained that he could get no respect from either his colleagues at the prestigious École des Beaux-Arts or the leading critics of the day, it was definitely not a joke, but the bitter truth of his otherwise successful career. His works were extremely popular with the rapidly expanding bourgeoisie, willing to pay an outrageous amount of money for his meticulously crafted paintings evoking the history of ancient Greece and Rome. Gérôme was also a diligent student of the history and culture of the Near East, where he traveled on many occasions.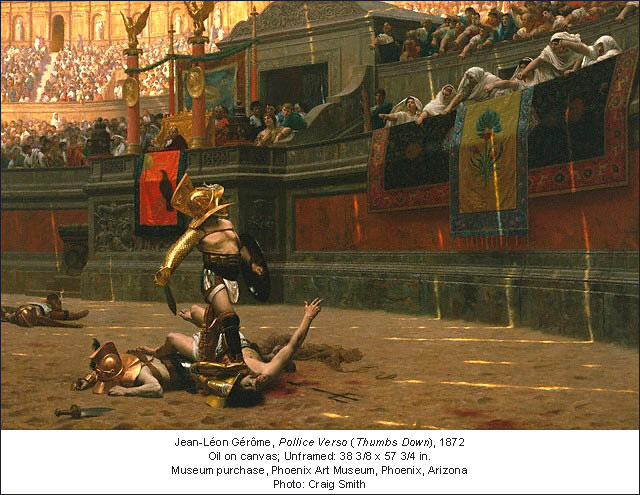 When Gérôme's paintings were shown at the Salon, they were mobbed by fans who were eager buyers of an endless supply of photographic and engraved reproductions of his most famous works. And still, critics grilled him for his less-than-perfect drawing skills, laborious compositions, uninventive brushwork, and rather dull painterly texture. Considering that all that was happening at a time when Édouard Manet and the Impressionists were radically changing the course of French art, Gérôme's painterly fantasies landed squarely on the wrong side of history. He hated the Impressionists -- and they hated him back. All that makes for very entertaining reading in the hefty catalog of his sprawling exhibition that recently opened at the Getty Center.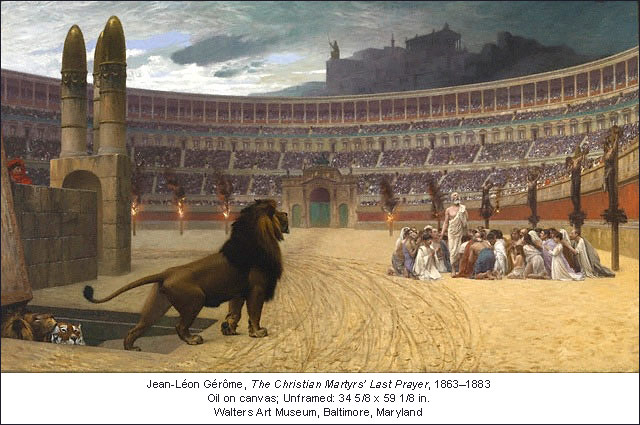 Organized in collaboration with the Musée d'Orsay in Paris, this exhibition is a thoughtful, well-researched attempt to resurrect Gérôme's artistic reputation after almost a century of neglect. Trying to overcome my skepticism, I went to see this exhibition twice, but my effort didn't pay off, and I continue to be of the opinion that Gérôme's fierce ambition, impressive knowledge, and admirable determination were, unfortunately, not on par with his talent.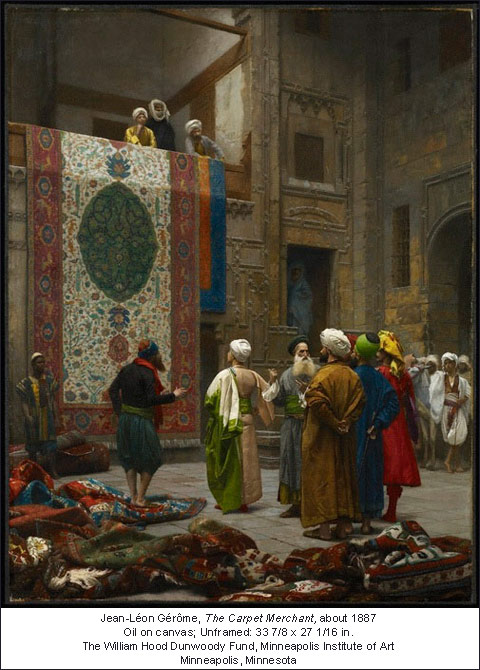 It's rather ironic that sometimes an artist's reputation rests, to a large extent, on the simple fact that his or her works reproduce extremely well. That was definitely the case with Gérôme's art then, and it's true now, a hundred years later, with another accomplished and commercially successful artist -- the celebrity photographer Annie Leibovitz. Seeing their art reproduced in catalogs or in magazines, one is aware of a certain 'oomph' and energy emanating from the page, but somehow it's not the same as seeing their work on a museum wall, where some of this energy is seemingly missing.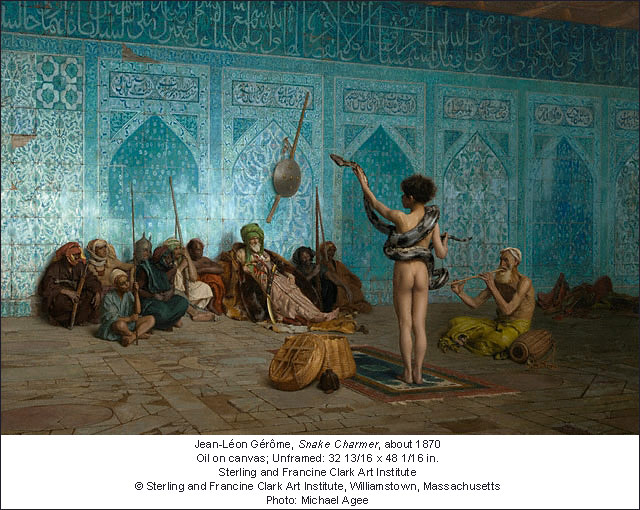 Following the news on major museums' exhibition programs here in Los Angeles as well as in the rest of the country, I am often left scratching my head trying to understand the logic behind certain choices. For example, owning only one lovely, though distinctly minor work by Gérôme, the Getty Museum pulled out all the stops to organize this show here in LA before it travels to Paris and Madrid. Ironically, the Getty owns a superb, major painting by James Ensor (1860-1949), but somehow the recent traveling retrospective of this Belgian artist, who made such a significant impact on the course of modern art, never came to Los Angeles. And because this monumental painting, Christ's Entry into Brussels in 1889, is deemed too fragile for travel, it was not included in his retrospective -- either at the Musée d'Orsay or at the Metropolitan Museum in New York.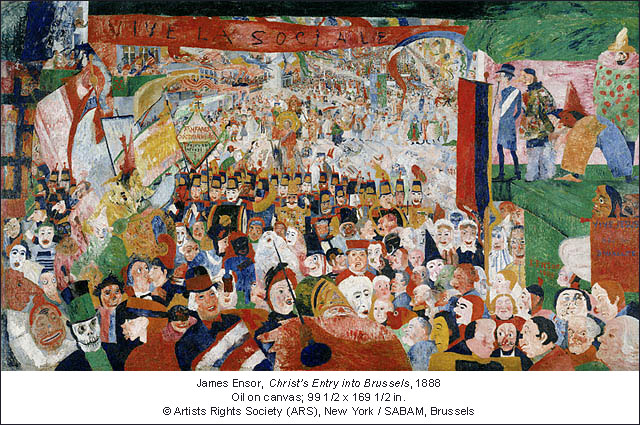 It seems that the Gods -- and museums -- work in mysterious ways. The Los Angeles County Museum of Art, in the midst of its robust expansion, made the peculiar decision to cancel the amazing exhibition of Arshile Gorky, which allowed the virtually broke LA Museum of Contemporary Art to jump in and save the day.
As always, I'd love to hear your thoughts, so please place your comments at KCRW.com/ArtTalk.
Edward Goldman is an art critic and the host of Art Talk, a program on art and culture for NPR affiliate KCRW 89.9 FM.
To listen to the complete show and hear Edward's charming Russian accent, visit Art Talk on KCRW.
The Spectacular Art of Jean-Léon Gérôme
On view at the Getty Center through September 12
Popular in the Community