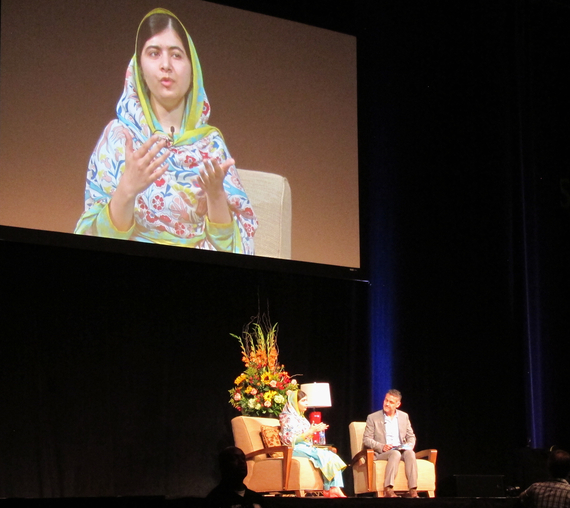 On Friday, she joined her favorite author, Khaled Hosseini (of Kite Runner fame) at San Jose State University in Silicon Valley, for a hard hitting conversation about Islam, violence and her dream of one day becoming Prime Minister of Pakistan. In his eloquent introduction, Hosseini described how the gunman boarded Malala's school bus in 2012 and "shot the wrong girl."
Technically he shot the girl he was meant to shoot, but in every other way, he shot the wrong girl. The girl he shot at age 11 was already a fierce advocate for girls' right to education.

If the gunman thought he was going to quiet her with his bullet, then he was wrong. His victim became the youngest recipient of the Nobel Peace Prize. But what he was most wrong about was the apparent belief that human beings aught to settle their differences with bullets.

Malala would school him later when she said, you must not treat others with cruelty but through peace, and through dialogue and through education.

-- Khaled Hosseini
Here are highlights of the conversation:
On why Malala is motivated to keep speaking out:
If you want to change your society, if you want to see the change, then you have to step forward to bring the change. It was my duty to speak up. Either we just had to remain silent and live in that situation of terrorism forever or fight for our rights and try to bring the change.

I felt I had a mission and had to continue. There was this feeling in my mind that something can happen to me, but I thought: the Taliban are cruel, but how would they take an 11 year old girl?

Malala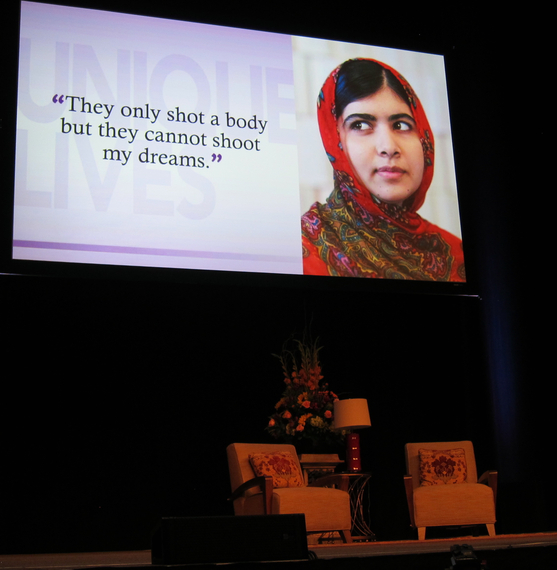 On Islamic religion and culture:
Cultures, traditions are not sent by God to us. They are not being written by him and saying, 'these are the things you that you have to follow.' We humans create them, so then we should have the right to change them...

The traditions that go against basic human rights should not be protected and should be clearly denied. (For example) education is every child's right, but the Taliban want to stop women being educated. They fear that if you allow girls to go to school, girls will become out of control.

Some Pakistani scholars think girls like me are infidels, they don't know I read the Koran.

-- Malala
Hosseini points out that the Koran begins with a mandate for literacy:
The first word is 'read.' That Islam says the Koran is against girls being educated is perverse.

-- Hosseini
On critics who say she's being used by the West against Islam:
There's a lot of hopelessness, tragedy (in Pakistan) They've seen a lot of dishonest politicians, corruption...People lose hope. It's a small minority who are critics. Pakistan has already supported me.

When I was attacked they raised the banners, "I am Malala." They were speaking out (saying) "Shame on the Taliban" which was never ever said before. And people started their activism and to speak out for education.

Keeping my courage and ambitions strong...the support from Pakistan and all over the world overcomes all this hatred... it becomes "like nothing." I have to stay strong and believe in myself and know that what I'm doing is right: it's for the education of girls.

-- Malala
Our own people are our harshest critics.

-- Hosseini
On the violence of her gunman
I have forgiven him. That boy, he was only 15. The terrorists did not believe in the freedom of women, they did not believe in women's rights, to get an education... They've been radicalized...

They need some education so they can be helped... know the real value of Islam and justice, know that Islam is not about killing. Islam is used to support Jihad...when they're told "it's God's message" people will obey.

-- Malala
On the Malala Fund and her 10 year goals:
I'm hopeful I will have gone back to my home in Pakistan... I'm hopeful The Malala Fund will have educated hundreds of thousands of girls by then -- in Nigeria, in Kenya, in Jordan (Syrian refugees), in Pakistan...

I'm hopeful through your support we can achieve these goals. It's when we all come together, we make our voices stronger... We will do it together: See that every child will be getting quality education.

-- Malala
On Becoming the Prime Minister of Pakistan:
When I met the (Pakistan) Prime Minister, I was frustrated by his 'talk talk.' I wanted to have his power... If I get an opportunity to help my country through politics I will. It's good to have big dreams.

-- Malala
More coverage of Malala's visit to Silicon Valley:
REAL LIFE. REAL NEWS. REAL VOICES.
Help us tell more of the stories that matter from voices that too often remain unheard.