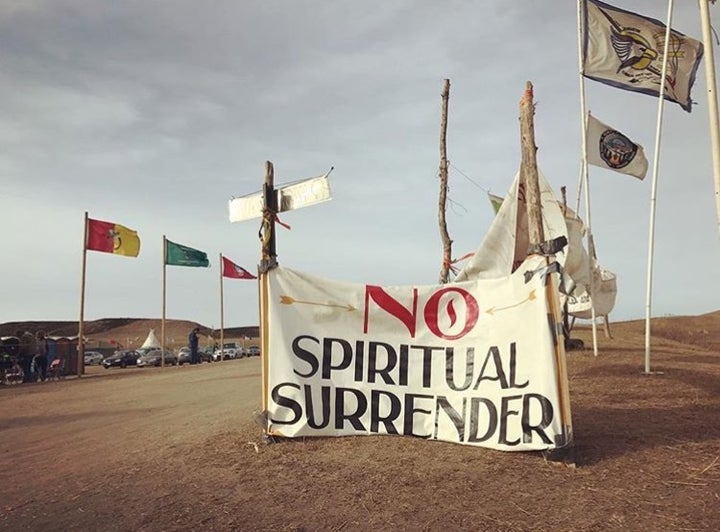 Oceti Sakowin inhabitants given eviction notice
On Friday, November 26th, the Army Corps of Engineers released a letter outlining the eviction plan for Standing Rock's largest camp – Oceti Sakowin. Oceti Sakowin is a peaceful encampment nestled at the base of Native American ancestral burial grounds where Treaty Land meets the river. In the mornings, fog and prayer hover over the ground. Oceti is currently home for approximately 10,000 people and contains two elementary schools, six community kitchens, a medical wellness area, twenty tiny homes, hundreds of teepees, and thousands of RVs and tents. By conservative estimates, Oceti Sakowin is the 7th largest "city" in all of North Dakota.
The eviction letter was penned by Colonel John W. Henderson who has been serving as the district commander of the Army Corps of Engineers for the past 17 months. Col Henderson wrote, "This decision is necessary to protect the general public from the violent confrontations between protestors and law enforcement officials that have occurred in this area, and to prevent death, illness, or serious injury to inhabitants of encampments due to the harsh North Dakota winter conditions." The Sioux tribe and their allies have been living on this land for the past 165 years – long before the Colonel, or even his grandfather, existed. It is not possible to educate Native Americans on how to live on their land – land that they have thrived on for over a decade.
This notice is akin to many others that Native Americans have seen throughout our history. It holds true to all of the patterns: asking for quiet compliance, presumed authority, and is backed with militarized weapons. For 500 years, Native Americans have suffered gross neglect and mistreatment at the hands of our government which is founded on liberty and justice for all. Col Henderson also moves to enforce a "free speech zone." He writes, "The Corps of Engineers has established a free speech zone on land south of the Cannonball River for anyone wishing to peacefully protest the Dakota Access pipeline project." This is a point of extreme contention. Until yesterday it was widely accepted that every square inch of the United States was a free speech zone. Col Henderson's words confirm that this former assumption is not the truth.
The Army Corps of Engineers and Energy Transfer Partners need the general public to believe that December 5th will be the end of Standing Rock. Nothing could be more incorrect. Oceti Sakowin is only one of three encampments that make up Standing Rock and the people of Standing Rock have already endured one eviction. In September, Turtle Island was raided after several clashes between water protectors and law enforcement officials. Law enforcement flattened tents, confiscated supplies, and made many arrests. At the time of the Turtle Island raid, Standing Rock was approximately 2,000 people strong. Fast forward two months after the raid, and camp has swelled to a number well over 15,000 resilient people.
Sioux tribal chairman Dave Archambault, to whom the letter is addressed, states "our resolve to protect our water is stronger than ever." There is no word from President Obama or the Obama Administration concerning this latest development.
Popular in the Community