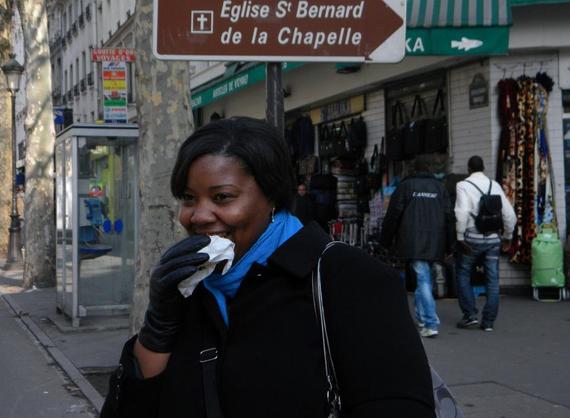 I used to overindulge in the edible and enjoyable. So when I went to Paris last year food was my focus. I won't review my tête-à-tête with the Parisians in entirety because there is a multitude of reviews detailing their fashion, architecture, and museums. The travel tip to be taken from this story is that you can have amazing cuisine in Paris on a budget. I ate 80 percent of my food at French versions of hot dog stands.
I largely write about my relationship with food and this travel piece will be no different. My review is about street food and the thickening of my thighs in the City of Light.
Food deprivation or restrictive regimes were never options. I was in the capital of cuisine; the land of delicious and expensive fare. I carefully budgeted to partake in all of the over-priced cream-based food excursions I could stomach. I embarked on my journey knowing that my food choices would derail whatever diet I was on at the time.
To rationalize the food orgy that was sure to commence once I landed in the land of wine, bread and cheese, I fooled myself into thinking I was prepared to walk everywhere my friends and I went. It wasn't the best plan.
My heady consumption of Paris street food came by happenstance. On my first night in Paris I walked down the Rue des Gardes looking for a specific restaurant, but it was getting late. My friend and I were lost -- and the restaurant was nowhere to be found. Paris dinner times are strict. Natives eat from about 8 to 11:30 p.m. After a day in Versailles we were starving and it was already 11:00 p.m. Restaurants were steadily closing when we turned a corner and saw a collective of greasy spoons serving a plethora of pan-fried goodness. My nose was stimulated by stand after stand of amazing smells. It was then that one of the chefs stepped from behind his stall to call after us.
A crepe, some chicken, and curry put me into an unfamiliar bliss. The fatty food was too flavorful to regret. I was hooked. When I woke in the morning, I searched for my breakfast at more food stands. I snubbed all the fancy restaurants that were on my list.
We resided in a studio located inside the 11th Arrondissement, near the Bastille, on the Rue de Montreuil. It was the perfect location for my new obsession.The neighborhood was jam packed with food stands and open-door hole in the wall boulangeries.
I devoured 1.5€ caramel-filled beignets and croissants in the morning. At lunch it was chicken curried and stuffed with varied cheeses into baguettes, or a delicious 5€ croque monsieur. Dinner was a hodgepodge of expertly made pastas and dinner sandwiches. I don't think I bought more than one meal over 10€ my whole time in Paris.
That trip taught me about my power over food. Food is a choice. What I eat, and when I eat is totally up to me. There are no excuses. I ate street food because I wanted to and I liked it-not because I couldn't afford to eat elsewhere. Eighteen months later, I have a healthier relationship with food. When I go to Paris this year my food choice will not be the same. That choice is not a restriction; it's a decision.
Before I left Paris I did the obligatory fancy meal on the Champs Elysees at a really cute bistro that served me a delicious salmon and whitefish dish. That was 8 times the 10€ I spent on my previous meals but the experience was priceless. It was a healthy and expensive choice I gladly made.
I wish my thighs would have thanked me for the light reprieve. I returned to the states not able to fit my thighs into my favorite jeans. The food was still worth every extra inch.
Read More about Akela's journey at Sanity