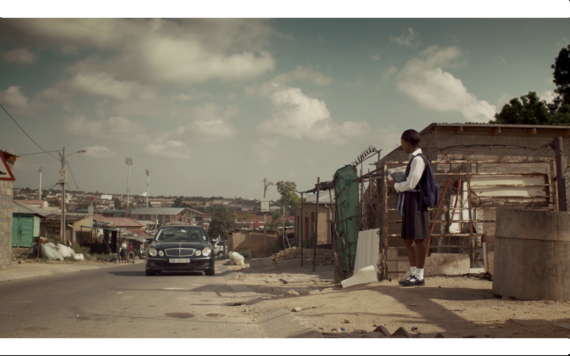 Make sure you see Thina Sobabili: The Two of Us, South Africa's Foreign Film entry for the Oscars and Golden Globes. Raw, dramatic, funny and heart breaking, it is worth the time it will take you to find. Unlike the deep pockets of many European entries, this was shot in a mere seven days, on a budget of just $3,000, in the notorious township of Alexandria, in South Africa. The first ten minutes leads you to believe you are watching a traditional tale, often told, but it quickly segues into a compelling character-driven drama, with unpredictable twists that have you constantly second-guessing the intersecting story lines.
The lead (Emmanuel Nkosinathi Gweva), is an explosive thug, who shares a stark one-bedroomed shack with his younger sister, Zanele (Busisiwe Mtshali). Fiercely protective, he holds her to standards that he hopes will allow her to escape the sprawling squalor of their birth. His stilted emotions make him incapable of communicating his pride at her education and intelligence, and his retributions for petty infringement of expectations, fuels a quiet rebellion within her, pushing her toward the exact path he sought to avoid.
Many themes and multiple stories are interwoven, mining the psychological impact of childhood in shaping fears, and creating who one becomes. First-love, revenge, morality, the illusion of safety, desire, and the slick escape of western accoutrements, meld in a taunt tale that constantly shifts what you think you know. Flashbacks link characters, and a haunting score by Motheo Moeng, heightens emotion, and is worth a listen to, by itself. The tension ratchets up, and unexpected turns unfold to a crescendo that will leave you thinking and talking of this film, long after you have left the theater.
This is an unintentional 'message' movie highlighting social issues of poverty, abuse in a patriarchal society, and the role of older men in the townships that use the illusion of glamor to prey on school girls, but more than anything, it highlights the courage of the human spirit. Subtitles document the lyrical cacophony of Zulu mixed with a meld of languages typical of diverse ethnicities in close quarters. Although a powerful drama, Thina Sobabili is at times a joyous tale that captures the beauty and grace that can exist despite abject poverty. Humor seasons the script like basil brings out the flavor of tomato; it comes at you in unexpected ways, seducing you out of your comfort zone and tossing you into harrowing scenes that may challenge the Euro-centric expectations many a viewer has come to expect of foreign fare. Part of the tension is the razor blade teetering of leads as they make and resist choices that can have numerous positive or negative impacts - the delight of the script being the characters often resist audience expectations.
Winner of the Audience Award at the 2015 Pan African Film Festival (organized by Danny Glover in LA), the ADIFF in New York, and the Jozi Film Festival, Thina Sobabili was the 8th ranked non-studio box-office film in South Africa. Directed by Ernest Nkosi, who also co-wrote it with Mosibudi Pheeha, it showcases luminous performances by Busisiwe Mtshali, Emmanuel Nkosinathi Gweva, Mpho Modikoane, and Thato Dhladia, with special mentions going to Richard Lukunku (Black Sails, Strike Back), and Zikhona Sodlaka for a scene that has you wanting to look away, even as you are compelled to keep watching.
Popular in the Community