-- Thoughts of a (Californian) New Yorker Upon Returning to his City After 9/11 --
"Why do you want to see it?" they asked.
I was reminded of Bobby Kennedy's answer when asked why he wanted to climb Mt. Everest. The answer was - and is - straightforward: "Because it is there."
To some people the thought of looking upon the carnage of September 11 was morbid. To others, the reasons for wanting to be near the World Trade Center site ranged anywhere from simple curiosity to an emotional need to be as close as physically possible to share the spiritual identification with the site that will now be ingrained in us as long as we live. None of these views was wrong.

My own answer was not complex. It's similar to reasons that draw people to other national shrines and places of national pride. Why do people want to visit Gettysburg? Why do visitors go to the Arizona memorial at Pearl Harbor? Why visit the sites of the Normandy landings?
And so it was fifteen years ago during the last week in October that this then-66-year-old New Yorker whose principal residence has been in California since 1953 went back to share the spirit of the great metropolis.
Riding through the borough of Queens from LaGuardia Airport toward Manhattan, one was struck by ubiquitous reminders of what had become different: the "United We Stand" billboards; the volume of flags, large and small, and the varying forms of artistically designed flag paintings on the sides of buildings; and just before entering the Queens Midtown Tunnel, the first obvious display of heightened security with the narrowed restricted-lane entry into the tunnel and the large number of police and National Guard troops supervising passage under new access rules.
This out-of-town New Yorker felt at home there for another reason: from 1983 to 1986 I had rented an apartment at the Gateway Plaza, Battery Park City's six-building high rise apartment complex whose location is one-to-two blocks from the World Trade Center. Only two days earlier, authorities had reopened public access through these blocks in lower Manhattan to as close as one block from the WTC's remains. On a bright sunny autumn day, my wife and I walked the mile from the Bowling Green subway station through Battery Park toward the disaster site. What just a couple of weeks earlier had been streets strewn with rubble and debris from the ripple fallout of the twin towers had become a gridiron of streets swept clean and thoroughly washed - right up to the barriers that defined the still-restricted zone around Ground Zero.
"We have to really go after them now," said the New York Police Department sergeant who stood at the barricade one block from Ground Zero. "There's going to be more," he echoed the generally accepted premise about additional terrorist attacks on unspecified American targets.
Because this area next to the site had only recently been reopened, few people strolled its lanes. A walk around the west side of the World Financial Center along the Hudson River revealed spotty damage on these partially occupied buildings: some windows blown out, some pockets of twisted building skeleton. But the real impact was what could be seen that one block away on the east side of West Street: structural carnage that defined what was left of one of the smaller WTC buildings along with remnants of façade and twisted metal and concrete in huge piles. Gigantic cranes towered over heavy equipment grinding through multiple layers of destruction. In the distance were other buildings once thought to be structurally tenuous, such as One Liberty Plaza which was covered by red sheathing to protect people on the ground from chunks of broken glass that might drop from above. Smoke still billowed from the ongoing fires in the bowels below Ground Zero - some seven weeks after the attack.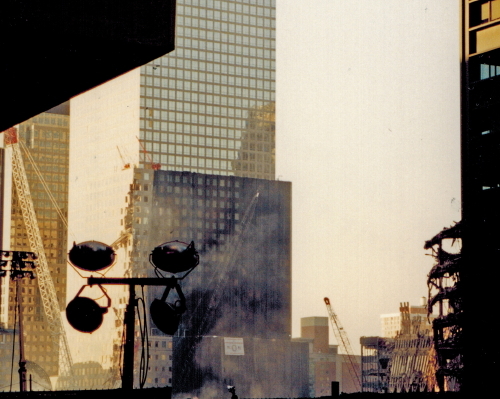 Giant cranes towered over multiple layers of destruction and remnants of facade; smoke still billowed from ongoing fires. Photo by Diane Zucker.
The promenade adjacent to the Gateway Plaza complex was draped by several very expansive emotional displays of flowers, spontaneous memorials, grieving missing persons messages and posters, teddy bears, family photographs. Only the day before there had been a memorial service for several thousand victims' family members just two blocks away in the middle of the WTC site.
New Yorkers, whether they are among the eight million who live within the city's boundaries or are those of us who now reside elsewhere, are a proud group. Perhaps that's why we felt the pull to go back to New York in late October.
"Am I nervous?" asked Herb Schneider, an attorney in lower Manhattan, echoing a friend's question. "Not at all. We're OK. We're going out to dinner tonight and business is normal in the office."
Mike Sweedler, a patent attorney in midtown, insisted his life was normal. "I don't worry about terrorist threats around me," he affirmed. He lived in Manhattan during the workweek and commuted to his office a short distance away near Grand Central Terminal.
"We're resilient!" exclaimed Helen Dykhuis, a retired options trader with one of Wall Street's major brokerage firms. Her affirmation was typical of the attitude of most people we talked to.
In midtown, the Metro North commuter railroad had constructed its own "Wailing Wall" inside Grand Central's passageway between the main concourse and the subway entrance. Several eight-foot-high walls were joined to provide a continuous board of photos, messages, prayers and poetry. Some people would spend a few seconds glancing at the display; still others would dwell for many minutes, seemingly reading every message as they slowly revolved around the complete exhibit.
Another way to absorb the city's spirit was to heed Mayor Rudy Giuliani's request to attend policemen's or firemen's memorial services. We learned firsthand that the concern about sparse attendance at these services was unwarranted, for we witnessed a standing-room-only memorial mass at St. Thomas Church in Queens for Lt. Robert Wallace, 43, one of the hundreds of New York City Fire Department heroes who lost their lives on September 11.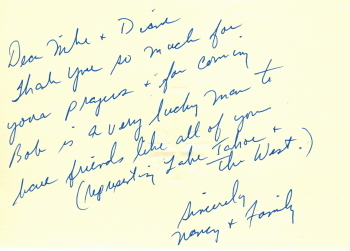 Note received from Mrs. Robert Wallace after Lt. Wallace's mass.
--------
Just as it may be hard for someone who is not a native New Yorker to fully comprehend the pride of the Wonder City's citizens, so it is difficult for its citizens to understand the degree of support and love that the rest of the country had for them. Both were reported many times in the media, yet we wonder how well the depth of those feelings got across. In talking to numerous police and firemen, we described the displays in our own South Lake Tahoe community that explicitly conveyed poignant messages, not the least of which was a banner draped in front of an isolated home on our local Highway 50 half way between Zephyr Cove and Cave Rock that affirmed "we love NY!"
We can attest that no matter how enraged and violated we felt about the attack on the World Trade Center, nothing compares to the impact of having seen the site in person.
In the aftermath of 9/11 the nation emerged more united than it had been at any time since World War II. The degree of that unity, which bridged geographical distances and cut across various age groups and the multiplicity of backgrounds of its citizens, surprised some while it confirmed expectations of others. It reinforced the motto that's inscribed in the Great Seal of the United States and that adorns all the coins in our pockets: E Pluribus Unum. Out of many, one.
Calling all HuffPost superfans!
Sign up for membership to become a founding member and help shape HuffPost's next chapter