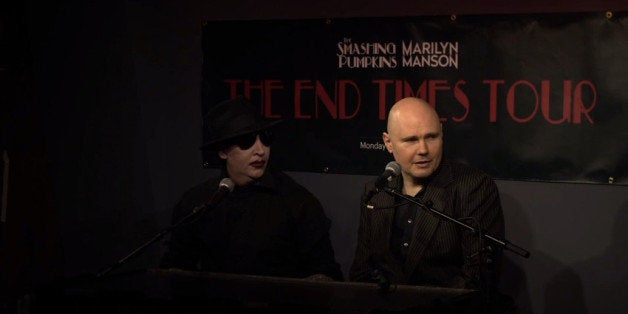 In a small "secret room" on the 25th floor of the Virgin Hotel in Chicago, rock icons Marilyn Manson and Billy Corgan sat before an audience of a few dozen fans and journalists on Monday for a "town hall-style chat," moderated by The AV Club's Sean O'Neal, ahead of their upcoming co-headlining tour titled the End of Times.
And while the conversation didn't veer to the End Days as some might have assumed, Manson and Corgan covered a lot of ground during the hour-plus event, answering fan questions and, particularly in the case of the Smashing Pumpkins singer, going on lengthy diatribes on various topics related to the music industry. As a result, we learned a lot about the Chicago-area native and wrestling and tea aficionado, particularly a few of his pet peeves, while Manson, perhaps surprisingly, tended to offer a more positive outlook on things.
Here are a few things Billy isn't into:
"I disagree with the assertion of weird. ... I don't think there's anything weird about being an artist," Corgan said after O'Neal introduced the pair as "two of the weirdest artists of the last 25 years." ["I'm with him on that one," Manson added.]
2. [Manson's ex-girlfriend] Rose McGowan.
"I suppress Rose McGowan," Corgan said amid a conversation about Manson's memories and their early impressions of each other. "She's suppressed in my mind." [Manson went on to say that Corgan once wrote a "very strongly worded letter" to him urging that "you should not be with this girl, she will ruin your career."]
"I'm sort of anti-hipster. I didn't like hipsters in the '80s," Corgan said. "I don't like anything that's parochial, meaning this group decides what's cool and what's not. That's antithetical to what I believe in. ... Hipster culture pegged my band very early on as not being 'cool enough' whatever the fuck that means."
4. "Play the record" nostalgia tours.
"When people talk about nostalgia, it's their version of nostalgia, which by the way is really fucking boring," Corgan said. "Look how many bands now for five years have been doing the 'play the record.' Do you hear a big buzz about that stuff? ... Everybody's done it, everybody's ran to that tilt, so now what? What qualifies as nostalgia, I don't know?"
"Why people go to a show isn't to hear a 'greatest hits' record, they go to a show to see something that says there's a reason I'm in this particular spot on this night to see this person or these people," Corgan said. "If you don't believe in that, you don't really believe in rock n' roll. You don't really believe in the stuff that we believe in. ... If you don't believe in that, you're not really a fan, you're a curator of a library and we just happen to be one of the books in the fucking library. I'm just not into that vibe. I reject that."
6. Justin Timberlake, apparently.
Corgan repeatedly teased Manson for listening to a surprising amount of tunes from the *NSYNC alum as part of his pre-show backstage playlist. [Manson said he is particularly fond of "Only When I Walk Away."]
Watch the entire chat below.
Popular in the Community