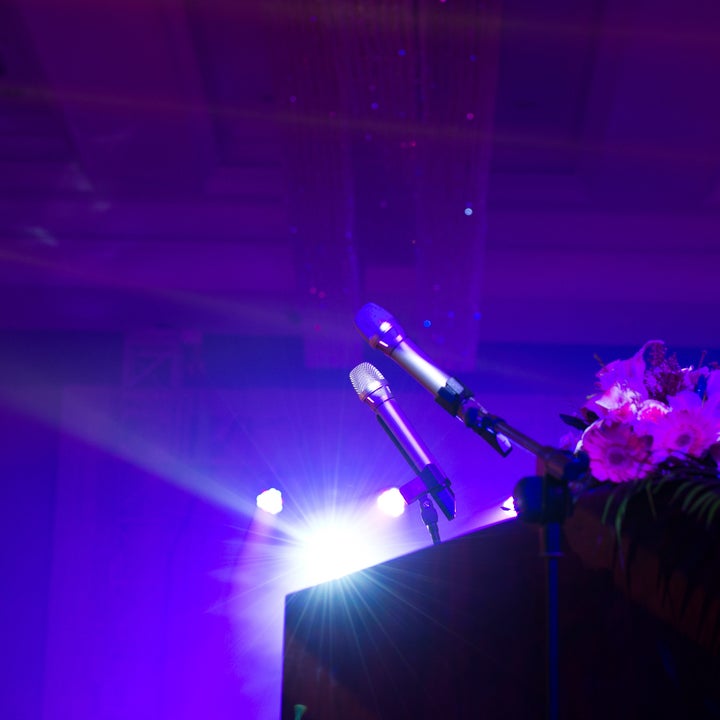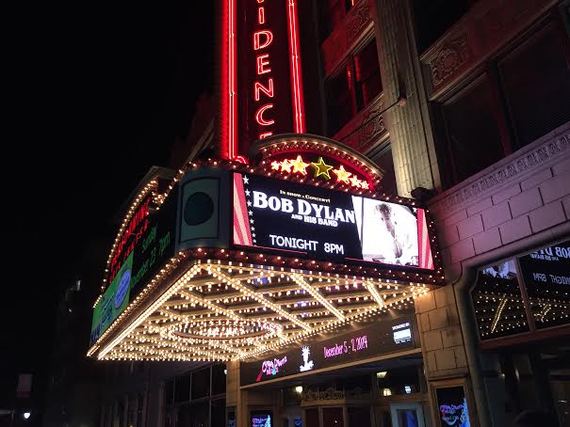 Whatever Bob Dylan did differently on this leg of the Never Ending Tour, he needs to keep doing it. He hasn't sounded this good in years. His was voice the clearest it has been in a decade; his words were audible; there was bounce, a Chaplin-esque bobble in his step, as he skipped across the stage like a marionette on strings. He seemed almost happy.
Let me say here that I'm 32 years old. I grew up from the crib with Dylan's music. I've seen him maybe 10 or 12 times in the last 12 years -- both to cover concerts as a reporter or music columnist and to enjoy them as a fan.
I was there in the early 2000s when he mumbled through "Cat's in the Well" at every concert.
I sat through two-hour shows where I couldn't make out one clear syllable.
So when I heard him -- loud and clear -- in Providence, Rhode Island on Nov. 15, my jaw dropped.
Under the golden lighting, there was almost an "Austin City Limits"-vibe, a televised special-vibe that hearkened back to the now-classic 1994 MTV Unplugged album. It was magic.
Clad in his now-signature Western attire -- black suit with white piping, wide-brimmed hat and cowboy boots -- Dylan alternated between the piano and standing stage center, in his wide-legged stinkbug stance, blasting air into his harmonica.
If there is a more blissful state than sitting in front of Bob Dylan while he plays harmonica, I don't know what it is.
He opened with a bang, almost quite literally, as the stage lit up, a guitar sounded, and Dylan walked out singing "Things Have Changed." His 19-song set lasted a full two hours -- that set being, of course, in traditional Never Ending Tour-fashion -- the exact same set he played in Boston the night before, in Chicago the week before that, in Christchurch, New Zealand in September, in Munich in July.
If you haven't seen Dylan in a year or so, the set currently includes an almost pretty version of "Workingman's Blues #2" a bluesy, a hoppy "Duquesne Whistle," a haunting version of "Pay in Blood," and a few old bones thrown to the lapping crowds -- "Tangled Up In Blue," "Simple Twist Of Fate" and, as an encore, "Blowin' In The Wind." His last song of the night was a cover of Frank Sinatra's "Stay With Me." Why? Only Bob knows.
He wrapped up the most recent U.S. leg of the Never Ending Tour at New York's Beacon Theatre earlier this month. But still, nationwide, many reviewers didn't seem to appreciate the improvement. Except for a handful of rave reviews -- perhaps most notably from Rolling Stone on his Beacon performance -- many could be summed up with complaints about his voice, his set list, his lack of interaction with the audience.
But see, to be a true Dylan fan in 2014, or 2015, is to know that he is not the Dylan of 1966.
Because it is not 1966. The Dylan of 1966 is dead. The Dylan of 1996 is dead. The Dylan of 2013 is dead. You can't go to a Bob Dylan concert today and cry that he changed the sound of "Simple Twist of Fate." Complain that he doesn't play guitar anymore. Whine that his set list is essentially "Tempest." You can't go to a Bob Dylan concert in 2014 and complain that he sounds garbled and washed out.
Because he's not afraid of trying, 'cause he don't look at you and smile. 'Cause he doesn't tell you jokes or fairy tales, say he's got no style.
To be an honest-to-God, true Dylan fan is to know his only constants are his ever-changing phases and that he'll never care what you think.
Ironically, if you tell people you're into Bob Dylan, they tend to think of you as an old soul, a throwback from the '60s -- but Dylan has never clung to the past, never shown an ounce of nostalgia. He's always been on to his next phase before we can fully appreciate the last.
He threw away his Guthrie costume. He plugged in. He went Christian. He wrote a long, detailed song about the sinking of the Titanic. He made a Christmas album. He wore a long wig for a stint. He lent his music to a Super Bowl yogurt commercial. He played Buddy Holly and Chuck Berry tunes for one dude. Now he covers Frank Sinatra.
And still, at every unexpected and strange step of the way, there have been fans and critics who gasp: He went electric! He went Christian! He sold out to Chrysler! Because, as Zimmy himself announces before each show nowadays: Things Have Changed. And only a fool in here would think he's got anything to prove.
Daley's review for Dylan's Nov. 15 Providence show ran here.
Calling all HuffPost superfans!
Sign up for membership to become a founding member and help shape HuffPost's next chapter