RICHMOND, Va. - Josh Radnor casually peels off a form-fitting vest as he walks the 60 or 70 yards from the set of Mercy Street to his dressing room trailer.
Inside the trailer, it's air-conditioned. Call it Mercy Street II.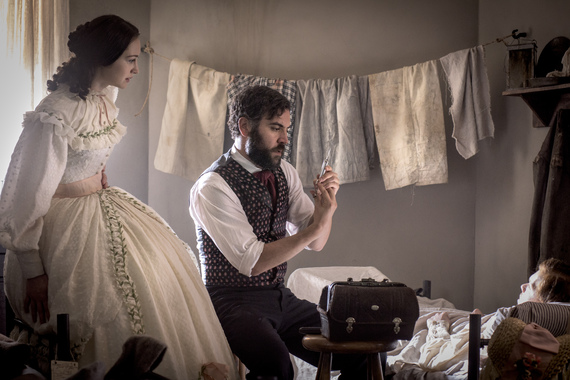 Getting out of a Civil War-era costume on a blazing hot summer day in the capitol of the Confederacy comes as a relief, says Radnor (above), though he adds, "It's not as uncomfortable for the men as it is for the women."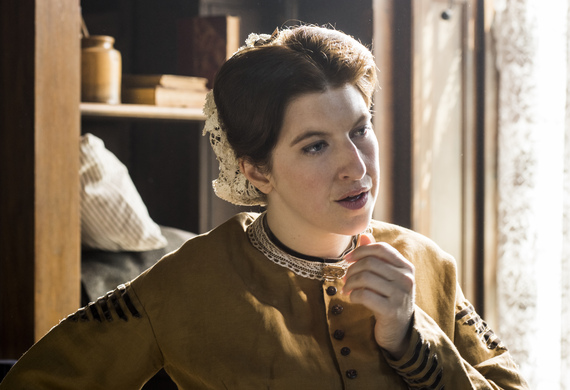 He's right about that. Tara Summers (above), who plays the driven, skilled and sometimes devious nurse Anne Hastings on Mercy Street, has already changed from a full-length, tight-bustled dress into light and comfortable modernwear.
"Much more comfortable," says Summers as she works on a bottle of water.

Mercy Street, PBS's ambitious and intense drama about an Alexandria, Va., hospital that treats both Union and Confederate soldiers in the early months of the Civil war, will return in January for its second six-episode season.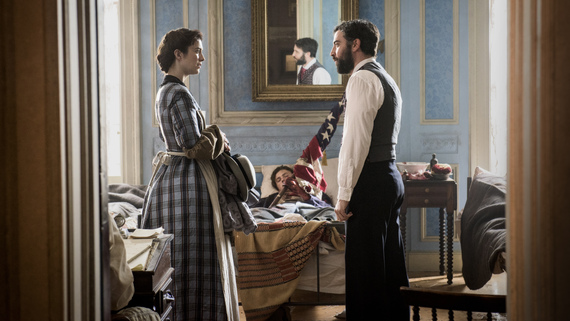 On this hot day, several months of filming are about to wrap up. Several cast members have finished and left already, including Mary Elizabeth Winstead (above with Radnor), who plays the central character of abolitionist nurse Mary Phinney.
Winstead fans who don't want to wait for January can watch her now in CBS's weird sci-fi satire BrainDead.
Today Gary Cole is wrapping, and when he finishes his last scene, he'll get a rousing round of applause from the crowd. The veteran actor, recently known from CBS's The Good Wife and HBO's Veep, plays James Green Sr., a wealthy Virginia entrepreneur whose hotel has been commandeered by the Union and largely converted into the hospital where Hastings, Phinney and Radnor's Dr. Jed Foster work.
Green must walk perhaps the trickiest line on a show that's riddled with unhappy choices. He must accommodate the federal government enough to keep a physical foothold on his property while not letting his Southern comrades suspect he has betrayed their cause.
"It's a character, and a family, where things have been one way for a long time and now that's all imperiled," says Cole. "Green is among those who think it will all be over in a couple of months and things will go back to normal. This season he's starting to see all that go right out the window."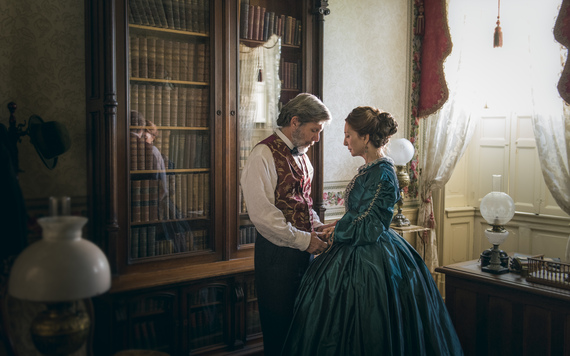 Cole and his colleagues are running through the usual multiple takes of a scene in which Green is showing a visiting British official through the hotel. He and his wife Jane (Donna Murphy) (above) are trying to flatter the visitor, but alas, the chap is more interested in meeting Dr. Foster.
When he does, he asks a stupid question that draws a politely exasperated response.
"Dr. Foster does not suffer fools," says Radnor.
Like most Mercy Street scenes, these are being filmed at Laburnum House, an historic building several hours south of Alexandria. Ironically, Laburnum House has been part of a hospital complex, and Virginia Film Office director Andy Edmunds notes that it has been used for shows like Lincoln, Gods and Generals and AMC's Turn.
Almost the whole first season of Mercy Street was set here, and it's home base for the second season as well, though there will be field trips to places like a battlefield hospital.
"It won't be Gone With the Wind," says Summers with a laugh, though she wouldn't mind. The British native grew up steeped in the lore of America's most famous Civil War film.
"I always wanted to be Scarlett O'Hara," she says. "From the time I was 4 and first saw the movie, I pretended to be her."
Anne Hastings isn't exactly the reincarnation of Scarlett - for one thing, she's considerably more dedicated to nursing than Scarlett turned out to be - but Mercy Street does conjure Gone With the Wind in several ways, including a large ensemble cast.
Actors and extras are scattered throughout Laburnum House, spilling out onto the front steps. Wounded soldiers on stained sheets and pillowcases work their smartphones as they wait for the next take to begin.
Stagehands wend their way through seemingly endless stacks of props and equipment, trying to find some place to set up a couple of small fans. With the lights kept low, the whole behind-the-camera scene looks and feels like an attic.
The bosses are also here, co-creators Lisa Wolfinger and David Zabel.
"This began with Lisa working on a docu-drama," says Zabel, whose best-known TV work is a long run with ER. "I was consulting on dramatic elements.
"Then PBS asked if it could be a series. They've had a bunch of great British shows, they told us, and they'd like a great American show. We said sure.
"Since Ken Burns's Civil War series was the biggest show PBS ever had, I think they felt like this is a subject area where they could do it.
"Our show looks at the war from a different angle than most Civil War productions. It's not primarily set on the battlefield. It also includes both Union and Confederate characters, and their uneasy interaction."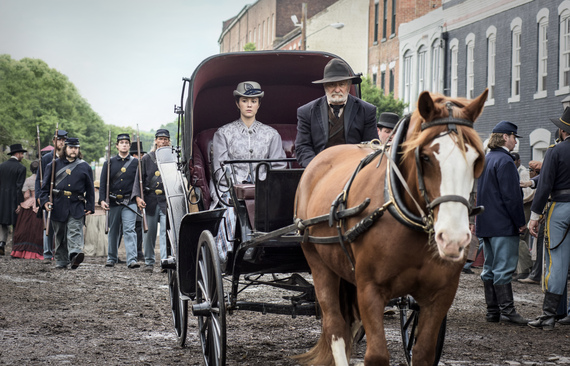 Mercy Street had the thankless assignment of taking a handoff this past winter from the final season of PBS's beloved Downton Abbey, and its ratings were decent.
PBS would love for more viewers this time around, and hopes to entice them by escalating everything that was set up in the first season: the romances, the scheming, the feuds, the family tension.
"I think everyone has hit their stride," says Zabel. "We're at the point where I'm crossing out dialogue because there are scenes where the characters don't even need it."
They will, however, stay in those costumes.
Calling all HuffPost superfans!
Sign up for membership to become a founding member and help shape HuffPost's next chapter