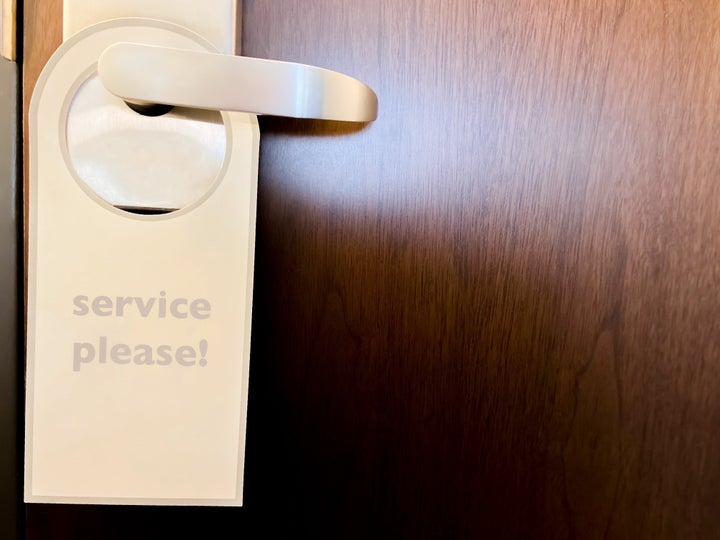 Being a hotel housekeeper is hard work. The job can involve long hours and intense physical exertion. Cleaning rooms in a timely manner demands an attention to detail and an ability to work under pressure.
But this kind of labor is not always appreciated. Some guests are outright rude to hotel housekeepers, and even well-intentioned guests and people not in the industry can misunderstand what would actually be helpful for the people who clean their hotel rooms.
To separate myths from reality, HuffPost heard from hotel housekeepers themselves about their biggest gripes, and which things they won't do now after working in their industry. Some answers were edited for clarity and length.
1. I won't leave the 'do not disturb' sign up the whole time.
"After being a housekeeper, I would never leave the 'do not disturb' sign up for my whole stay. Maybe the guests think that when we don't clean the room, it's easier for us, but when a room has two or three days without cleaning, it's very dirty.
"I have to rush to clean the room, and it hurts my body. It's very easy to get an injury. It's easier for me to clean and refresh the room every day. And if enough guests don't want housekeeper service, the hotel will tell me not to come to work, and I'll lose the wages I was counting on that day, even though the cleaning cost is already included in your room rate." ― Maria Mata, W Hotel San Francisco
2. I won't keep telling housekeeping to come back later.
"Things to avoid is wasting their time. Sometimes they will go to the rooms and ask the guests, 'Oh, do you want service?' And they will say, 'Come back later. Come back later.'
"So usually I would recommend people to notify the front desk and let them know what would be the best time for the housekeepers to go to their room. They can request at a certain time, or after a certain time. That way [housekeepers] use their time efficiently and at the same time they keep the guests happy." ― Cinthia Camilo Vargas, director of corporate services, Stay SoFlo, Florida
3. I won't go my whole stay without using daily housekeeping services.
"I would never skip daily housekeeping because I know what it's like for us housekeepers. Guests might think it helps your housekeeper if you skip getting your room cleaned, but it's not true.
"When rooms go multiple days without cleaning, they are so much dirtier and harder for me to clean. I've opened the door and seen huge piles of garbage, dirty diapers, and rotting food that I have to clean so the room is ready for the next guest. It also means it puts our co-workers out of work because less housekeepers are put on the schedule. But last year we came together with our union where we fought and won back automatic daily housekeeping ― all housekeepers should have it." ― Antoinette Clerisier, The Diplomat Beach Resort, Hollywood, Florida
4. I won't request more towels than I really need.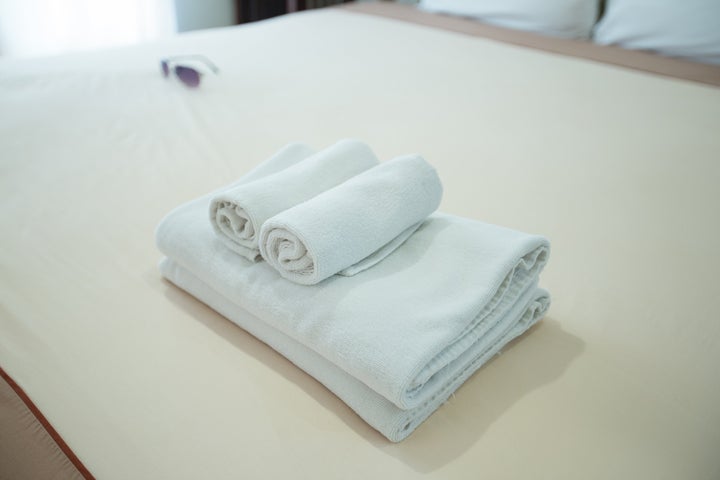 "One of the main reasons why I wouldn't request extra towels if I don't need it is because it's a waste. It's just going to make the ladies or the men who come clean the rooms' hard job harder.
"Other people could use them. Sometimes people just request them because they see it. We need to stick together and use what we need. If we don't need it, don't ask for it." ― Ronnette Lark, Harrah's Resort & Casino Atlantic City, Atlantic City, New Jersey
5. I won't forget to tip.
"After working as a housekeeper, I have learned how to tip well. I hadn't realized that tips make a big difference for us, because it not only shows appreciation for the work that we do, the money that is left for us could also go to a numerous variety of things. So I will say it would be nice etiquette to leave $5 or $10 each day of your stay because different housekeepers might clean your room each day; you don't want to wait until you check out to leave a tip.
"In working in this field, I've witnessed that the housekeeper who does your checkout may not have been the housekeeper to service your room during the time of your stay, which is why I say 'each day.'
"But all in all, working in hospitality has personally taught me to never not leave a tip of at least $10 no matter where I go, since I particularly look forward to putting my tips in my emergency fund or taking my daughter for a special treat.
"I know other coworkers may use this money for a means of transportation day to day, or as a way to get a quick meal after a long day of work. So next time you stay at a hotel or eat at a restaurant, please consider these things and leave a tip!" ― Cameron Thomas, Sheraton Philadelphia Downtown
6. I won't forget to mention my housekeeper if I leave a good review.
"Some of the hotels will pay attention to, like, Tripadvisor or Expedia, so if [guests] know the names of their housekeepers, it's always good that they mention them on their reviews if they will leave a review, because usually housekeepers don't get mentioned.
"You see the review saying, 'Oh, the front desk agent, or this person or this manager helped me out with this,' but they never mentioned the housekeepers." ― Camilo Vargas
7. I won't work without proper protective equipment.
"One thing my team and I won't do is handle hazardous materials without proper protective equipment, so as not to expose ourselves to any potential health risks or dangers.
"For example, if we were to come across any blood or bodily fluids, we wouldn't clean it up without wearing personal protective equipment like gloves and a mask. We would also report this to the appropriate authorities first before cleaning anything up. It's really important to follow the proper protocols and procedures for disposing of hazardous waste." ― Diana Rodriguez-Zaba, president of ServiceMaster of Lake Shore, a cleaning and restoration company in Chicago
8. I won't work without a panic button.

"I would never work without a panic button. Back in 2018, my union negotiated for every housekeeper to get a GPS-enabled safety button, which is so important. As housekeepers, we usually work alone in the hallways and guest rooms, so if something happens to us and we call out for help, maybe nobody would hear.
"The safety button makes me feel much safer, because I know that somebody will help me if I am in danger." ― Flora Matias, Hilton Doubletree Alana Waikiki, Honolulu
9. I won't leave a big mess for the hotel housekeeper to clean up.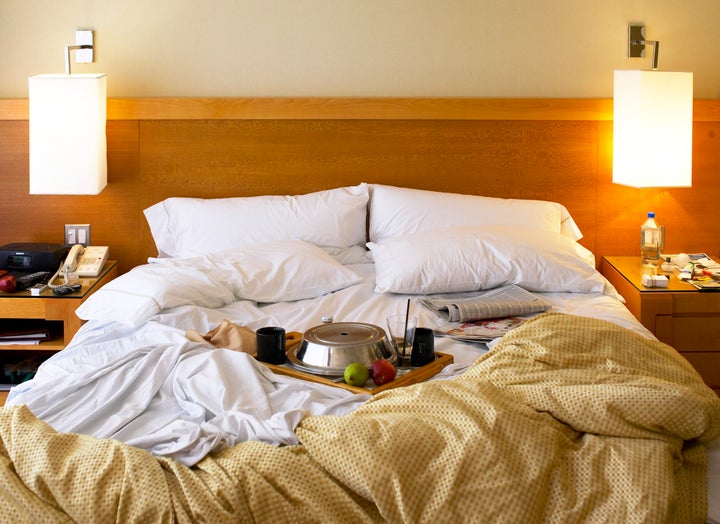 "When I stay at hotels, I make an effort to keep my room fairly neat so housekeeping doesn't have to spend too much time tidying up after me or my family. If I'm traveling with kids and they make a mess, like when they eat dinner and leave crumbs all over the floor, I usually ask for a vacuum and try to clean it up myself.
"I'm always careful to throw my trash in the trash bins, too ― it's surprising how often people just leave their garbage on the floor. It's all about being considerate." ― Rodriguez-Zaba
"After working as a housekeeper, I would never leave a huge mess in the room at checkout. I wouldn't leave trash all over the room, I'd gather it all in one place. It also helps us if the guest piles the towels all together, so I don't need to bend down so many times to pick them up.
"The other day I cleaned a room where they had had a party and they had left balloons all over. First I had to pull them down, and then pop and deflate each one. And they left drinks everywhere, too. When I have dirty rooms like that, I'm almost running to get through my shift, and I worry that I'll injure myself or fall. At the end of a day like that, I'm very tired. I can't have a family life or a social life because I'm already out of energy." ― Mata
10. I won't leave my personal stuff in the way during my hotel stay.

"I try to store my personal belongings out of sight ― whether that's in drawers, closets, or suitcases to make it easier for housekeeping staff to clean the room without having to move my items. This actually helps them do their job easier, and it also cuts down on the chances of them accidentally damaging or losing my items." ― Rodriguez-Zaba