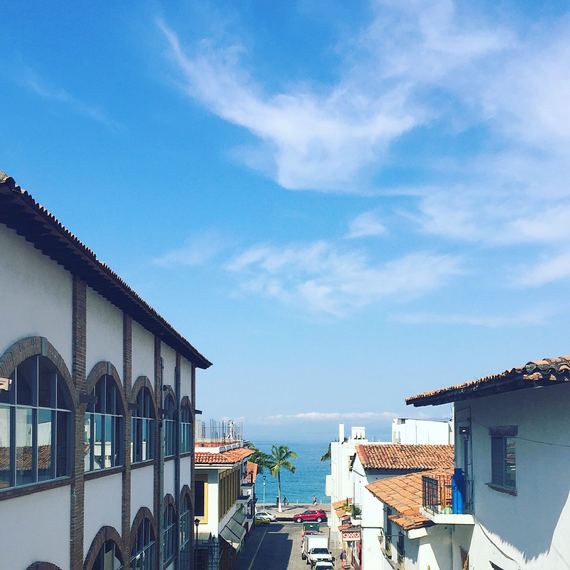 I stand on the Malecon, astonished at how different the Malecon looks from the night before. In the morning, when the boardwalk's bustling nightlife has faded to a temporary stop, Puerto Vallarta's most popular attraction is a different world entirely, one with shops selling local products instead of bars and clubs, bizarre metal sculptures instead of twenty-somethings in party dresses, and the endless sea glistening blue instead of the unsettling black.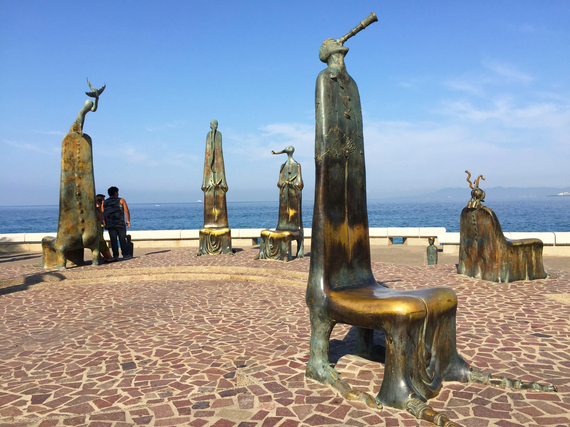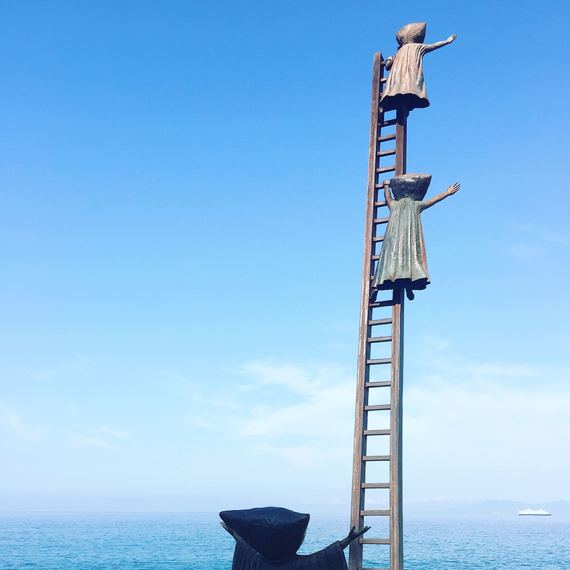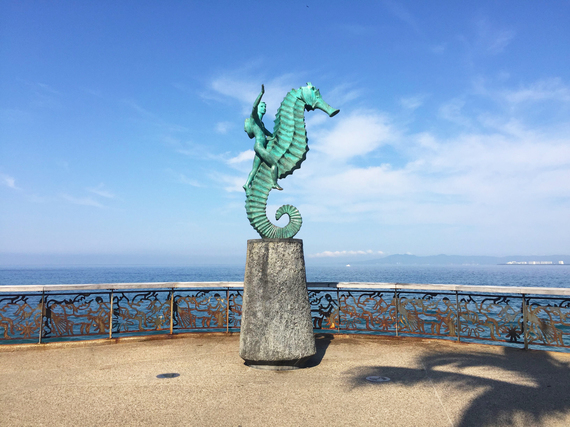 At the palm tree lined Malecon sit sculptures of marine animals and strange creatures with oddly shaped heads and bodies. They look out to the endless blue as if in yearning while beckoning passers-by to slow down, take notice and maybe snap a few silly photos before moving on.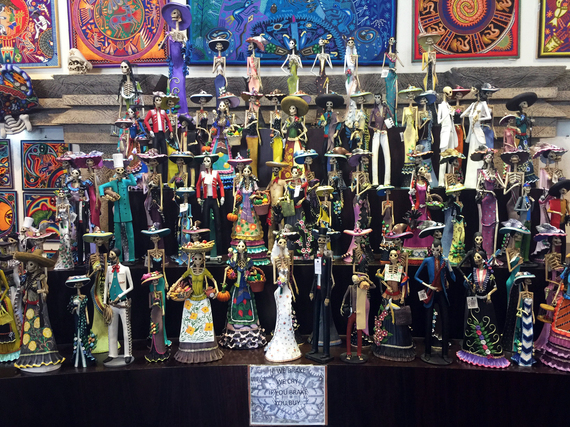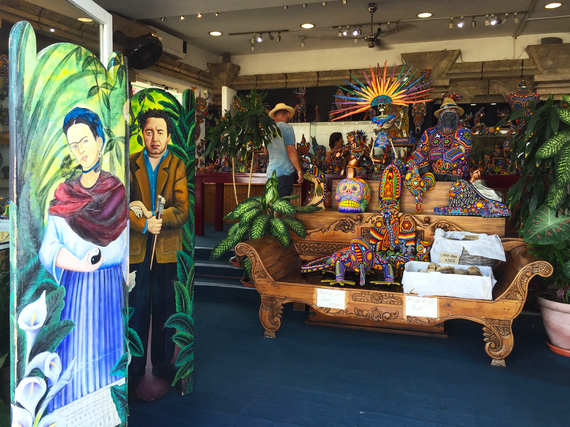 On the opposite side, amongst the Señor Frogs and other souvenir and novelty stores, shops like Tierra Huichol sell locally crafted and indigenous products. Colorful Catrina sculptures and Huichol bead art line the shelves in celebration of Mexico's traditions, art and local artists.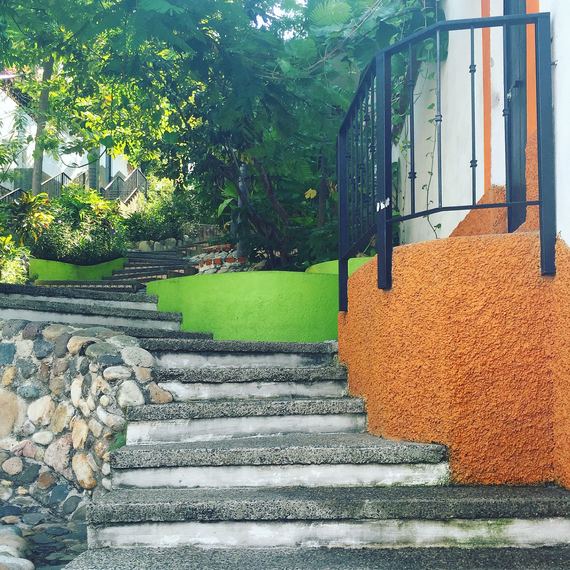 From the Malecon, a more hushed yet no less interesting or vibrant scene follows. Cobblestone streets climb up the slopes to reveal small staircases that lead to quiet alleys and private homes, their roofs red, their walls white with trimmings of blue, green, yellow and rust.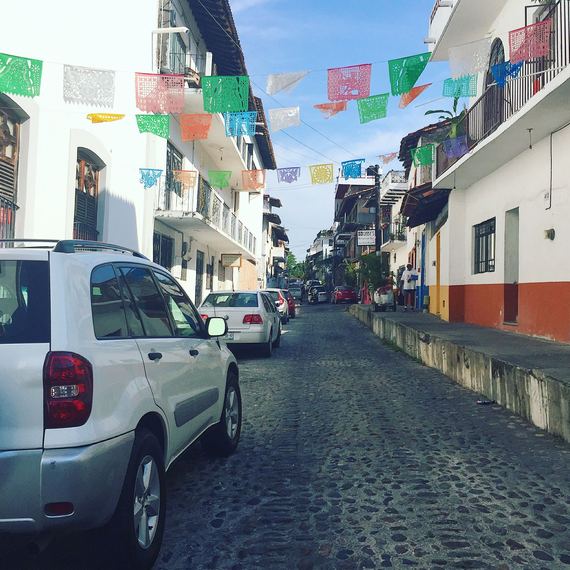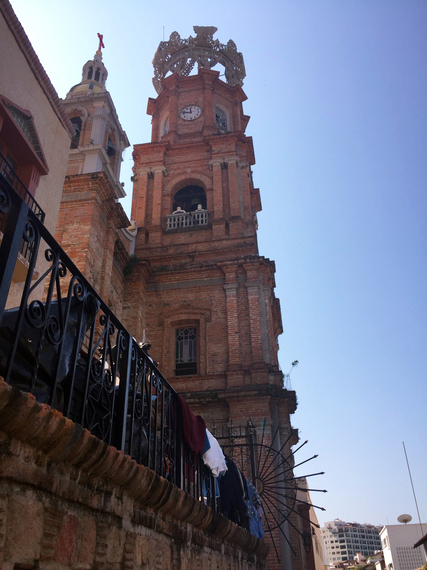 On Hidalgo, similar-looking commercial buildings boast terraces--fiesta banners tied to their railings--that afford idyllic views of the bay beyond so visitors can enjoy ice-cold beer and tasty guacamole whilst taking refuge from the heat and humidity. Here, the beautiful Parroquia de Nuestra Señora de Guadalupe casts a shadow over a small plaza, its faded bluish green crown like a beacon to locals and tourists alike.
Finally, all around locals go about their daily grind, which includes eating fresh oysters for lunch under the bridge near the flea market, maybe stopping at the church for a quick prayer and of course putting up with wide-eyed tourists like me.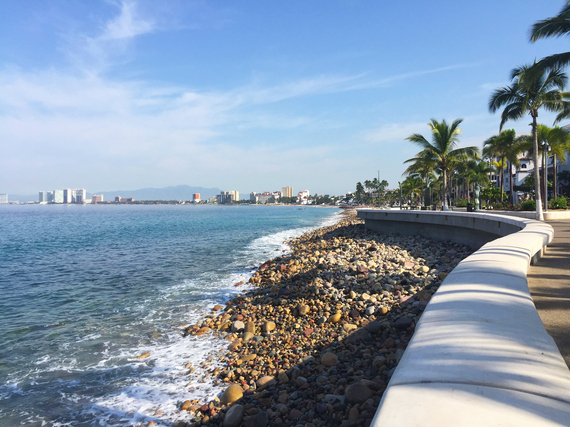 Puerto Vallarta is in every way a typical tourist destination, packed with resorts of all shapes and sizes as well as pedestrian shops that sell every trinket you're never going to need. But this city in the very center of Banderas Bay's impressive shoreline is in many ways unique. Hidden beneath all the touristy humdrum, just below the surface, are quirks and authentic details that only add to its charm.
For an affordable, all-inclusive option, Velas Vallarta is steeped in Mexican culture as well as local cuisine. Every night, the hacienda-style resort holds family-friendly entertainment like Mexican Fiesta and Veracruz dance night, and its very own Mariachi band serenades guests at dinner; while taco, tequila and hot sauce tasting is made available to all its guests.