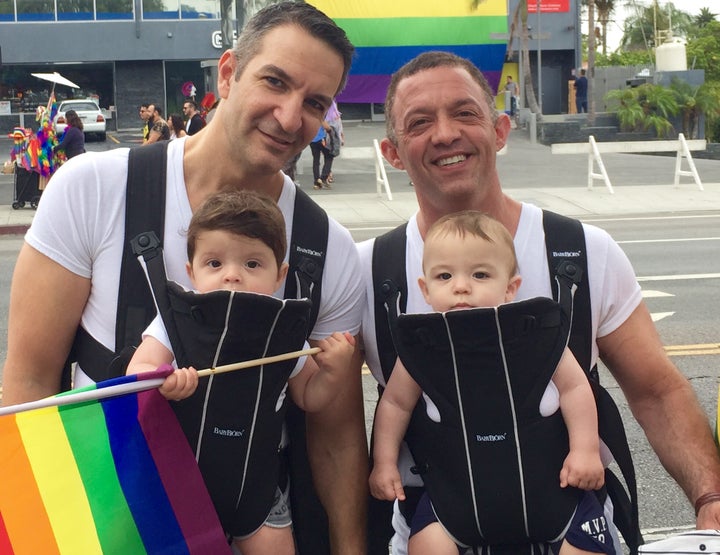 There's an old Jewish saying, "Children are happiness." For the first six months of our twins' lives, that could only have been true for me and my husband if "Happiness" could be defined as a kind of delirium resulting from a powerful desire to turn back time and not have had kids at all.
I don't know what it's like for straight couples whose kids are, perhaps, delivered on the wings of a gentle stork. Our babies were dropped from the aptly named "Enola Gay" on Hiroshima and Nagasaki. We had talked about this. We had "couple's therepized" about this. We spent hundreds of thousands of dollars on our little "Manhattan Projects." Friends, family, and random people on the street warned us with eye rolls, cynical laughs and "Wait, wait, you don't know what's coming for you." Still nothing could prepare us for the mushroom cloud of sleep deprivation, lost freedom, and the scorched earth of what used to be a "gay lifestyle" at the gym and out with friends. And worst of all, these "Little Boys" were living, breathing (screaming) humans, and the guilt of not knowing if we were taking care of them correctly ― often not even wanting to take care of them at all – that was almost unbearable.
Our surrogate, bless her soul, lives 600 miles away, so for us, the whole process of the pregnancy itself was rather remote ― that is, until we stepped into a delivery room and watched in shock as, 28 hours later, we found ourselves with two human beings that we needed to take care of for at least the next eternity.
But it turns out the worst of the fallout from our new Nuclear family began to subside after the first 6 months. Our two little radioactive blobs started to smile and giggle. Started to show signs that they knew who we were and were pretty happy to see us. And, it's true, those six months changed us as well – made us men who could start to find our way with these new people.
We are pretty much the first generation of out LGBT people able to have children this way through surrogacy. So yeah, my husband and I met, got married, and then had children (exactly as the Republicans demand… well… except for… y'know). But that's pretty much where we wanted "Ozzie and Harriet" to stop and "Ru Paul's Drag Race" to kick in. There's much to learn from thousands of years of stereotypical straight parenting, but we feel like there's an opportunity here to make two gay parents a meaningfully different thing.
So, my "twiblings" (that's apparently the new term for our little science experiment, wherein twins are born of the same egg donor but fertilized separately by me and my husband at a clinic in Pasadena in a process of which we shall never speak again) are almost a year old, and I've learned some things that I'd like to share with any new gay parents out there. Here we go:
1. Establish a schedule: "6:15, 8oz. 6:40, Abs…"
My biggest tip is structure, lists, SCHEDULE! It's all about a properly gay sense of persnickety order! My husband and I both decided that we're going to keep our jobs (and our muscles) and we worked around it: The kids' meals were scheduled, the baths were scheduled, they have a nanny and we know exactly what's happening every hour of the day, including the time we go to the gym, when we sleep, and when we breathe. I found this so healthy (if a little terrifying to friends and neighbors). It's healthy for the kids, it's healthy for us and it creates an order that helps you keep some semblance of sanity. Consistency is very important, and in the first four months I kept on consistency like a freaking computer.
2. Baby Connect: "The Grindr of Baby Management (?!)"
At the hospital they gave us sheets of paper for recoding every baby poop, meal, nap, etc. It's very valuable to keep track of all of this information for your pediatrician but also because it's often difficult when two people are raising a kid to keep track of what happened (and if you have twins this becomes a clerical nightmare). But the paper and pencil approach is impossible.
I found out about Baby Connect from Rabbi Heather Miller (Your priest saves your soul. Your rabbi keeps you from losing you mind!). This simple little app lets you track an downright neurotic level of stuff and it synchronizes it between devices so you and your partner and your nanny and your mother – who just WON'T LEAVE – and anyone else, can keep track of what's going on and what needs to be done. Unless you're into some really kinky stuff, you've never cared about the size and texture of the poops happening in your home 'til you have kids. Best $4.99 I've spent on the kids!
3. Play Kylie Minogue for Them: "The Eentsy Weentsy Streisand Went Up the…"
Here comes the gay part. From day one, we never stopped playing music for our kids, in every waking hour. There's always something in the background. However, if you let my kids choose the songs they love the most, they would probably prefer "What's the Pressure" ― Belgium's entry to this year's Eurovision Song Contest ― over "The wheels on the bus." I used to do "Madonna Night" for them, playing the song and dancing around the room. It kept them interested, it kept them stimulated - it made them love my music. Which is so much fun. Take some time to make a few playlists for different moods and times. Make it the music that YOU love and you will all love it together. And after all, their first words will probably be "Gaga" anyway.
Also, starting at three months old, I started playing music videos for them. One time, they were both screaming their lungs out and suddenly the video for "Confide in Me" by Kylie Minogue came on ― and they immediately went quiet. I soon discovered that this video is BABY QUIET MAGIC! I don't know what it is, maybe it's the colors, maybe it's the editing, but I started to use it to my advantage: every time they freak out and I can't control them - "aunty Kylie" comes on, and everything is ok.
4. Take a Weekly Afternoon Off
As part of our schedule, my husband and I decided to give each other an "afternoon off" every week. Because every morning we go to work, we come back, and we "work" the kids. This takes so much energy that we knew each of us needs at least one evening a week to "air out," while the other takes care of the babies. So I took Tuesdays, he took Wednesdays, and I don't know what he does with his time, but I mostly use it to do "gay stuff": meet gay friends, sit at West Hollywood's "Big Gay" Starbucks, or go to bootcamp with my campy and adorable trainer Joel.
5. Go with the Babies to Gay Places - Not clubs, Relax!
More often than not, gay men love babies (especially when they're not their babies). It's good to take the babies on a walk and sometimes, just sitting in a "gay" atmosphere invites people to come and talk to you, to adore the babies, and to offer being their "guncles." For me, I found that seeing other people throwing love at my kids, talking to me about what it's like being a gay dad, and even just smiling at me when they see me walking around with the stroller, strengthened me in a weird kind of way, and gave me more energy to pass that first six month mark ― with some sanity. And anyway, you want the opportunity to see why collagen lip injections are never a good idea for men. No, kids, never!
6. Go to the GYM!: Pump Milk AND Pump Iron!
It's hard. You're tired. Tired isn't the word, you are the walking dead. And you have to work too. All of this is true and finding the time and energy to go to the gym is really hard. BUT DO IT. Yes, it will help reduce the chances of the dreaded "Dad Bod" but equally important, it will help you continue to feel alive at a time when you feel like you've ceased to exist as a physical being. Gymboree is for Parents Too!
7. Simply Believe You're Going to Be Ok, and So Will The Kids: "Everything's Coming Up Roses"
Needs no explanation. You will be ok – all of you! And even when though it's hard, remember that you are doing the best you can. And that's enough.
Popular in the Community