Blog Covering An Afternoon of Books and All Things Literary in LA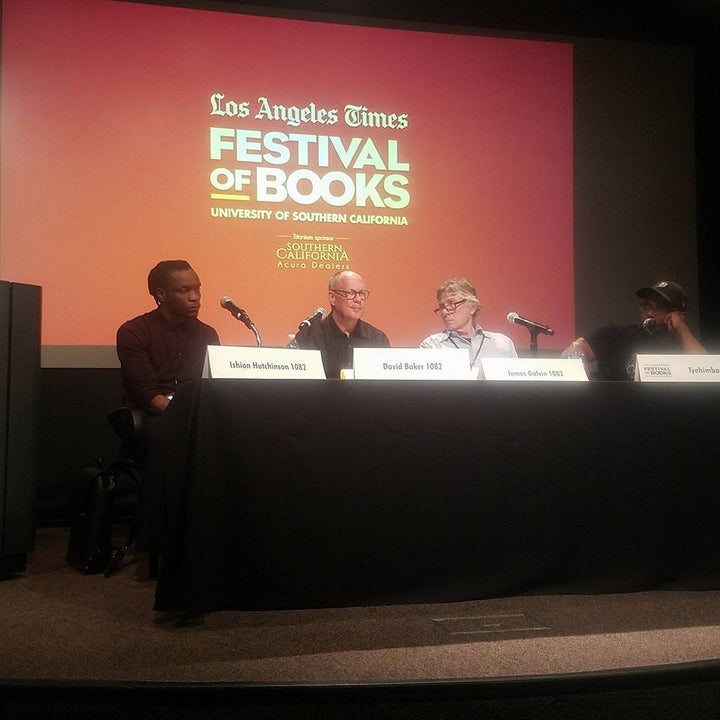 Spring is a season of renewal. It is magical. And this year, it is lyrical, poetic and wonder filled. It reminds me of something elder Abiodun Oyewole, the Last Poet of Harlem said. He said, "I do see us coming together as a people. We actually come together and make it possible for some change by galvanizing. We have power. I do expect us to have that fortitude. Our strength is unquestionable."
That prophesy was said by elder Abiodun for these times. The book fairs and festivals, the poetry slams and other cultural celebrations is where people get off their computers and social media and come together in a singular vision, a singular expression of togetherness, believing together, witnessing one another and making one another stronger. Its an experience in the largess of our humanity. They see one another in the other and come to appreciate... nay, relish the vast diverse expression of the universe in one another. It is us becoming a nation of the people, for the people, by the people.
My favorite things about this weekend were the seminars, poets, publishers, authors iartists and the people. All of it, coming together. Here are some of the events, the happenings and the way it went down. There was every version of America- the native American Indian, Muslim, Asian American, African American... the American cosmopolitan. There was every political hue and we were passionate about our convictions but we were together. Yes, it was a nice day with the sun shining at full tilt and people milling, mixing and conversing.
My favorite things about this weekend were the seminars, poets, publishers, authors artists and the people- all of it, coming together. Here are some of the events, the happenings and the way it went down.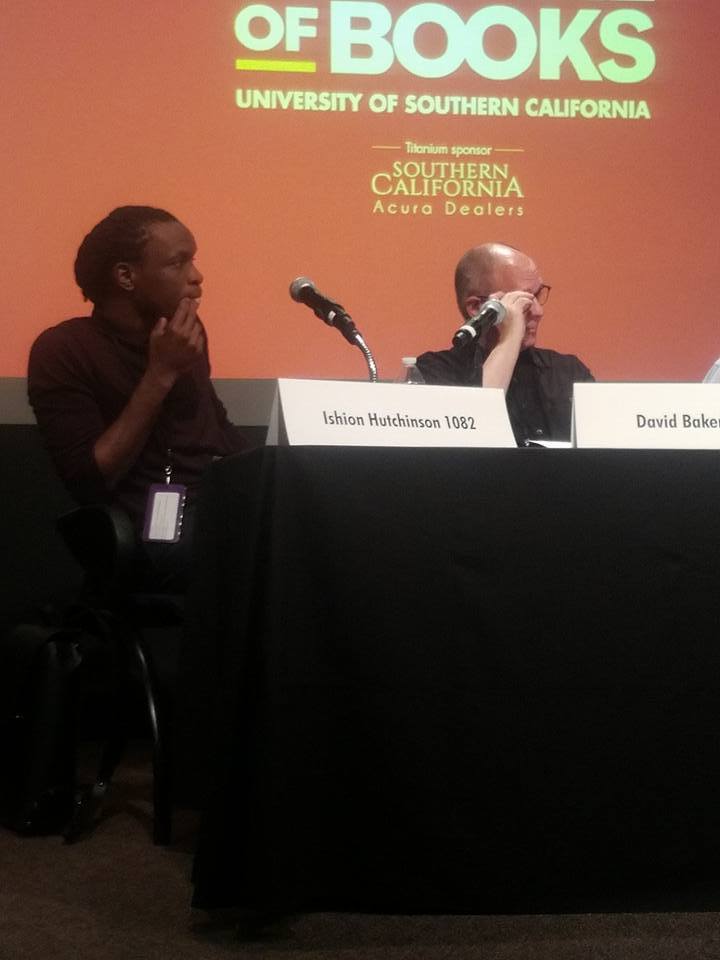 I talked to a couple of my friends who were heading to their own festivals or book happenings in other parts of the country. Namely, I spoke with E. Ethelbert Miller, known affectionately as a literary activist. He wanted me to make sure I touched basis with his friend poet Hélène Cardona. Then, poet Ladan Osman and I were texting. She texted me, "My friend Ishion Hutchinson is reading there! His book House of Lords and Commons is amazing. If you see him please pass on my hello."
So I went to the discussion on 'Public versus the Private' panel at the Annenberg Auditorium. The panel featured Ladan's friend Ishion Hutchinson. David Baker was speaking. He said about the current political climate and the growing significance of poetry, "We listen to poets. People who seems to have a language of complexity, musicality, nuance and making public what is private."
James Galvin who was also on the panel quoted from William Butler Yeats and William Carlos Williams. Specifically, he gave voice to William Carlos Williams "this is just to say", a brilliant piece of onomatopoeia with balance and rhyme that speaks to cold plums in in the fridge. Galvin spoke with conviction saying the the system is broken, citing Michelle Alexander's New Jim Crow and talked about about absolute denigration of the black woman in American society. Statistical information given around incarceration, jobs, education and health and well being were sobering if not enraging.
The panel was moderated by David Biespiel who said poems are visible right now which is terribly ironic. He cited the New York Times article focusing on poems this weekend. And he said something I had to write down about poetry engaged with public policy. He said new poetry is poetry meant to stir us into action ... because of electoral politics, poets have fresh material. "Do you feel engaged?", He asked. I felt he was asking if we were not passionately stirred to a zenith of spiritual being. But that was just my interpretation.
Tyehimba Jess was the last gentleman sitting on the panel and he said there are many ways to, "write a political poem and engage the political. There is now a leash to speak out and exclaim against the audacity and foolishness of the Trump administration. That is in the vain of the tradition of Amiri Baraka and Nikki Giovanni.
"I think of Pablo Neruda who was always political but deeply sensual. Sonia Sanchez is the same thing. Its very hard for me to write about this scenario. I recently read a Langston Hughes poem and it was very aprospos. Which is just to say very little has changed. We live in a country based on genocide."
Those were the wholly matured X-men like poets. They were fly, filled with power and grace, the ability to alter reality. But it wasn't so much a super team as a super family of activists and word conjurers able to wholly resurrect a dead electorate. Think of wizards, energy channelers and cosmic citizens sitting the plain of day without so much a pretense of fiction or mundane realities. They were fly.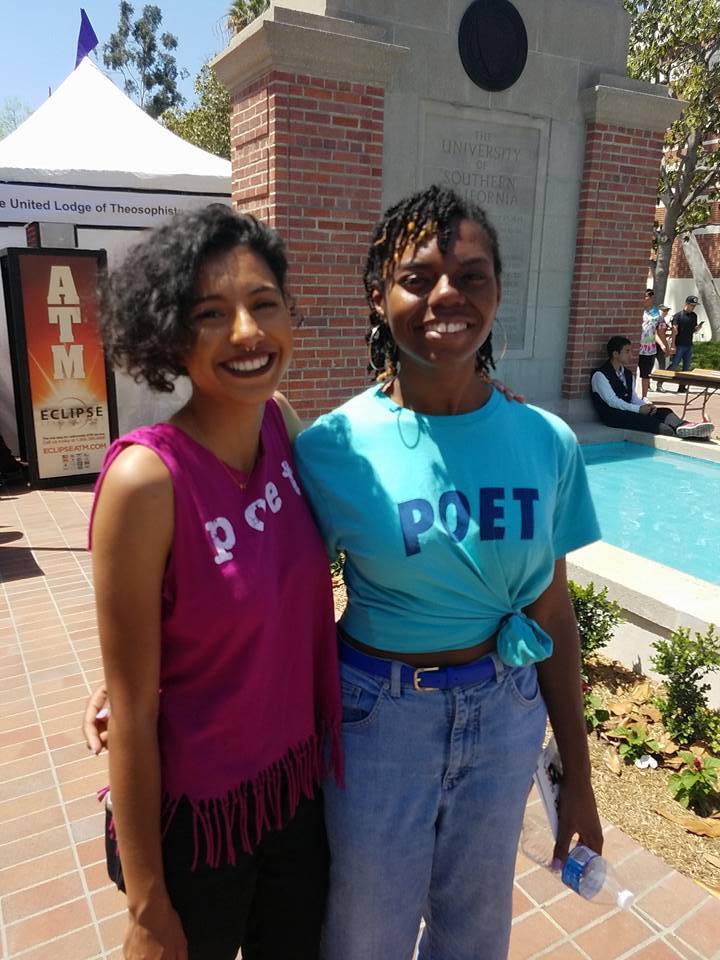 On the way from the outdoor festival to the seminar, ran into two young ladies that were popping with that fresh energy. Immediately, I noted their shirts which just read, "Poet" in sky blue and lavender shirts. "Hey!" I said, "are you two poets?" Yes, they said beaming from ear to ear, we are paid poets - "We work and get paid for what we do and we are only in high school!"
"Wow- okay...", I said. The introduced themselves as high school students Bene't Benton and Alexis Noelani Martinez who had participated in the Sixth Annual Classic Slam ("The revolution will not be televised; It will be live!" - Gil Scott Heron). They invited me to the slam and said they did not make the cut. But they were entrepreneurs and fly promoters of the event which boasted 300 poets, 50 schools and 1 champion. They told me it was the largest youth classic poetry festival in the world. They were filled with promise and bubbling with that new new energy. You could see it in their eyes - the spirit of the world will renew itself. They were close to source, had come hard with their versus and were now milling around the universe making words, energy and new magic from the black cosmic energy of the universe.
Powerhouse Independent Publishers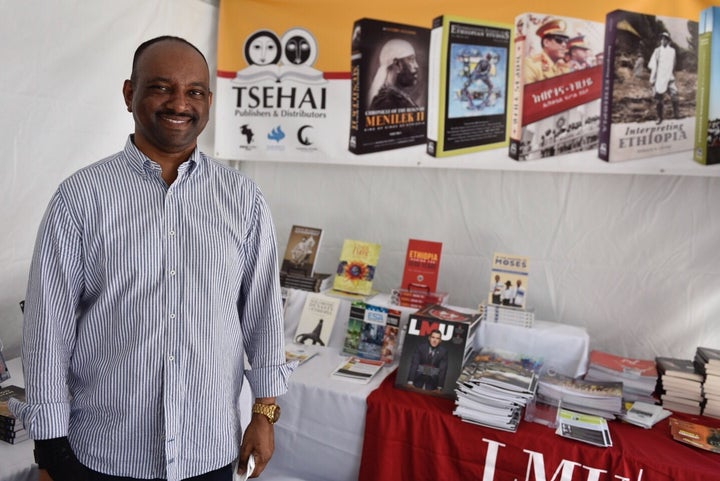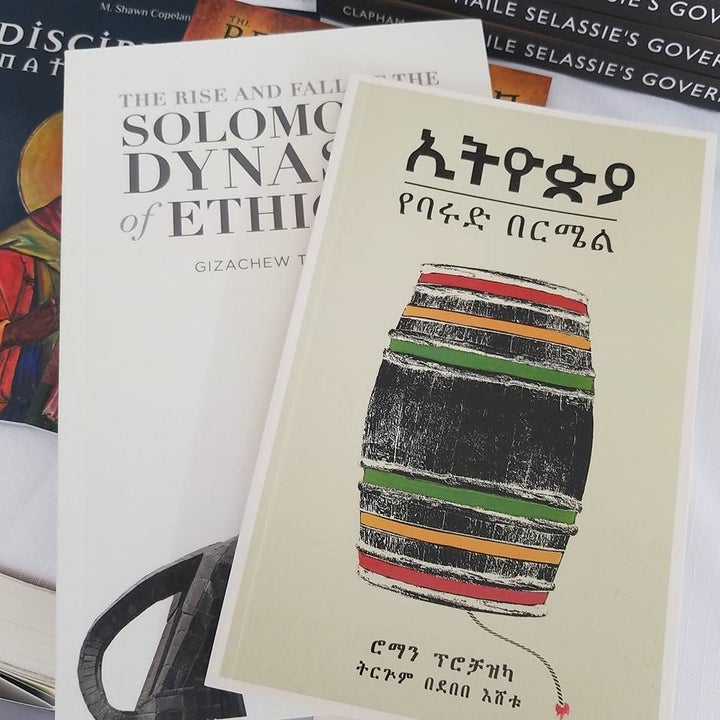 One of the most productive and engaging conversation I had of the day was with publisher and editorial director Elias Wondimu of Tsehai Publishers. He told me, amongst so much more that his company was the only black owned black publishing firm associated with a university in the nation. Given Tsehai Publishers vast library of books, Loyola Marymount is dedicated to excellence in publishing. With an ace graphic design and editorial team it's no wonder Tsehai Publishers boasts titles as Hizmet in Africa (The Activities and Significance of the Gülen Movement); The Revolution and My Reminiscence; Kenya (The History of Two Nations)
Wondimu said, "The consolidation of the publishing industry has created narrower or smaller spaces for minority communities and the justification is that you are told every time, 'your books don't sell' and we are not making money off you. So African American books or Hispanic books or anything minority is gone. It doesn't matter what kind of minority. If you are a homeless person in downtown your story is not being told. So what we are trying to do is give voice to the voiceless in a way we can be able to be present and give the voiceless a presence the way they deserve to. Our bottom line is not making money even though we want to make money."
He caught me off guard with that one - "We live in America? What other goal could you have?" I suppose there was a wink in my voice.
He said nonplussed, "My bottom line is telling my story. I am an Ethiopian, an exiled person, an immigrant."
Tsehai Publishers at the Marymount Institute Press and African Academic Press are also making historic strides in the area of Amharic literature and Ethiopian studies which is, really, niche going back to antiquity. What stands as Ethiopia is now the birthplace of all civilization and mankind. So Elias Wondimu's work is really very sacred and within a time honored tradition.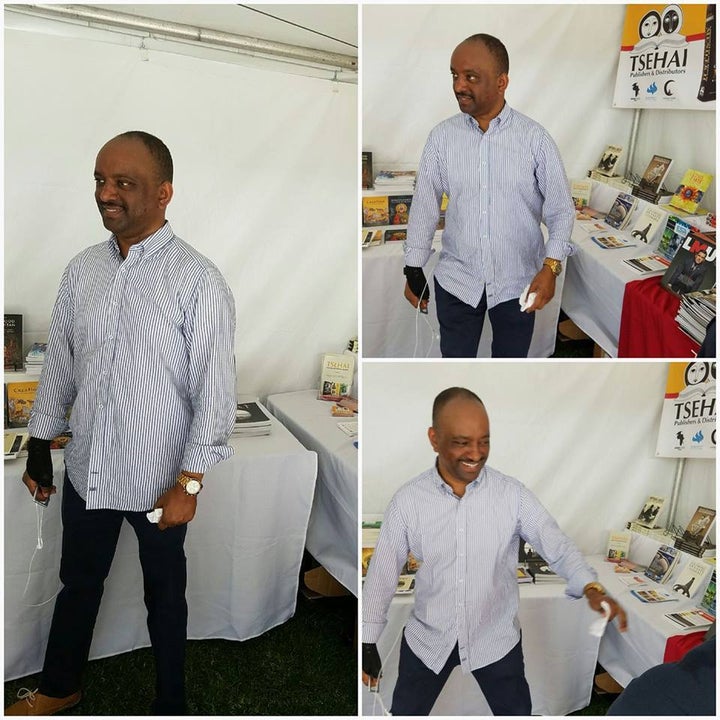 The Living, Breathing Art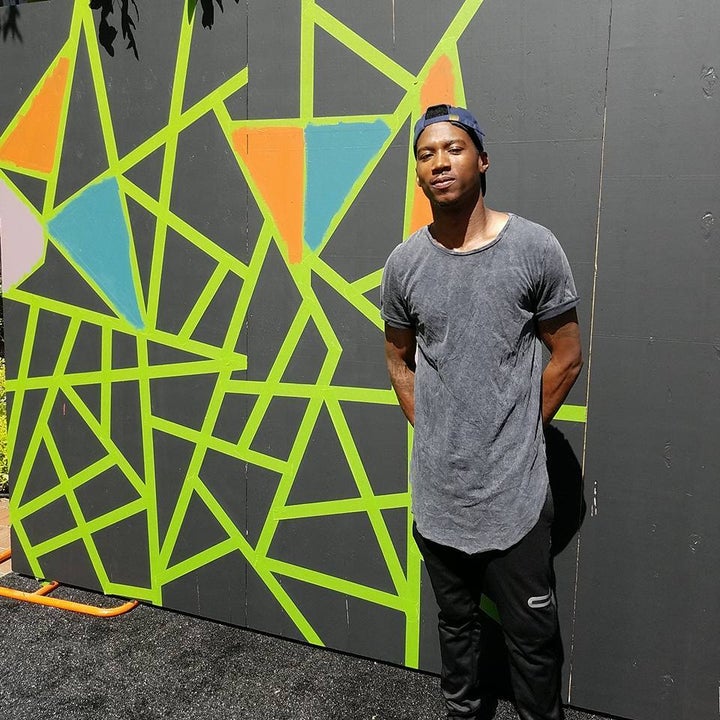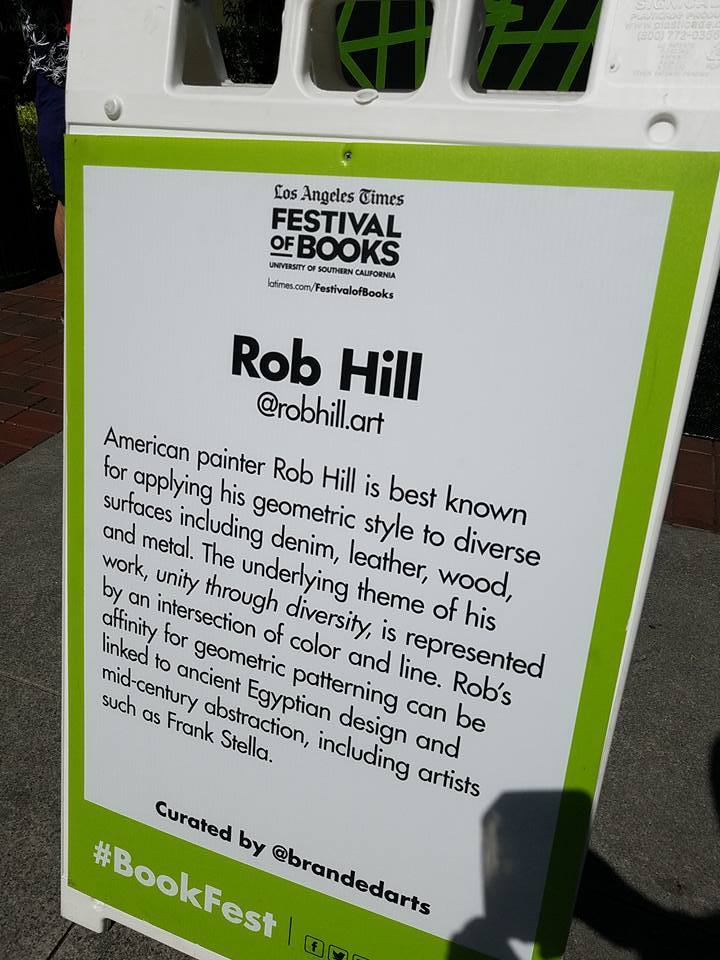 Rob Hill is a fly artist. An all sorts of dope dude. He was there amongst other muralist doing his thing. I asked him about it and he said something about "asymmetric geometric". I asked him what that meant and he said, it is art without form.
Okay. I mean he was outside and just doing his thing faster than you can say "genius". If you visit his site at robhill-art.com, you find that he comes from the world of fashion and that je ne sais quois is coming from his pores. Site goes on to say, "his first artistic works were wearable items displaying forms of abstract expressionism. Spray, drip, and splatter techniques were used often. In 11th grade he started an independent clothing company offering hand-painted garments to fellow students across the greater Los Angeles area."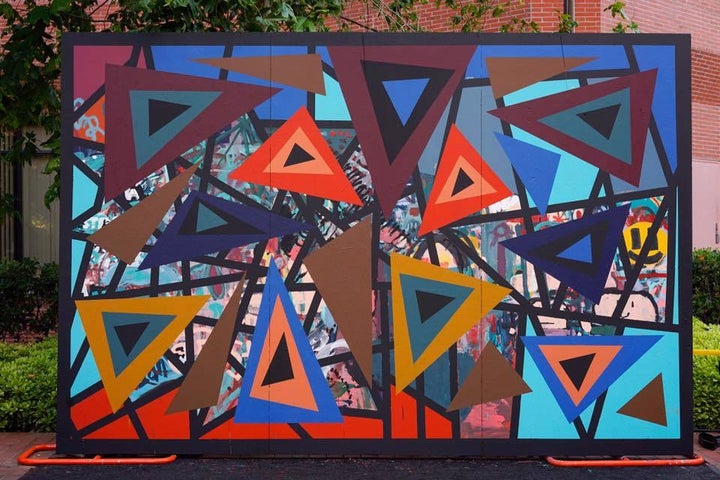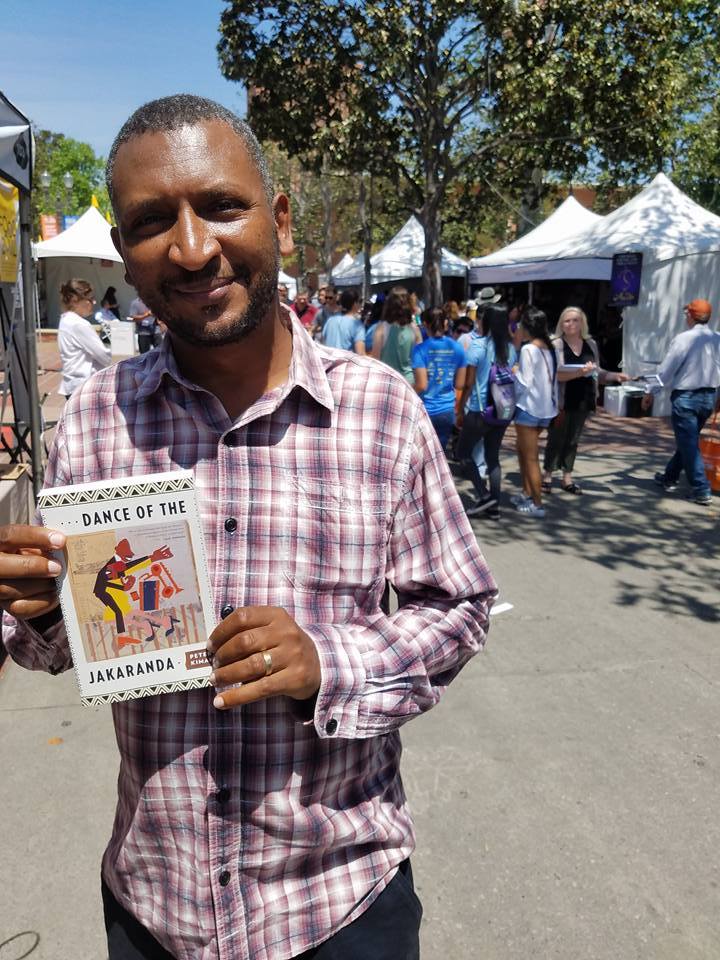 Meeting the Author Peter Kimani
(Dance of the Jacaranda)
At one of the first booths I stopped by I met Johanna Ingalls, managing editor at Akashic Books (reverse-gentrification of the literary world - yes her business card actually says that) out of Brooklyn New York City. Immediately I noted Peter Kimani's Dance of the Jacaranda. I had the opportunity to meet with the author who had just come in from Kenya.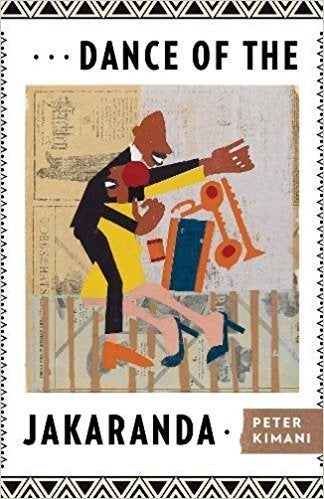 The People Coming Together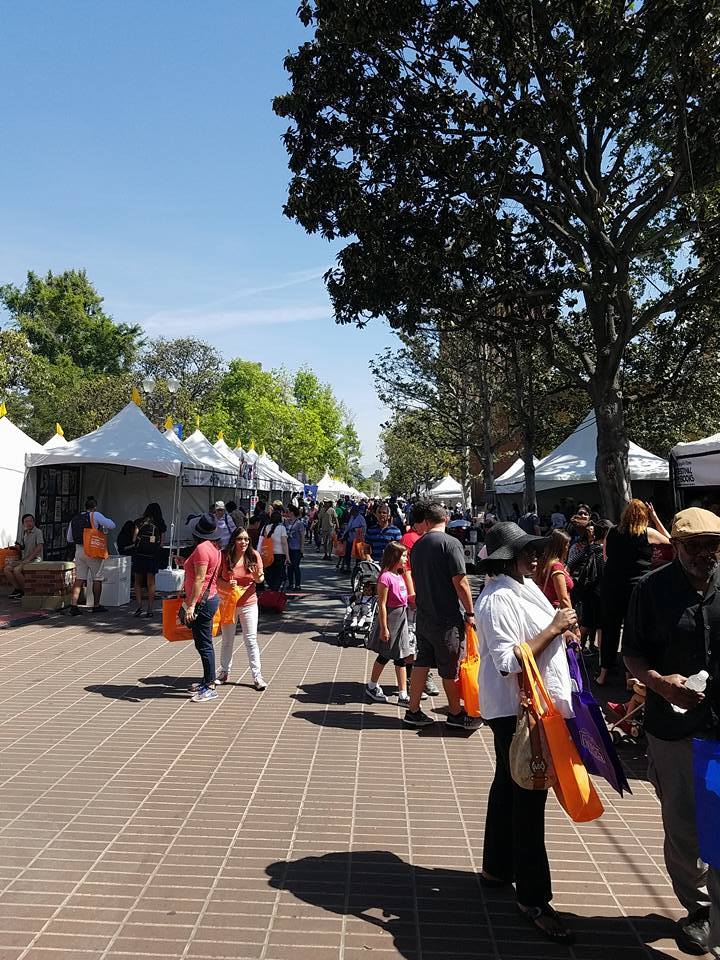 One of the coolest things about the day was that books and the culture of literature is alive and vibrating higher. Now it could be the great venue of the USC's beautiful and incredible campus, the beautiful day or even a combination of both, but it was apparent from the onset that literature, poetry and culture is enjoying an electric revival in Los Angeles and across the United States. After, I reviewed the L.A. Times special section for the festival of books, the New York Times featured New York State poet laureate, Yusef Komunyakaa who spoke of "New York is the birthplace of the American voice".
Aside from poetry, however, culture was everywhere seemlessly blending with community and something called the cool. More than a Festival of Books, the LA Times was essentially producing an age old tradition of American Democracy. It's easy to forget if you tune into MSNBC, Fox News, Bloomberg or CNBC on a regular basis but the American people are bound together by a set of traditions and common values that have nothing to do with acrimony, that have nothing to do with violence or violence of the spirit. Something that has so much more to do with harmony and existing to our highest possible frequency. There are a lot of super powered beings in existence. We are all super powered beings in this existence. We are the expression of a great poet, a master manifestor.
No wonder the sun was shining on that campus so bright.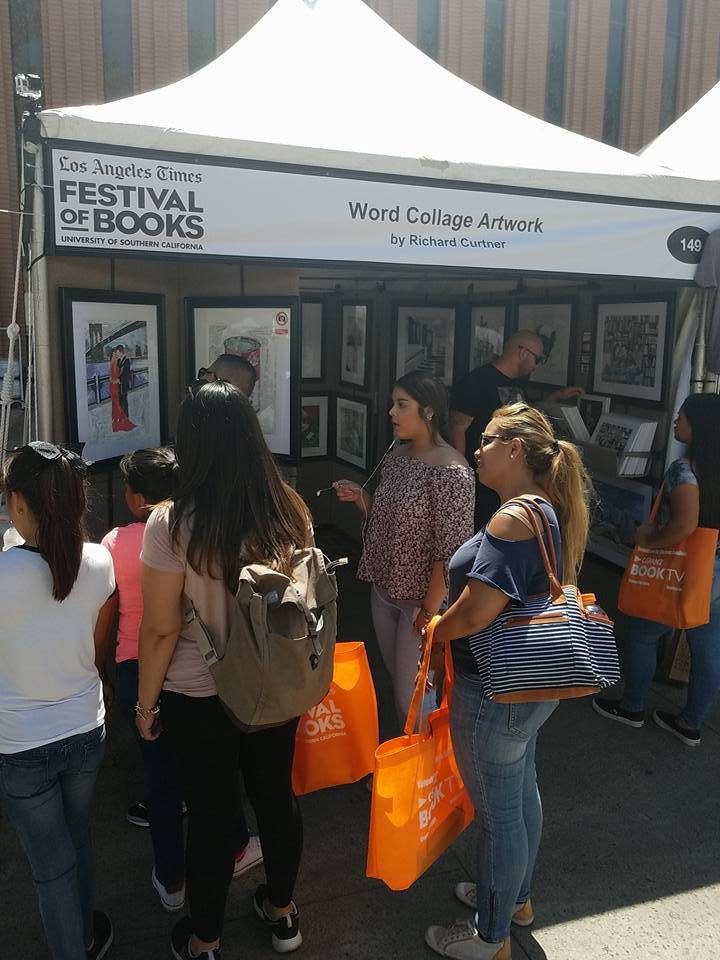 Popular in the Community