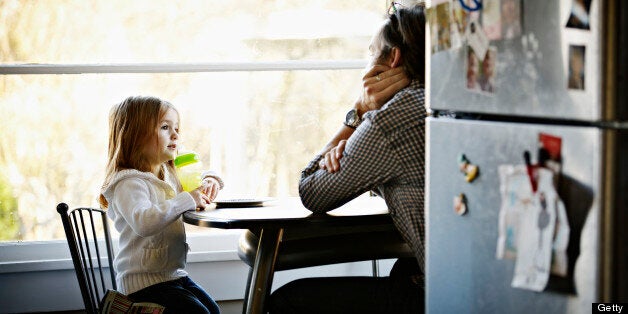 The last post I wrote highlighting for mothers the role sexual development plays in their daughters' overall happiness was incredibly well received. But since it went viral, I've gotten many requests to write one for fathers. So here it is.
A little girl needs her father's support in her unfolding sexual development because it helps secure three hugely important facets of how she'll see herself in the world throughout her life. You'll influence her level of personal confidence, her body comfort and pride, and you'll set her expectations for the way she should be treated by boys and men.
Even though fathers only want the best for their daughters, when asked to contemplate the idea that they should play an active role in guiding their daughters as they transition from little girl, to girl, to young woman, they squirm. They wince. They slam their eyes shut in an effort to make it stop. They say, "Go ask your mother."
This is exactly the kind of response I'm going to ask fathers to reconsider, because your daughters really do need you.
Whether we're talking about the idea of teaching your toddler the accurate names for her body parts during bath time, educating your 8-year-old about menstruation or discussing sexual behavior as your teenager is getting ready for a date, dodging, squirming and wincing aren't reactions that are going to help your daughter feel comfortable in her own skin or confident about who she is.

Parents don't wince over things they're proud of or happy about in their kids, and even our youngest daughters understand this. When we're proud of them and happy for them, we beam. We smile. We tear up. So, when you reveal your discomfort with your daughter's sexuality, you're unintentionally teaching her it's either something to be afraid of or something to be disdained. You'll also be directly or indirectly teaching her you don't want to be involved in knowing that part of her, and that will probably create distance in your relationship. None of this will enhance her self-esteem or her ability to believe you love her unconditionally.
In both my clinical practice and my private life, whenever men share their fears for their daughters' sexuality, it tends to go something like this: "I'm going to put her in a convent because I know what guys are like." But if the problem is that fathers know what guys are like, the solution isn't to make our daughters pay the price by sequestering them. The solution is to raise our sons to respect girls and women.
On that note, we need to be more conscious of what we imply about kids' sexuality from the time they're little. We always think the sexual socialization of our sons and daughters begins in adolescence, when it actually starts so much earlier. Take the following typical scenarios and compare how differently we treat male and female sexuality.
Scene One: When my daughter was a toddler and we were at the playground, it would be very common to have an adult approach the mother of a toddler boy who, by society's standards, would be considered beautiful, and say with a smile, "Oh... he's going to be a heartbreaker when he grows up!"
Embedded in that comment lies the cultural message that there's an expectation this little boy will leave a wake of female misery behind him as he moves through his adolescence and manhood. He'll love them and leave them, breaking hearts right and left. And it isn't said with contempt. It's a celebration of his male sexuality -- it will be a point of pride that he's a heartbreaker.
Scene Two: It would be just as common on that same playground to have an adult approach the mother of a toddler girl who, by society's standards, would be considered beautiful, and say with a smile, "Oh, what a beautiful girl! You better lock her away until she's 30!"
Embedded in that statement is the cultural message that this little girl should basically resign herself to being seen as a sexualized victim -- that she'll be so ill-prepared to take care of herself, she should just be locked away. And this isn't said with sadness. It's a celebration of censure -- a happy stealing away of her ownership of her female sexuality.
That's the G-Rated childhood version, but your daughter will swim in a sea of similar messages throughout her life. Just open a newspaper or go online to find a current example of the R-Rated version, like Soroya Chemaly's article regarding an ongoing battle with Facebook to remove content that trivializes or encourages violence against girls and women.
From the impact of a seemingly innocuous playground comment to the violent extreme of rape culture, this is why your daughter needs to know you value her sexual worth. Locking her away until she's 30 isn't what will help her. Her internalization of your esteem for her is what will be useful to her in combating the pressures she'll be up against. I do want to stress, however, that it isn't all about safety. Her internalization of your esteem for her will also be one of the things that gives her the confidence to be true to herself so she can make decisions in pursuit of her personal happiness on all fronts.
So, on the road to raising a happy, confident woman, here are three things your daughter needs from you:
1. She needs you to respect her body and its capacities.
When she's little, don't avoid using the correct names for her body parts. I saw a discussion about this on "The View," and one of the perspectives was that children are too young to know such "adult" terms. But they're not adult terms. They're anatomical terms. They contribute to self-knowledge, which contributes to a well-being. A study in the journal Gender and Psychoanalysis found that preschool-age girls were more likely to have been taught the word "penis" than any specific word for their own genitals. That isn't fair and it isn't right. If you don't call her elbow her "Over There," then don't refer to her vulva as her "Down There." When we do that, we only stigmatize those parts and make it even harder for our girls to feel pride and ownership over them. And if you're uncertain about the anatomical terminology, invest in the two minutes it will take you to Google it. Your daughter's body image is well worth those 120 seconds.
When she's older, don't shy away from discussions about menstruation, and if you don't understand how it works, educate yourself years before she starts so you can respond to any questions that might pop up along the way. Let her know you're proud of her reproductive functioning. Remember, if it weren't for menstruation, you wouldn't even have a daughter. If the two of you have talked about it from the time she was young, when she's older, you'll already have built a shared comfort level with it. Then, if she asks you to pick up some tampons for her while you're out, rather than having it turn into an awkward moment that would have reflected negatively on her reproductive system, you can simply say "sure," and ask her to write down what kind she'd like. The exchange will be as it should be: natural.
2. She needs to feel close to you throughout your lives together.
Don't go MIA or withdraw from her once she starts to sexually mature. I believe the psychology of this common paternal phenomenon is rooted in how basic it can feel to some men to view women primarily through a sexualized lens. (As Billy Crystal jokes, "Women need a reason to have sex. Men just need a place.") It can be difficult for men to go from parenting a pre-adolescent girl to finding themselves the father of a young woman with curves.
Remember, that new body is the one your daughter will be living in the rest of her life. Let her know you'll be by her side throughout it all. If you back away, there's a danger she may think it's her fault. She could feel she's losing her closeness to you simply by virtue of being drawn into a biological process she has no power to stop. There's absolutely no way she can stay your little girl just so you can remain comfortable. Sometimes, though, a girl feels caught in this bind and she may sub-consciously feel she has to choose between her human sexuality and your love for her. She may also fear you'll judge her if she ventures into sexual activity. When this occurs, in addition to weakening her bond with you, it can later complicate her ability to have adult sexual relationships without experiencing guilt or shame; it's hard to have a solid sense of personal confidence if you feel like you're being judged or like you're not enough for your parents, just the way you are. As her father, you have the power to make certain she knows your love is steadfast, and that she won't have to choose between your love and her maturation.
3. She needs you as a role model for how she should be treated by boys and men.
No matter her sexual orientation, your daughter will live in a world with boys and men. Pay attention to the way you address her as well as to the way you talk about women. Be thoughtful in the way you speak to your sons about girls and women, and set limits on appropriate language. The tone you set in your home can either negatively complicate how she believes she deserves to be treated by the opposite sex, or it can ground her in her right to be treated respectfully.
Part of that respect needs to include your appreciation of the fact that her sexuality will be about far more than just the dangers of sexually transmitted diseases, unplanned pregnancy and sexual violence. More importantly, it will be about desire, attraction, the complexities of romantic relationships and often, difficult choices. Offer her guidance, but as she experiences these things, healthy parenting will also sometimes involve affording her the same freedom you would want for yourself -- the freedom to follow her own heart and mind.
In my research, one of the most common things daughters said about their fathers was they wish they were more communicative. So, take the risk on behalf of your daughter, and open the door for the two of you to talk about sexual matters. Don't worry if you're nervous -- in fact, cop to it. Tell her you weren't raised to be comfortable talking about sexuality, but that you're going to forge ahead because you never want her to ever question your regard for her wellness and happiness. She won't care if you fumble through it at first. Let her know you understand her sexuality will be an important part of who she is throughout her life and that you want her to always be comfortable in, and proud of, her body.
Let her know she should be treated with the respect she deserves, and that it's your honor, as the first man in her life, to set that bar high.
Related