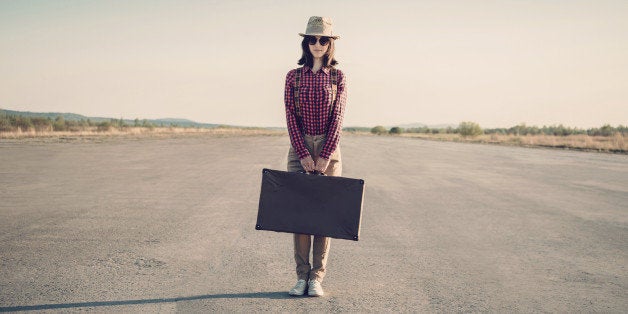 If your secret vice is trolling Things Organized Neatly and rearranging your sock drawer for optimum sock retrieval, chances are you've elevated vacation packing to an art form. If, on the other hand, your packing method consists of cramming wads of clothes into a suitcase at the eleventh hour, our hearts go out to you. (And here's hoping your hotel room has an iron.) But for the neat freaks among us, we've partnered with Lufthansa Airlines to create these impeccably efficient -- and thus highly satisfying -- collages of things packed practically for five amazing adventures.
Whether you're touring Spain's northern wine country or boating along Italy's Amalfi Coast, one thing is certain: you need to be versatile and you need to look good doing it. Pack a durable, lightweight bag with classics you can mix and match alongside must-haves like an umbrella, universal charger and on-the-go face wipes. And don't underestimate the value of a waterproof pouch for valuables.
Delight your inner goddess of compulsive planning by packing everything from scented candles and crystals to flash tats and essential oils for a relaxing yoga retreat. Try rolling lightweight items like a tunic or yoga pants up into your yoga mat during transport to save space in your suitcase. And because you'll be active, remember that any jewelry or accessories you wear should be fitted and not dangling.
Backpack space is valuable when you're out on the trails, which is why practical packing is essential. Safety and comfort take the lead, meaning you'll need things like a first-aid kit, sunblock, moisture-wicking clothing and oh-so-important toilet paper. And choose lightweight fabrics that keep you warm without adding bulk to your bag.
We're here to prove even beach bums can pack practically. Start by laying down larger items first, like your folding beach mat and fluffy towel. You can toss smaller accessories like sunglasses and chapstick in last. Tuck a rolled-up T or a sundress into your beach hat to keep it from getting crumpled in transit. Bonus points if you pack a combined bug repellant and sunblock!
Layers are key when packing for cold-weather destinations. Pack bulkier items like snow pants, jackets and sweaters first. Try rolling and stuffing smaller items like scarves, socks, underwear and gloves into boots and shoes. Don't forget bootie slippers to curl up in next to the fire!
Whatever adventure you're packing for, elevate your air travel experience with Lufthansa Airline's new Premium Economy Class. You can check an additional bag at no extra cost (something even a suitcase packing pro will appreciate). Plus, you'll enjoy up to 50 percent more personal space, more comfortable seats and more extra touches on board and off. It's perfect for those who want more than just extra legroom.