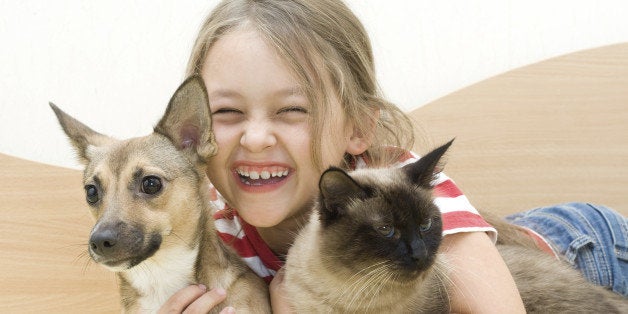 Finding the right pet for your family shouldn't be a decision that is taken lightly. As a parent, I can relate to the seemingly endless barrage of requests for a cat, a dog, a goldfish, or bird. It can be really tempting to give in to these requests, especially when you encounter an adorable, but unwanted pet who really needs a home.
But owning a pet is a lifelong commitment. "Lifelong" because as a responsible pet owner, you are committing to being there for the entirety of your pet's life. For example, dogs can live for an average of 15 years or more and some breeds of cats can even live to 20 years or more. You will need to provide your pet with a "forever home", not just one for the years that your children are young and want a cute or furry friend to play with.
Will you be willing to care for your pet if they become ill or need special accommodations for mobility as they age?
How will you handle vacation care when you are away from the home? Are you aware of the additional costs associated with pet care: food, veterinary check-ups, vaccinations, supplies, bedding, equipment such as harnesses, leashes, toys, cages, carriers, etc. There are ways to save money on pet care, without compromising your pet's health and safety.
Are there members of your family that have allergies or display any fear of animals?
What is the right age to introduce a pet into your home with children? Use common sense for this one, and remember that even kids as old as age 10 are not able to be fully responsible for a pet. As a parent, you would likely take on a significant portion of pet care. Are you prepared for this added duty?
Still there's no mistaking that he benefits of welcoming pets into your family are numerous. The Centers for Disease Control and Prevention have identified several important mental and physical benefits of owning pets:
Owning a pet can lower our blood pressure and lower our cholesterol levels. Pets encourage us to be more physically active. Pets provide opportunities for socialization with other humans and animals, and they help prevent us from experiencing feelings of loneliness and isolation.
Are there young children in the house, who may be very loud, active or gregarious in their interactions with your new pet? Are there other pets currently in the home that your new pet would have to learn to get along with?
If you're still not sure if owning a pet is the right choice for you, consider volunteering at a local pet shelter to experience the different ways various breeds of dogs or cats interact. Many shelters maintain foster pet programs with local families too.
Emphasize to children that pets are a part of the family. Here's a great child-focused article to have your child read or read with your child if you are considering owning a pet. Pets need more than just adoration, hugs and kisses. While love forms the most important bond between an owner and his or her pet, remember to care for your pet in all the other ways they need you too.