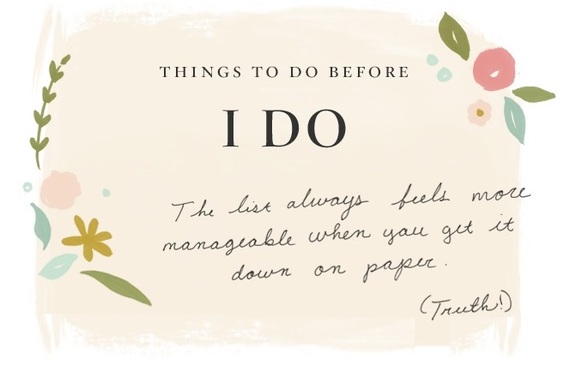 By Jessica McGuinn for BHLDN
To all of her guests, she is confident, poised and fully present in the moment. But little do they know, it took a lot for the bride to get here -- to pull together every little detail that would make her wedding day absolutely flawless: the fittings, the vendor meetings, the to-do list for her groom. For those brides-to-be who may still have a few steps to take before heading down the aisle, here are seven tips to help minimize unnecessary stress and finalize the finishing touches that can make all the difference.
1. Nail down your reception seating.
Wedding Wire's drag and drop seating tool is a godsend! You can select the type of tables you'll be using (round, square, banquet style etc.), enter your guest list and easily place your family and friends at the appropriate table. That way, Cousin Jimmy won't be upset that he's sitting next to Great Aunt Myrtle and your best friend won't get stuck next to her college ex-boyfriend. The best part is that you can design your overall floor plan and export all of your hard work to share with your wedding planner, fiancé, or venue. It's a win-win!
2. Cook dinner in your heels.
After a few long hours of standing for your ceremony and taking pictures, the last thing you'll want to have to worry about is being stuck in a pair of heels that you can't bear to wear for the duration of your reception. A great trick to avoid this dilemma: try cooking in your ceremony heels. It's an indoor task with plenty of quick-stepping, and a good test to see if you need a separate pair for your reception. After all, a girl can never have too many shoes, right?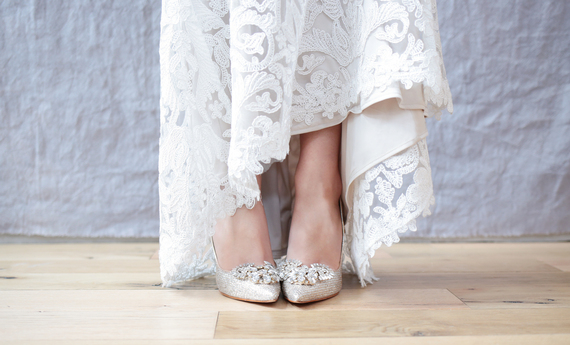 3. Get some flower girl swag.
Find adorable accessories that will make the smallest member of your bridal party stand out. Whether it be with a fresh flower crown or piece of floral jewelry (Fleurish is a great resource for DIY floral crown kits and Bracken Floral's jewelry designs are stunning!), a wooden flower basket or even a pair of sparkling heels, give her something that will make her feel special and look forward to being the one in the long white dress someday.
4. Thank your bridesmaids early.
Avoid putting this off. Rather than waiting until the night of your rehearsal dinner, gift your ladies after bridesmaid dress shopping or immediately following your bridal shower and you'll be amazed at how fast the words of gratitude will come. Mywedding recently posted a roundup of "10 Cool Bridesmaid Gifts They'll Love" that has something for every kind of girl in your bridal party!
5. Have a veil game plan.
Work with your hair stylist to see if your veil needs a little extra sparkle to anchor it, or if you'll switch to a comb or intricate hairpiece at your reception. The newly crowned Mrs. Manganiello (yep, that's the eternally stunning Sofia Vergara) completed her bridal ensemble with a diamond-encrusted clip tucked into her luscious tresses. For a similar look, try BHLDN's Chateau Grounds Clip or Kata Comb. If you really want to steal the show, opt for a more prominent piece like the Kalvi Halo.
6. Store your meaningful thoughts somewhere special.
Vow writing can be one of the most challenging and stressful parts of the wedding planning process, but also one of the most important! When promising to love someone forever, you'll not only want to make sure you get the words just right, but also that they're transcribed in a way that can be cherished for years to come. Invest in a set of vow journals like these, then frame them after your big day for a constant reminder of your commitment to one another. This DIY tutorial from Something Turquoise is perfect for framing vows in a way that is both functional and fashionable.
Take a moment to step back and really take everything in. So many brides describe their wedding day as a "blur" and wish that they had taken the time to bank a memory or take a mental snapshot of the day. Whether it's spending a few moments by yourself in the morning and writing down how you feel in that exact moment, going for a morning stroll with mom and dad or sneaking off to the bridal suite to have a meaningful conversation with your maid-of-honor before walking down the aisle, taking the time to create special moments that will become lasting memories is totally worth it.
If you follow these tips, you're sure to be ready to say "I do" -- and I bet you'll be pretty excited about that "forever" part too!