Patience, please!! We're going to get started on your weekend itinerary momentarily, but before doing so, we simply must remind you to partake in our latest amazing giveaway! Follow the simple rules to enter here and you could win a $500 shopping spree at FitFrosting (super cute activewear) along with LearnVest's 5-year Financial Planner package, worth $299. Broke girls, don't even pretend that you don't need to win this contest!
With that out of the way, now it's time to focus on exactly what you'll be doing once you've been sprung from your cage this Friday evening. As always, we've packed your weekend to the brim with barely a minute to spare, so we certainly hope that you don't have to worry about silly things like sleeping or maintaining basic hygiene.
Keep reading for a wine-tasting in Malibu, can't-miss sales, and all sorts of fun ways to give back...
Other happenings tonight include the Lalas Burlesque Show at the Federal Bar and an evening with Ian McLagan at the Grammy Museum, but if all you care about is music, here's your list: Spaceships, Snow Wite, Shark Toys, and Palm Reader at The Smell; Pink Martini at the Hollywood Bowl; The Burning of Rome, Grizfolk, and Okapi Sun at Los Globos; GO Country 105's 6th Annual Summer Under The Stars at the Greek; KROQ presents White Arrows, NO, Bom Bom, and DJ Kat Corbett at Bootleg Bar; Patterson Hood and T. Hardy Morris at McCabe's Guitar Shop; the FIGat7th Downtown Festival featuring Red Baraat and La Chamba; The Goods with KCRW DJ Anthony Valadez at Zanzibar; Harper Blynn, Act As If, and Thorcraft Cobra at the Satellite; Passenger at the El Rey Theatre; and a free show by Fanfare Ciocărlia at the California Plaza.
And now, for a change of pace, it's time to indulge yourself at some of the sales and fashion events going on around town! To start, there's the Splendid and Ella Moss Warehouse Sale downtown, the Just One Eye Mega Warehouse Sale off La Brea, and Decades' infamous $150 shoe sale on Melrose. If you really want to go the extra mile, there's also the Summer Sip-n-Shop Fashion and Beauty Event happening at Park Studios, where you can shop apparel and accessories from indie designers while quenching your thirst with free Jarritos or wine. Meanwhile, across town, Kitson Santa Monica is throwing a party to celebrate Zero Gravity's new mirrored iPhone case collection with music, photo booth picture snapping, contests, and giveaways. If you'd prefer to indulge in wine and/or dessert, you can choose between the Big Bu Malibu's Premier Wine Tasting event (just be prepared to cough up $75) or Essential Chocolate Desserts' ice cream tasting (much more reasonably priced at $7 to $10).
Later today, you have tons of options to choose from. On the west side, you can check out the art openings in Culver City's Arts District, watch Coming to America via part of Eat See Hear, or learn about tantric meditation via the Tantric Taster.
Over on the east side, Street Food Cinema is showing Mean Girls at Poinsettia Park, Chinatown is screening for free at Union Station, Zoetic Cuisine will be popping up at CB1 Gallery with a special four-course, raw-vegan dining experience (though it comes at a price--tix are $95), or Long Beach is playing host to the Summer and Music fest featuring The Olms with Pete Yorn, Song Preservation Society, The Blank Tapes, and Mystic Rabbit. Later on in the evening, if you have much, much more energy than we do, you might want to check out the Hollywood Club Crawl or Bootie LA's all-mashup dance party.
If all you want to do is see some live music, here's what's on the docket: The Postal Service at the Santa Barbara Bowl (if you're in the mood for a road trip); KCRW Presents Rogue Wave at the El Rey Theatre; Bud Light Presents Adam Ant at Club Nokia; Camper Van Beethoven, El Sportivo and The Blooz at the Troubadour; Patterson Hood and T. Hardy Morris at McCabe's Guitar Shop; Rufus and Friends with Black Light All Stars at the California Plaza; KCRW DJ Anthony Valadez at the Sayers Club; E11eventh Hour with KCRW DJ Raul Campos at the Viceroy Hotel; and Saturday Nights at Pershing Square with Boww Wow Wow and Boingo Dance Party.

Sunday

Wake up nice and early on Sunday, because we're sending you on a 7 a.m. hike up Mount Baldy! (Just kidding...though if you do actually make it out there somehow, we would recommend staying east for the Pasadena Playhouse's 10th Annual Free Jazz Summer Concert Series, which should be fun.)

If getting out of bed by noon is all the activity you'll be able to manage on a Sunday morning, then we encourage you to wake up at your leisure before strolling over to Wienerschnitzel to grab the 15-cent hot dogs that are being offered in honor of National Hot Dog Month (mmkay). After, pick up some self-defense moves at this $25 seminar in Santa Monica, and then grab dinner at Superba, where s'mores in a jar are on the house all weekend. Further south in Westchester, you can steel yourself for a rough workweek ahead by treating yourself to fifty minutes of Reiki massage at Wellness Uprising for just $29.

Won't be on the west side today? No worries! Further east, you can treat yourself to a preview of ICDC, the Ice Cream Doughnuts and Coffee place from Amy Knoll Fraser and BLD's pastry chef, or take advantage of Short Order's food and drink special this weekend: 79-cent fries and a Farmers Market Smash cocktail for $7.90. This afternoon would be the perfect time to hit up any sales you've missed, like the Nordstrom Anniversary Sale, the Rebecca Minkoff sale in Hollywood, or Just One Eye's Mega Warehouse Sale. Later, hit up the Gogol Bordello "Pura Vida Conspiracy" premiere party at Origami Vinyl, which will be providing free pizza and drinks to boot.

As for live music, here are your options for closing out a lovely Sunday evening: Pink Martini at the Hollywood Bowl; Part Time Punks, Black Marble, and Soft Metals at The Echo; ArtDontSleep Presents A Celebration of Fela Kuti at the Mayan Theater; Youngsta, Goth Trad, and Knife Dreams at Los Globos; Counting Crows and The Wallflowers at the Pacific Amphitheatre in the OC; and Anne McCue at The Hotel Cafe.
Check out HuffPost LA's picks of the best weekend events from the Broke Girls Guide agenda in the slideshow below.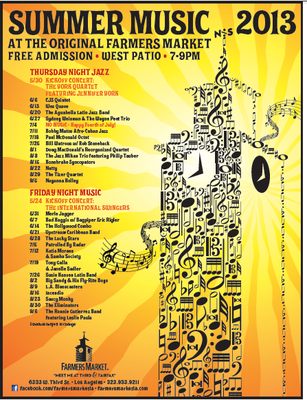 Your Weekend Agenda: July 19-21
Related
Popular in the Community