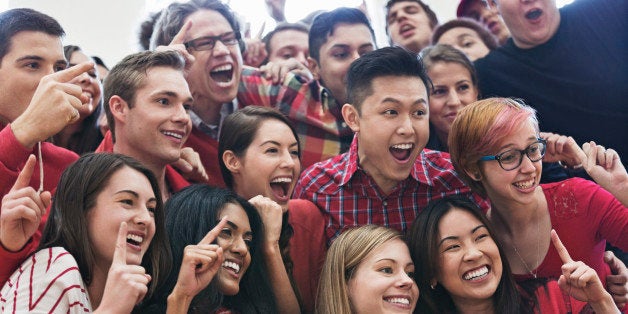 It's almost time to make your big college decision! But after you've spent so much time visiting and researching colleges, what are you really looking for in a future school? Is it enough that your dream college offers your intended major and an interesting curriculum, or should there be more to your decision? Believe it or not, there are many other factors that have nothing to do with academics that you should consider when choosing a college!
Whether you're interested in making the team or being a spectator, sporting events at your school will affect your college experience. At Division I schools, you can expect large crowds and lots of noise on game days.
While many schools support their teams to the fullest with tailgates or barbeques, others don't pay much attention to athletics. Try to gauge the amount and type of school spirit at the schools you're considering by attending different kinds of events when you visit. Instead of game day spirit, maybe your school takes pride in music festivals, like Mayfest at Cornell University.
Also, if you love to play a sport but don't have enough time to dedicate to the school team, check if your potential school offers club or recreational teams. "Club sports are a great way to still be able to play the sport you love at a competitive level while also having time for other academic and social obligations," says Devon Ziminski, a junior at The College of New Jersey. "Plus, teammates make the best of friends!"
If you plan on living in a dorm at all in college, it's important to think about what kind of dorm you'd prefer to live in. Co-ed versus same-sex, an apartment with a kitchen versus a room with a microwave, five roommates versus one—these are just a few distinctions between the types of dorms schools will offer.
You should also think about if the dorms enforce quiet hours, have available study rooms or are close to computer labs, dining halls, your classes, etc. Some colleges require that first-year students live on campus, while others offer off-campus housing for underclassmen. Some schools also offer living-learning communities where students of the same major or program are assigned rooms together.
Religious life at your school is something you should explore ahead of time. Shira Kipnees, a junior at Franklin & Marshall College, says she looked into religious life at the schools she was interested in. "I am Jewish, so it was important to me that there were places I could keep kosher or ways to celebrate holidays on campus with other Jews," she says.
Some schools offer countless places to meet, pray or celebrate holidays with people of your religion or culture. At others, the options are much more limited, and it may be difficult to find a large population of people that share your religion. Be sure to check out existing organizations around the community as well as within your school.
On the other hand, a school with a large religious focus may not be the right fit for a non-religious person.
Would you be willing to move halfway across the country for your dream school? If not, then location can be a deal-breaker. This is definitely something to keep in mind when choosing a school because for most high school seniors, your freshman year at college will be your first experience living away from home (and doing your own laundry!). You might want your mom's cooking every weekend, or you might prefer to only go home for major holidays. For those of you who will be commuting, consider transportation costs and travel time. However, going to school out-of-state gives you the chance to have a living experience you've never tried.
The area surrounding your school is just as important. "I knew that I wanted to be in a big city where there would be lots to do off campus, whereas other students might prefer a smaller 'college town,'" says Kelsey Pomeroy, a sophomore at The Ohio State University. "The college you choose is where you're going to spend the next four years, so you don't want to be stuck somewhere that isn't a good match for your personality!"
Research the areas surrounding your potential schools and consider the options for nearby off-campus activities, like going to the movies, the mall or even the grocery store.
Calling all HuffPost superfans!
Sign up for membership to become a founding member and help shape HuffPost's next chapter
BEFORE YOU GO
PHOTO GALLERY
10 De-stressing Apps