In 2010, Heart + Mind strategies conducted an online national survey about Internet safety and some of the statistics they found are disturbing. A salient finding of the survey was that while most Americans are aware of the fact that they had to keep themselves safe online, a majority did not actively engage in protecting themselves online largely due to a lack of knowledge and information or a belief that they are doing enough already.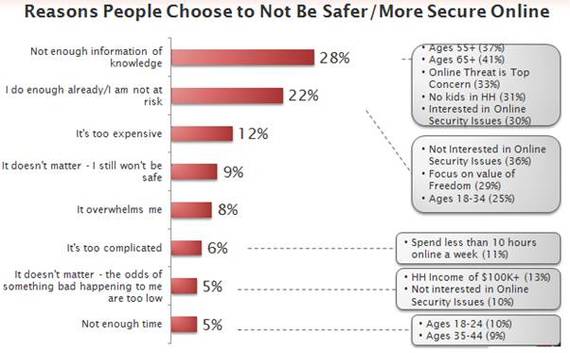 Are we doing enough to protect ourselves and more importantly, our children from online dangers? Statistics are not comforting. 9% to 35% of young people are victims of some form of electronic violence. Cyberbullying is rampant in the American high school and is related to low self-esteem, anger, frustration, and a variety of serious psychological problems. What is more disturbing is that only 7% of U.S. parents are concerned about it. While cyber bullying, cyber stalking, sexting, exposure to inappropriate material and identity theft are the most common pitfalls of unsafe Internet use, there are many more dangers that are more subtle, but just as damaging. Email spams and phishing - the act of stealing passwords and credit card details, and computer virus and worms are invisible dangers that can have serious outcomes if the user is unaware or nonchalant about protecting herself or her device.
How does a youngster (or indeed any digital citizen) expose herself to online dangers? Family Online Safety Institute and Hart Research Associates found that more than half of teenagers using the internet have mentioned the city of town where they live, shared their first and last names, mentioned the school they go to, or shared their phone number with people they did not know personally. "Don't talk to strangers" seems to be not as easily followed in the cyber world as it is in the real world.
It is important to remember that there is operative legal machinery that attends to online safety in society, especially of children and youngsters. The US FBI for example, has a department to investigate high-tech crimes, including cyber-based terrorism, espionage, computer intrusions, and major cyber fraud. CyberTipline, a partnership between the FBI, Immigration and Customs Enforcement, and a range of Federal departments including the Department of Justice and Internet Crimes Against Children Task Force, offers a convenient and safe place to report cyber crimes, especially against children. i-SAFE, a non-profit foundation aimed at educating youth to make their Internet experience safe and responsible, works with law enforcement agencies to foster cyber-safe communities. Help is available from child safety organizations, the Attorney General's office and other organizations to become educated on Internet safety issues.
Safety, like charity, begins at home. The Anti-Phishing Working Group (APWG) and National Cyber Security Alliance (NCSA), backed by the US Department of Homeland Security launched the STOP. THINK. CONNECT. campaign to help individuals stay safer and more secure online. The campaign assists the digital citizen to stop and take time to understand the risks, think about how their actions online could impact their own or other people's safety and connect on the net safely.
Awareness is the first step towards safety. There are some simple steps that every adult must take in order to safeguard herself and her kids from online dangers:
Communication: An open and honest communication between parent and child is the first step towards fostering trust and thus Internet safety. It is important for every adult to remember that when a child takes a risk on the Internet, she may jeopardize the safety not only of herself, but also of her family.
Education: It is the responsibility of the adult to not only be educated about net safety herself but also to teach her children the basics of staying safe online. Fortunately, help is available aplenty. For example, Netsmartz workshops conducted by The National Center for Missing & Exploited Children, teach children about responsible digital citizenship and offer free, age-appropriate resources including videos, games, presentations, and classroom lessons that help children learn how to protect themselves and their friends online. There are also numerous resources available online to raise responsible digital citizens.
Gameplan: It is beneficial for families to sit together and device ground rules about using the Internet. A gameplan may be drawn out so that all members of the family use the Internet safely and efficiently.
Use of Technology: There are various protection tools available, starting from simple virus scans to child-protection software that a parent may adopt to protect her family against some more common internet dangers. Age appropriate search engines such as kidsclick and askkids can help a child navigate the Internet without risk of exposure to objectionable material
Keeping it clean: All Internet connected devices must be free of infection and malware by keeping all critical software--security software, Web browsers, Apps and operating systems--up to date.
Keeping it personal: The importance of keeping accounts safe by updating (and not sharing) passwords and not sharing personal information online cannot be overstated. It is essential to know how to set security and privacy settings to meet one's requirement and use.
Web Wisdom: It seems logical in real life to be wary of spurious advances by people. It is more difficult in the faceless world of the Internet. It is imperative to recognize and avoid communications that ask for personal information, offers something that sounds too good to be true (it most likely is), or emotionally blackmails you ("if you don't send this to a dozen people, bad things will happen to you").
Responsibility: Every Internet user is an owner of the Internet and its safety is each owner's responsibility. The problem with digital technologies is that there are few established rules to legislate use of devices. The anonymity possible in Internet is an attraction to abuse it in ways not possible in real life. Good digital citizenry involves respecting others and learning to use technology courteously and effectively.
Internet Safety cannot be confined to a month. It must be on the forefront of cyber consciousness, every single moment of a lifetime. But it is good to reiterate the importance and update oneself at least a month every year.
This June, what have you done to enhance your safety online?
Co-authored by Lakshmi, a Mobicip blogger who is just as passionately opinionated about the juxtaposition of technology, parenting, and education.
Calling all HuffPost superfans!
Sign up for membership to become a founding member and help shape HuffPost's next chapter