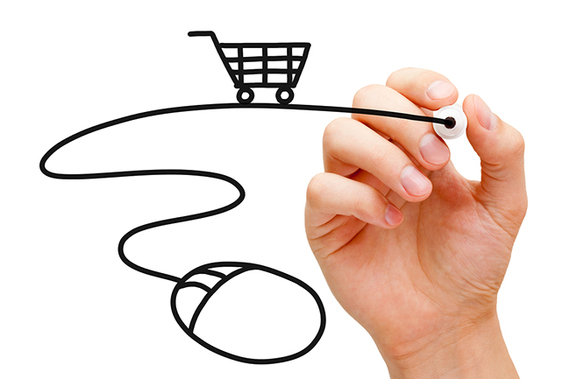 Over the past ten years, big data and artificial intelligence have helped to spawn a revolution in ecommerce. Together, these computing powers that be have successfully enriched this industry, delivering a multifarious and technologically pleasing online shopping experience. But what future updates can we expect in the evolution of ecommerce? Make sure you look out for these eight predictions.
Transactions will be processed without credit cards and PINs.
The day and age of the PIN-less transaction that does not require a credit card number are upon us. Instead, these technologies are being replaced with a digital fingerprint that safely stores a customer's data and allows convenient one-click checkouts.
The benefit of such innovations are numerous. As clearly demonstrated in Amazon's one-click shopping model for Prime, which Rejoiner says is a patent with a billion-dollar value, cart abandonment rates drop dramatically.The combination of increased consumer confidence and security combined with convenience spells a win for ecommerce, and is assuredly a tech prediction that will take center stage in the years to come.
Ecommerce will truly become multi-channel.
At the present, ecommerce is not really multi-channel. Sure, there are plenty of channels that you can market across, and a few shopping carts allow you to connect your store to social hubs like Facebook. But a quick look at the most recent social commerce facts is telling.
Social commerce has the ability to expand ecommerce to billions of people across thousands of channels. Studies have found that revenue uplift improves by at least 17.8% with social commerce. Similar studies are revealing that over 60% of people buy more when social media influences the purchase.
For ecommerce to truly evolve, the shopping experience will have to become more seamless. Imagine seeing a shirt you like in a Facebook post that a friend shared. Then imagine being able to tap on that picture from your phone and be able to instantly and securely purchase it from the vendor. That's how crazy ecommerce is about to get.
Fraud detection and prevention will be set to auto-pilot.
Signature and patented machine learning fraud detection methods are already in place, and this technology is still in its infancy. Services like ThreatMetrix use real-time detection and prevention technologies to prevent fraud and protect consumers. But this is just the beginning of something bigger.
In the short years that lie ahead, expect fraud detection to become even more integrated into systems. With the issuance of a digital fingerprint, it will become ten times more difficult for hackers to steal information. As cloud hosting is fully adapted, ecommerce stores will no longer store card data.
In the future, thieves won't even bother trying to hack ecommerce sites. There will only be two places they can try their hand at: biometrically protected server arrays or consumer digital fingerprints. Both options make fraud very difficult for scammers and will present a new peace of mind for online shoppers that has not been previously seen.

Payment providers will cater to retailers by offering chargeback assurance.
Merchants in today's ecommerce world are increasingly aware of the risks of chargebacks. Since the card is not present during the transaction, the retailer usually eats it if the bank issues a chargeback. They can, of course, dispute the transaction, but it usually costs so much time and money to do so that many just eat it on the cost and move on. According to Vending Marketwatch, chargebacks are an issue for all retailers.
But such will not be the case in the evolution of ecommerce. Newer payment providers are catering to the merchants by offering chargeback assurance. It's a smart way for them to bring on new customers while reducing liability to the retailers. Such providers rely on integrated technology to reduce chargebacks along with real-time fraud detection.
The benefit to the retailer is that they can process transactions without any worries of being haunted by chargebacks. With this cost eater out of the way, retailers can focus less on payment security and more on the customer experience.

Same-day shipping will become the new norm.

About 15% of online retailers currently offer same-day shipping, according to Retail Touchpoints. The report emphasizes that same-day delivery will increase by 550%, creating a $620 million windfall that increases to $4 billion by 2018. In a nutshell, same-day delivery will spread like wildfire, fed by the consumer demand to receive packages faster than ever before thought possible.
Chain stores like Macy's already have plans in the work to offer same-day shipping. Meanwhile, services like Deliv are rapidly expanding to meet business demand, and enable smaller retailers to better compete with juggernauts like Amazon by tapping into the same-day shipping model that has generated billions in collective sales to-date.
More merchants will offer no-questions asked returns.
Retailers that are setting this standard include the likes of Amazon, Zappos and Nordstrom's, to name a few. Each has demonstrated that even with a high rate of returns, profitability goes hand-in-hand. In the near future, consumers won't waste time on a retailer that makes returns hard; they will just shop somewhere else instead.
Popular in the Community