By: Fiona Moriarty, Hipmunk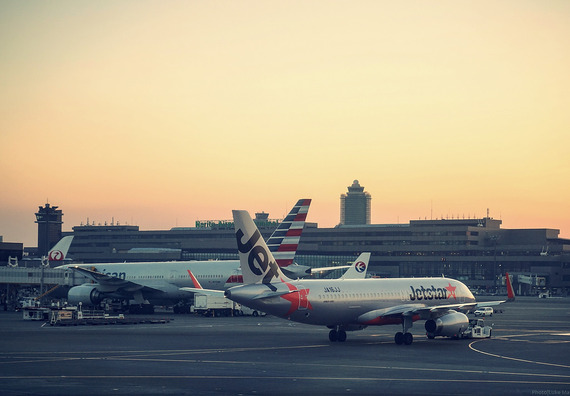 Crowds at baggage claim, long lines through customs, signs in foreign languages and different cultural norms--arriving at the airport in a new country can be stressful, even for the most seasoned jetsetters.
Even after making it through customs, tackling unfamiliar currency exchanges and arranging ground transportation can put a jet-lagged traveler over the edge. Give yourself a break by prepping ahead of time for the smoothest landing possible with these travel tips.

Write Down Your Address on Paper
This may sound like a no-brainer, but these days, it's easy to forget to write things down when you can just save info in your email or on the notes app in your phone.
Depending on which country you are visiting, you may be asked to provide the address of your accommodations when you fill out a customs form before landing. Don't get caught with your address in your email inbox while you're without service, or when you're on the plane or standing in line at customs with only three percent battery life left.

Practice Phrases That Are Useful
We've all heard it before: "Just make sure you know the words for bathroom and beer, and you'll be fine." While a cold beer upon arrival does sound pretty nice, learning key phrases about transportation, accommodations and other navigation-related topics can be much more helpful when you're trying to navigate from the airport to your hotel.
Know the Value of a Dollar
Yes, we live in a world where credit cards are a widely accepted form of payment. That being said, there is nothing worse than having absolutely zero cash and realizing a business doesn't take plastic.
The ATM or currency exchange should be your first stop after making it through customs. But standing in front of an ATM before heading to your hotel in Istanbul and suddenly realizing you have no idea how much a Turkish Lira is worth can be daunting.
Skip the frantic Google search while standing next to an ATM by scoping out the currency situation before you arrive at the airport. Research exchange rates, the average price for a meal and typical cab fares to get an idea of how far the currency can take you. Then you'll have a plan when it comes time to withdraw cash.
Check out transportation options
Speaking of typical cab fare, you should also research transportation options before you land. If you decide to take public transportation, most tourism boards offer information about public transportation so you can determine the nearest bus or metro stop to your hotel, and the lines you'll need to take to get there. You'll thank us when you're navigating your way through the Tube to your
like a pro, instead of standing in front of a transit system map for way longer than you might care to admit.
Related