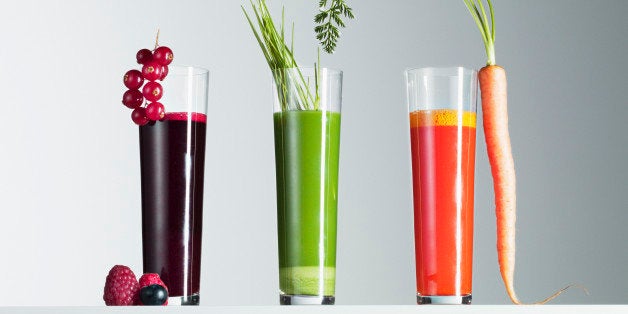 To juice cleanse or not to juice cleanse, that really is the question. Or at least it was my question for quite some time.
As a relatively healthy person who is currently having an epic battle with her skin, (who knew your late twenties could BE so fun?!) finally deciding to take the plunge wasn't a decision I took lightly. When I came across Love Grace's Beautiful Skin Juice Cleanse, which focuses specifically on "getting that glow" back, it seemed like the perfect opportunity to finally give it a go.
So, like any wise person about to embark on a 72-hour juice-only diet, I made sure it was no one's birthday, there were no happy hours planned by coworkers and practically made my friends sign a legal and binding contract to not do anything fun during that period.
It is worth noting that there are legitimate cases both for and against juice cleanses and every single person in this world is different. Consulting a health professional and doing your research first is important. I have exactly zero expertise and minimal knowledge of what exactly a juice cleanse does for you, but I do know how I felt and--spoiler alert--I felt pretty great.
Armed with a healthy dose of skepticism, I was well aware that there would be a tastebud-adjustment period, as I like to call it. Three days of flavor-packed juices were miles from the typical water/coffee power couple I'm normally working with. I'd be lying if I said some juices weren't... err... tough, but some packed such a flavorful punch that I had a little case of mentionitis (I'm looking at you, Longevity Tonic!) It was a bit of a roller coaster ride, but it did work some magic on me.
I'm vocal. I'm loud. I talk a lot. I talk a lot about things most people probably don't care about, so imagine the delight of those around me when they took this juicing journey with me. If you're a regular person who wants to do a little bit of a reset from the inside out, here are a few things you might think, feel and say on your first juicing journey:
You'll think...
about food and only food for the first 8-10 hours (that you're awake).
You'll feel...
dumb, dumb, dumb -- day one I could not find words to string a sentence together, which is basically a job hazard.
You'll think...
about your first meal back before you finish the contents of that very first juice.
You'll say...
"I think I'm just not cut out for this and I'm really OKAY with that," approximately 4 billion times in a 72-hour period.
You'll think...
everyone eating food is a jerk. Everyone. Even toddlers. Maybe even animals.
You'll feel...
like you if you quit now you'll just be a failure, but also question your own decision-making skills because why did you do this to yourself?
You'll think...
my skin better be as smooth as a baby's bottom.
You'll feel...
like a restorative yoga class really is your only option for your free evening because really, what else do you have to do?
You'll say...
"Water. Is. Boring."
You'll think...
about how much money you're saving because you're not buying food! (Yes, we recognize you likely purchased the juice, but that doesn't count!)
You'll feel...
what having actual energy is like. Not the caffeine-induced "energy" but legitimate, from-the-inside-out energy. Spoiler alert: It's pretty amazing.
You'll think...
about how your entire social life basically revolves around eating solid food.
You'll say...
my teeth are bored.
You'll think...
this juice has got some pizzazz... it would probably be good with some vodka.
You'll feel...
like everyone in your office notices that you've gotten up to pee 900 times a day, for three straight days.
You'll think...
about food in a way you've never thought about food before. Things you don't even like will look and smell good. (Hello, street meat.)
You'll say...
"I'm not even actually hungry, I think I'm just bored."
You'll feel...
like you don't want to eat anything and everything once the cleanse is done, despite how you felt on day one. If you really listen to what your body is saying, you'll hear it's saying "fruits and vegetables to start, please."
You'll think...
that you just might never, ever tire of hearing your co-workers tell you how glowing you look.
You'll say...
"No Mom, I don't feel faint. Yes, if I do feel faint I'll be sure to eat a cracker. Yes, my roommate/boyfriend/co-worker knows I'm doing this in case something happens. No, this isn't a hippie-dippie thing I heard about at yoga." -- This convo may vary, but chances are you'll a similar conversation with someone at some point.
You'll feel...
empowered and refreshed. It didn't seem possible that a three-day juice cleanse could make such a difference, but it does.
And finally, you'll sleep
better than you have in your entire life.
Related