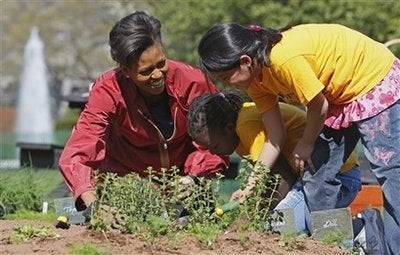 Last week I interviewed a Brit, Andy Lang, about his new film based in Cuba. I was thinking Global then, but this week's interview is all about acting local. Saturday morning I woke up early and suited up in full-body rain-gear, then trudged through the downpour to my rendezvous point in Zone 4, which happened to be about 3 blocks from my apartment. I was feeling quite stealth and shrouded in mystery as I arrived at lab 24/7, a basement apartment, which doubles as an event space. There I met, for the first time, about 30 of my neighbors and was given a seed bag, a map and a small team to work with. Me and my new planting crew then spread out over Bedstuy to begin scattering wildflower seeds. There were 5 meet-up zones and 100 volunteers in total. We all found each other and signed on to the project after a new website sprung up, promoting the Bedstuy Meadow Project, created by one woman who envisioned it all, Deborah Fisher.
This is what she proposed:
The goal is to sow wildflower seeds on every single patch of abandoned soil in the Brooklyn neighborhood of Bed Stuy this April. By early summer, there should be so many wildflowers growing in the untended treepits, vacant lots, half-built developments and other tiny scraps of neglected soil in Bed Stuy that the whole neighborhood effectively turns into a meadow.

I want there to be so many wildflowers on the streets that the summer of 2009 is remembered very fondly every single resident of the neighborhood. I want the continuity of the Meadow to be so strong that Google Earth is compelled to re-photograph Bed Stuy.
They carried black canvas bags containing the seeds of 18 types of wildflowers, including sunflowers and cornflowers, black-eyed Susans, lanceleaf coreopsis, sweet williams and none-so-prettys. They also had a handful of what looked like malted milk balls -- the volunteers called them "seed bombs" and said they dissolve in the rain, releasing seeds.

"All right, I'm going to throw my seed bomb; it's very exciting," said Joanna Wissinger, 48, as she tossed a ball into the yard of an abandoned house on Van Buren Street, where it bounced off the facade and settled in the weeds between empty bottles of liquor.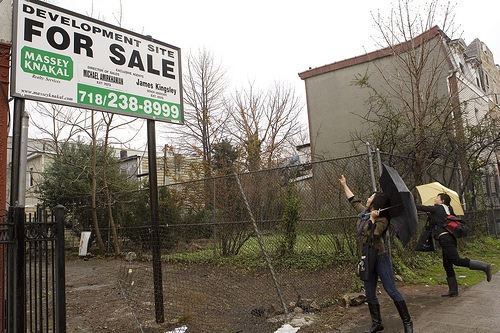 After seeding all day on Saturday I caught up with Deb for an interview:

Robyn Hillman-Harrigan: Where did you originally get the idea for the Bedstuy Meadow project?
Deborah Fisher: Well... I mostly got it walking around the neighborhood. I was looking for a way to make an action that was the opposite of Earth Hour -- something positive. And BedStuy has this amazing history of community gardening, led by Hattie Carthan, who is an amazing figure
RHH: The opposite of Earth Hour in what way, less a sense of mourning?
Deb: YES! Earth Hour is a problematic gesture -- it's something a martyr or a grieving person would do.
RHH: Tell me more about Hattie Carthan? I know she was an African-American Bedstuy garden activist...
Deb: What I like about Hattie Carthan, and some of my older neighbors, is the way they saw problems in their neighborhood and just got busy to do something about them. I live on a block that stayed really sane in the 80's, because people took excellent care of their homes and watched their neighbors. I think that sensibility is important because it's positive and proactive! For those who don't know about Hattie Carthan, (check out this brief history)-- she founded the Magnolia Tree Earth Center in BedStuy and planted something like 200 trees. She was the first person to throw seed bombs into vacant lots.

RHH: What's your relationship like these older women, who live on your block?
Deb: They mostly fuss at me because they want my house to look just so! No, in all seriousness my next door neighbor tells me great stories about what the neighborhood used to be like, and what they would do to make things as good as possible.

RHH: This runs pretty counter to a lot of the stereotypes about Bedstuy. Many people still think it's the ghetto and won't go there. People have said this to me, many times.
Deb: Yes, but those stereotypes are unfounded. There are tons of blocks in BedStuy that fought against blight with strong block associations. Most of my neighbors are homeowners, they bought their homes 10, 20, even 40 years ago. Blocks with a lot of home ownership have strong organization. I met this guy from the Environmental Protection Agency (EPA) who is studying BedStuy as part of a pilot program to get short-term sustainability efforts out, because BedStuy is so well organized.
I wanted to tap into the way that people do small things to make themselves more powerful. It seemed like a better way to think about environmental action than the models we are supposed to use. I think it's really hopeful to keep cleaning up garbage on the street in BedStuy, or to keep maintaining your tulips, and keep helping others do so. We need that kind of hope regarding bigger problems like climate change. It's as hopeless as crack, and we have to all become the ladies on the corner!

RHH: How did you plug into this local community, from block associations, to local businesses, to finally organizing 100 people to plant wildflowers?

Deb: I walked around a lot, and worked closely with BedStuyblog to get folks signed up. I think that getting involved in one's own neighborhood starts with looking around and seeing what the neighborhood is, and what it can offer, and what it needs And I made some mistakes. I didn't make flyers because I didn't want to create any litter. This made communicating the idea too hard sometimes. A lot of local businesses wanted to see a visual, and looked at me funny when I said that I wanted their email addresses.
RHH: New media vs. print, again.
Deb: The way new media v. print intersects with race and class and gentrification in this story is interesting. I thought that spreading the word without making litter would be as simple as walking around with a notebook and recording email addresses. This was a flop with people who didn't already look like me.

RHH: So was your website, 21 Century Plowshare, something that you created for this event, or was it a Brooklyn blog that you had for a while?
Deb: Yes, 21st Century Plowshare was created about 6 weeks ago. It's not really a Brooklyn blog, it's more of an environmental activism blog. But all activism is local, and I live in Brooklyn. Ideally 21st Century Plowshare will start collecting actions like this, done by lots of different kinds of people.

RHH: You felt that you missed out on some local potential garden/environment enthusiasts, how would you have approached it differently?
Deb: I would have been less of stickler about the litter part! I was trying not to be a hypocrite about the environmental part of the thing, and wound up limiting the volunteer pool. It's like Al Gore and his flying -- such a touchstone for climate change deniers to talk about his hypocrisy, but at the same time, it's about getting the word out, right? What's the greatest good?
RHH:Absolutely. Either way the event was a huge success, on its own and as a catalyst for a local movement. Many people were waiting for something like this to come along.
Deb: That was the coolest part of the after-party, the way that people kept talking about other things to do... so much could happen!
RHH: What are your top 5 tips for how someone can organize a large-scale community activism event like this in their hood?
Deb: Let me think... good question!
1. The Internet is really powerful, even though it messed me up a little bit. I couldn't have done this without google maps, a blog and a gmail account -- and these are all free tools!
2. Go look around your community and respond to what's actually going on. I think this event succeeded because it's very much of BedStuy, and is in touch with its own history.
3. Be really enthusiastic about what you are doing, because that enthusiasm is what winds up being contagious!
4. I know that I had problems with this, but I think it's important to think in terms of really radical inclusively. Talk to people who are different than you, who have different perspectives.

5. And think really big! I think that this project caught on because the scale was so vast that I simply couldn't do it alone. It stopped being about me, and started being about the group that way. I know you asked for five, but my 6 would be don't worry about the fact that someone will hate it!
RHH: Awesome! When did you start organizing it and how much money did you raise to cover the cost of all the seed bombs?
Deb: It was a really fast project. I started thinking about it in mid-March, and did it in April. I am a ready-fire-aim kind of person. I raised $1400 in donations, and so far have spent about $1700 on seed, sand, clay, compost, the bags, the after party, dinner for the team leaders, etc.

RHH: 3 weeks? Wow, and the other $300 out of your pocket? Can people still donate?
Deb: I can't believe it worked. Yes, people can still donate! In fact, when people donate $10 or more, they get seed bombs in the mail. This means that they join the project. Donors get their seed bombs, and can throw them anywhere in the whole world. They are invited to participate in a google map and flickrgroup that shows where all these "mini meadow" seed bombs went.

RHH: How did you connect with the Bedstuy blog and what do you do when you're not saving the world, one neighborhood at a time?
Deb: I emailed BedStuy blog and pitched the project. This is the best thing about the blogosphere: access. Everyone just wants to see cool things happen, so everyone is really accessible.
In the rest of my life I am an artist. I make sculptures out of tires and other discarded stuff.
RHH: How long will it take for the flowers to grow?
Deb: They probably started doing something when the sun came out. I think we'll be seeing flowers in about a month. June and July should be great!

RHH: Exactly how big is Bedstuy and how much of that area did we cover?

Deb: BedStuy is 3 square miles, and we covered almost all of it.

RHH: Wow, so you raised 1400 all through paypal?
Deb: Yes, $1400 via paypal. $900 or $1000 of that was businesses, the rest was small potatoes. Not bad! The local businesses were: BedStuy Blog, Olivino, Tiny Cup, VALCAN Enterprises LLC. Kinda local: Brownstoner. Local as in NYC: Acquis Consulting, Saratoga Associates, Girls Write Now. And I got $100 from my in-laws, who live in CA!
RHH: Awesome! So are you going to follow up on this with a photographic project of the meadows? Is anything else in the works?
Deb: YES, I am working with a great photographer named Kate Glicksberg, we'll be documenting the progress. And I am trying now to follow up on all the great juice that came from the after party! So many people had good ideas about things to do. I want to make sure people feel like they can actually follow through, so I'll of course promote actions as much as possible and offer advice on organizing stuff. I also want to make BedStuy Meadow into a template for other different kinds of actions. While I don't think a meadow is appropriate for every venue, I do think that it can become a good model for a very quick, very effective act of... um... responsible graffiti.

RHH: Guerilla Gardeners! How tapped into that movement are you? Have you ever done something like that before?
Deb: Never. I am totally new to this.

RHH: Final question, the name, 21-Century Plowshare. "May they beat their swords into ploughshares and spears into pruning hooks." This is the reversal of a passage from Isaiah that a section of the anti-nuclear movement, called the Plowshares Movement, uses as its slogan.
Deb: YES. But also for other reasons. I like the word 21st Century next to a phrase like Plowshare, it feels forward and backward looking at the same time. The plowshare is the part of the plow that touches the earth, and I think that we are going to need a new relationship with the earth, big time, if we are going to move forward. Bottom line: I don't think the environmental movement thinks of itself as a movement in effective ways. Aligning with a powerful historical movement and a biblical phrase that has strong imagery was a way to get at that image: that we need a new way of orienting ourselves toward the earth.

To read more about my experiences planting with the Bedstuy Meadow project and the other cultural and community events I've been taking part in, visit The Brooklyn Socialite.
Calling all HuffPost superfans!
Sign up for membership to become a founding member and help shape HuffPost's next chapter