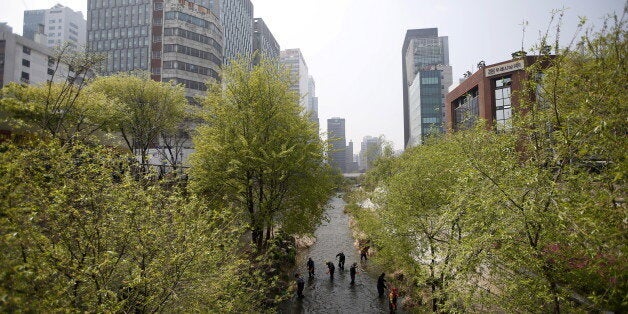 Climate change and the problems of an atmospheric environment is not a problem for a township, a city or even a country. Seoul is not free from the problem of the melting of the Arctic sea or the threatened survival of those of polar bears. The city of Seoul, heavy with the sense of responsibility of these formidable problems, would emphasize that the challenges that we face today are global challenges that will dictate our tomorrow. The only way to start to even address the solutions? Cities and their citizens have to unite to save the only earth that we share. It is a worldwide interest and hope to prepare against climate change by turning to independent energy sources to realize sustainable cities. Seoul is no exception to this and today it is heading towards 'a little different urbanization.' The dream is to evolve into a sustainable city through urban reconstruction and regeneration, creating a space where the human race truly coexists with its natural habitat and where we are prepared to counter climate change and achieve energy independence. Seoul with its 10 million citizens is walking a path towards 'a new Seoul' in sharing the vision and goals of ecological environment, climate change, and energy saving.
Seoul Metropolitan Government Stands Against Climate Change: 'Citizens Are The Energy'
After a painstaking time of contemplation, Seoul envisioned a city standing against climate change, overcoming energy shortage, and creating an eco-friendly city with urban revitalization. We then started to take action on realizing this envisioned city.
We believe that to stand against climate change is to conserve energy. The 2011 Fukushima nuclear disaster has given us conviction to maintain that belief. With these thoughts, the initiative of "One Less Nuclear Power Plant" was born. The aim is to reduce the usage of energy reliant on nuclear power plants, and to start to use renewable energy sources, such as solar power.
Citizens made the effort to install solar energy panels and took part in the creation of Solar Power Plants in several locations. There was participation in an eco-mileage energy saving incentive program. 1.72 million members joined, a shocking one-sixth of the total population of Seoul. Heat energy from sewage treatment plants, waste heat of industrial boilers from resource recovery centers, small hydro power etc. was converted from waste to usable energy. Energy efficiency for larger buildings also saw improvement. In homes, schools and in work places the conservation of energy has become a part of every persons daily lives in the city of Seoul.
In June 2014, 6 months ahead of expectation due to ardent participation of the people of Seoul, we have achieved 2 million TOE reduction. Initially the 2.9 percent rate of energy independence has been increased to 4.7 percent. Citizens are the energy behind this achievement.
In Seoul, 'One Less Power Plant' initiative is now in stage 2, with the aim to reach an energy independence rate of 20 percent by year 2020 and reach reduction of 10 million tons of green house gases. Both Local governments and international organizations are learning from Seoul's efforts. Last November, four local governments including Seoul declared a cooperative effort by acknowledging the importance of energy saving policies at the local level and setting the goals of effective usage on clean and safe energy. Such cooperative efforts opened an era of cooperation between local governments. Thus Seoul's 'One Less Power Plant' initiative is spreading throughout the country.
Going Beyond Citizen Governance into City Governance Seoul is changing now. It is evolving into a sustainable city and taking a stand against climate change by seeking co-existence with its ecological environment.
This, of course, is a result of the energy of the 10 million citizens of this city. It is an astonishing result of citizen governance, as well. Whenever I am asked what is the main factor behind the positive changes in Seoul, my answer has always been "the citizens." Citizens are the answer, citizens are the energy.
Seoul now dreams of changes beyond the city itself. World cities must dream the same: a new era of communication and cooperation in order to realize a sustainable future city. Beyond boarders, citizens and cities must gather in the cause to cooperate in order to achieve the changes needed to combat climate change.
Change starts with the smallest actions. It is the daily persistent actions that make the difference. A path that is walked together becomes a road, a dream dreamt together becomes reality. I truly hope that the story of actions taken by cities around the world becomes part of our history in the stand against climate change.
Calling all HuffPost superfans!
Sign up for membership to become a founding member and help shape HuffPost's next chapter