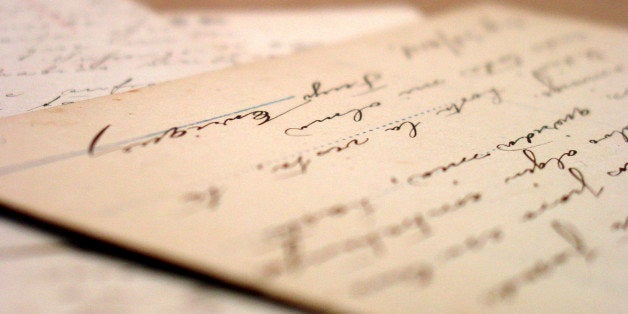 Of all P.L. Thomas's wonderful poems, the archeology of white people will always be my favorite. Not only is it the reason why I connected with him by telephone, and had the honor of listening to his sweet Southern drawl, but also one that resonates within me at the deepest level I am aware of. Paul begins most of his poems by quoting other literary works, and opens the archeology of white people with a snippet from F. Scott Fitzgerald's The Great Gatsby. In so doing, he orients the reader to the illusion that decadence is obtainable by everyone, without any consequences to its pursuit. In closing the poem, he writes:
Ignore the body in the road
we whisper in their tiny innocent ears
Isn't that golden car spectacular?
This last stanza repeats over and over again in my ear as a national refrain for traditional education.
Paul told me poetry comes through him, to be expressed and shared, which reminds me of Elizabeth Gilbert's TED Talk on the writer's muse and mind. Gilbert discussed the connection between the writer's mind and mental illness, fear, and pathology. She described ancient Greeks believing in Daemon, and the Romans called it "having a genius," a magical Divine entity that lives in the artist's room assisting the artist's work and outcome. She contrasted it with the modern view of "being the genius," which is typically paired with emotional struggle. She elaborates describing how Ruth Stone crafted poems by receiving Divine inspiration in the form of barreling air thundering toward her as she worked in the fields. Ruth raced to grab pencil and paper to catch the poem as it passed through the landscape, before it was gone, and missed forever. Sometimes, Ruth missed the poem, understanding that it continued on in search of another poet through whom to be expressed. Like Ruth Stone, Paul catches the wind when it blows by him.
The concepts of education, genius, muse, and mental illness intersect in my work on a number of levels. In my private practice, I specialized in treating and testing gifted students, and those who struggled. It was my responsibility to tease out the Daemon that inspired from the demon that tortured. Ultimately, it caused me to turn my attention directly towards education. I wanted to better understand Educational Trauma: the cycle of victimization being inadvertently perpetrated by consumers and producers of educational systems.
As I delved deeper into Paul's work, and directed energy to the urgent nature of his calls for action and attention to class and race inequity in America, I found that we share many commonalities. It was through studying his archive of Lou LaBrant's work that I began to understand how deep our commonalities run, and precisely where. LaBrant lived for 102 years, and spent 8 decades in education. She was the president of the National Council of Teachers of English, the same council where Paul has served on major committees, and from which he received the George Orwell Award for Public Writing in 2013. LaBrant proposed that students learn to write by writing, and grow as readers by reading. She promoted student choice in reading and writing projects, even going as far as saying that a separate English course to teach reading and writing is unnecessary because it can be taught through the other courses that also involve reading and writing. (This concept may be ages old, yet fully comes to life in Design Thinking which is finding its way into education, and is one of my pedagogical influences.)
Paul completed his dissertation as an education biography on LaBrant, so her views deeply influence his teaching. She believed a teacher's role was to facilitate students developing reading and writing skills that were fluid and organic, adaptable in chaotic and unpredictable situations. She highlighted the importance of process over content. This is, in my opinion, one of the most crucial needs of 21st century students. As long as the real world operates with spontaneity, this need remains paramount. I promote this adaptability through Design Thinking and democratic schooling, both of which are unscripted and involve creative chaos. And Paul does it by guiding teacher training at many intersections.
I met Paul through contributing to Pedagogies of Kindness and Respect,
a textbook he co-edited. I was drawn to his challenge in the call for proposals because it made sense to me in a deeply intuitive and knowing place. In the course of writing my chapter, I was surprised at how much support was offered to my inclusion of the experimental school I co-founded with students. EmpathicEducation for a CompassionateNation was a study in directly involving students in the creation of their own content, school, community, and learning plans. It was a real honor to collaborate with him on a volume addressing the lives and education of children.

When Paul interprets or creates literature, he does it through the lens of his history and experience. He breezes through clichés and exposes the hypocrisy of race and class in equality, specifically as it plays out in education and literature. He goes one further, and implores us with literary evidence to seize the moment, and contribute to freedom for everyone right now! He references apologists for tradition and those calling for patience, indicating the moment, the time for compassion is always right now! Paul gets this at a deep and wide level and pours webpage after webpage onto the Internet for us to see it in plain sight. For Paul literature is his praxis for dismantling Educational Trauma.
Beware the Roadbuilders: Literature as Resistance, is a compendium of his praxis. In reference to this publication, Alison H. Williams, a former student, described Paul as: "A powerful voice for change, but ultimately, his greatest influence is in the way he empowers others to speak." Putting an end to Educational Trauma, by definition, implies and begs for the empowerment of the voices of the oppressed. Paul pleads with us to reconsider the most fundamental aspect of education that perpetuates class and race differences: Literacy.
P.L. Thomas identifies, for us, the role reading and writing instruction plays in maintaining racism and classism. He rooted out the problem in teacher training, and intentionally placed himself at the nexus of this point, not only in his writings, but also in his role at the national level of educational instruction.
How Paul does all this boggles my mind, however the reason why he does it all, and where he finds the enormous energy for it truly holds my attention. This is personal for Paul. His poetry reveals such, if one looks at it long enough. One poem, first spring (Baltimore is burning) reveals the national context his first grandbaby was born into, and the tales told to his child as she cares for her new baby. Paul took it even further, and openly discussed his perspective on the poem. In so doing, Paul epitomized self-empathy, so the reader can better understand which parts of the poem resonate with their inner most self. Self-empathy is the practice of intentionally directing attention toward oneself to better understand needs, desires, feelings, experiences, wishes, dreams, and such. Paul shows us where he is coming from. When we know where the other is authentically coming from, it becomes a lot easier to find oneself in the mix. When two people, communities, nations come together and one or both lack this level of insight and authenticity with themselves, it easy for both to lose the way. I think this is a major reason why Diane Ravitch said that Paul is: "The conscience of American education. He is our North Star."
Though we live in very different parts of the country, we share common goals, life experiences, and worries. We both feel an urgency to act now to dismantle educational practices that cause pain, racism, and classism. This level of compassion, and concern for shared humanity, is desperately needed. For it to become shared global responsibility, a cause that warrants overcoming fear and complacency, Paul tells us we need to think more critically about what we read, and how we write. There has never been a more critical message blowing in the wind demanding to be shared than this one.
REAL LIFE. REAL NEWS. REAL VOICES.
Help us tell more of the stories that matter from voices that too often remain unheard.