When The Runaways opened recently I imagined the whole of Los Angeles waking up and reaching for their eyeliner -- liquid, pencil and kohl kajal -- before coffee or even a cigarette. A real rock chick wears a smoky eye at breakfast or any damn time of the day. What I found fascinating was to see the young actresses mingling with the original rock stars on the red carpet. Joan Jett has not deviated from her pussy cat eyes since 1975 but she has refined the art of subtle blending. What this proves to me is that makeup trends come and go but black eyeliner is forever. In fact, black eyeliner's inky influential line can be traced from Cleopatra (love the way Liz Taylor did hers) through to silent star Theda Bara (she painted her entire lid) and the classic single slash of black favored by diva Maria Callas.
Callas, the subject of an exhibition at LA's Italian Cultural Institute, amped up her dramatic features with strong brows, theatrical eyes and red lips. Her eyeliner, perhaps influenced by the stage makeup worn for her greatest performances, is the kind you can see at the back of the house. Callas's modern-day counterpart may be Lady Gaga, who also embraces smoky eyes and bright vermilion lips -- a little Mediterranean blood goes a long way for makeup courage. It seems no matter what's happening on the runways, the smoky, smudgy look reigns supreme. Singers like Duffy and Alison Mosshart, It Girls like Alexa Chung and fashion mavens like Carine Roitfeld all embrace the dark side. For Kate Moss the smoke signal is her signature and she wears the same eyes in so many different contexts: couture or jeans, beach getaway or Met gala. With eyes that strong the hair can be casual, almost scruffy.
The godmother of all smoky eyes has to be Jane Birkin. But if you look closely at her original makeup, it was very subtle, well-blended and not at all harsh. One of the main tricks of heavier eye makeup is getting the tone right, and playing down the rest of your look. Birkin once famously quipped that she slept with her eyeliner pencil under her pillow so she would always have glamour at hand. But she sure as hell didn't apply it in the dark! Reviewing this lineup of hardboiled glamour icons might make you wonder where eyeliner fits into everyday life. But of any makeup choice possible, this one has quickest results and the most intense impact. My Neo Noir Liquid Liner does not have to look rock and roll. Even a whisper-thin line skimmed just on the lash line will give you more arresting eyes, but I'll bet in no time you'll be wanting to go thicker. Heavier. Hotter. Smokier. To get inspired, try my simple eyeliner techniques.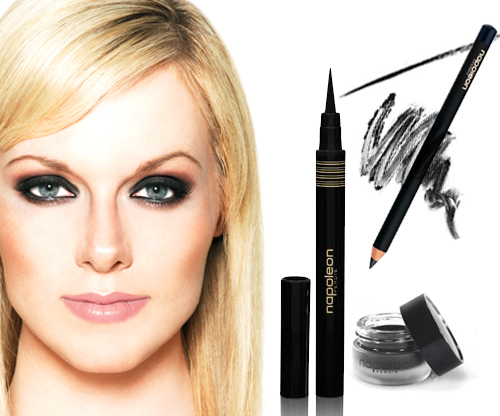 Black Out: Thick liner will make your lashes look thicker but they'll look longer with thinly applied liner. To work a thin liner, aim at applying as close to the lash line as possible, even overlapping onto the lashes slightly. This will darken the roots of the lashes that mascara may have missed.
Meow Now: To create the perfect feline look, apply your choice of shadow to the mobile lid before commencing your liner. To ensure the balance and precision of your shadow, use a fine brush with a flat edge. For a sharp finish, apply a gel or liquid liner in a continuous gliding motion, hewing as close to the lash line as possible, from the inner corner to the outer corner of the lash, and then angle your liner upwards toward the outer crease of the eye. Continue extending your liner up and out. Keeping the finishing point a tapered angle, and double back over the base of your angle to create a graduated effect.
Fire One Up: Use your liner as a base for a smoky eye. Starting at the lash line, scribble your pencil liner all over the lid and into the socket. Use a medium eye brush and blend the liner to a smooth finish. Pat over the top with a powder to set. The liner base means less fall-out of your shadow, while the creamy, waxy texture will be easier to blend.
Nutty About Almonds: To elongate the eye and create a flattering shape, work your liner to the inner corner of the eye. This may tickle but the results are more glamorous, shapely peepers. Whether you listen to La Traviata or Cherry Bomb as you do it is entirely your choice. Update the Runaways' clear lip gloss look with a matte nude pout or even a veil of color that suggests bitten lips. Perfection.