This time of year the pull of consumerism is strong for all parents, but the pull is especially strong in my household of five where we celebrate Chanukah, Christmas and a child's birthday in a three-week period. Instead of going to big box stores or the internet to do our shopping, this year I am shopping locally for all of my children's gifts. By shopping locally I am not only helping my sanity by staying away from overcrowded malls and avoiding getting sucked into reviewing an endless cycle of very similar toys, I am also helping to ensure that my community remains vibrant and offers an array of choices.
Shopping locally has an enormous impact on the local economy.
According to the 3/50 project, $42.6 billion could be generated for the economy if just half of the employed population spent $50 in three locally owned business per month. For every $100 spent locally, $68 returns to the local economy. If the same $100 were spent online, nothing returns to the local economy.
As a mother of children in public school who regularly use the District's public playgrounds, libraries and pools, by shopping locally I am ensuring that my purchases help keep our local government well-funded and able to provide my children with education, books and recreation. Although I could avoid tax altogether by shopping online, I view the few extra cents I pay for each gift as a good investment in my city.
By shopping locally I am also giving myself the gift of good customer service, given by full-time employees who are treated well and stay in their jobs long enough to know the products carried in their shops. I have lost count of the number of times I have wandered around big box stores looking for assistance. When I shop locally, I rarely get past the front door before someone approaches me to ask if I need help. The employees who assist me cannot only help me find what I'm looking for but are also very knowledgeable about the products they carry. At times, employees at these local stores have actually convinced me not to buy the item I came for because they thought it was not appropriate for my child's age or developmental level and have been able to steer me towards more appropriate toys and books.
When I shop locally I am ensuring my community remains an interesting place in which to live. My children's childhoods would be very different without being able to play with trains and marbles at our local toy store or listening to authors read from their new children's book at our local book store -- both within walking distance of our home. My children are also better off being able to play in the giant indoor sandbox and roll down the many hills surrounded by world-class gardens at the fantastic small, private museums in our city that are partially funded by profits from gift shop sales. Since these stores go to lengths to distinguish themselves, I have also been able to find unusual children's items by shopping locally.
Another benefit of shopping locally is access to high-quality and unusual gifts not found in many other places. These stores depend largely on word-of-mouth for their business and go to great lengths to ensure that they stock items that they are sure your children will enjoy and that will last. I have rarely had issues with any products purchased at local stores, but with three children six and under, there are bound to be occasional problems. On the rare occasion something has gone wrong , the local stores have been willing to make the situation right rather than stick to a rigid nationwide return policy.
If you take your children with you to shop locally, you can explain that you are supporting local stores because you do not want to see them go away. Even the youngest children can understand this simple concept.
You can get ideas about where to shop for the little (and big) people on your holiday list from Think Local First D.C.. The 3/50 Project has an app, LookLocal, that you can use to find local businesses while on the go.
Here are my favorite places to shop locally for children's gifts:
Barston's Child's Play -- This local (and personal) favorite has every toy and game imaginable. If you don't know what a zoob is or don't know how to choose the right marble run, the staff will help. The staff will gladly spend all the time you need helping you find the perfect gift and will do special orders. They carry toys in all price ranges. A price comparison showed that some of their toys are priced less than the big box stores, inducing multiple Star Wars Lego sets requested by my son. It's a great place to go with children because they have a train table, marble runs, dolls and even a mini shopping cart available for children to play with while you shop. The owners do not order any toy before they try it out themselves, so the toys are always fun and high-quality. Although primarily a toy store, they also carry dress-up clothes, books and baby items such as strollers and car seats. They have five locations in D.C., Arlington, Rockville, McLean and Baltimore. As an added bonus, gift wrap is complimentary.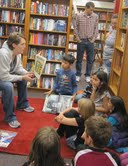 Politics & Prose -- A large portion of the famed bookstore's lower level is dedicated to children. In addition to a large selection of books for babies through teens, the store also has two book "clubs" for children that would make good gifts for children. A gift of membership in the Book of the Month Club for Children will get your lucky reader a new book every month and membership in the Children's Signed First Editions Book Club gets a lucky child a signed first edition of a new book each month. Books can be shipped anywhere in the country. Politics & Prose also has a small play area nestled under the stairs where children can look through a bin of books or play with stuffed animals while you shop. If you plan on doing a lot of shopping here, a $25 annual membership will more than pay for itself in discounts offered to members.
(Politics & Prose Children and Teens Department. Photo byJanet Minichiello)
Full of Beans -- This clothing store for children carries a selection of stylish duds for kids. This is the place to go for gifts for the little fashonsita who doesn't want to be seen on the playground wearing the same thing as everyone else. They also carry a small selection of toys. Since it is a small shop, children can browse the racks while you shop and they will never be too far away.
National Building Museum Gift Shop -- The National Building Museum currently has two large exhibits geared towards children and their gift shop is full of toys related to construction and building for little ones through teens. Their selection for children ranges from utensils for beginning eaters shaped like diggers to kits to use to build robots from recycled cans, to Bauhaus and Middle Eastern building blocks. Kids can play with some toys available for sale while you shop -- as long as you put them away when you are done.
Hillwood Estates, Museum, and Gardens Gift Shop -- The former estate of Post cereal heiress Marjorie Meriwether Post has a small, but eclectic mix of items for children. All items in the shop are related to gardens, museum exhibits, or the life of Mrs. Post, including her time spent in Russia and France. This is place to go to look for unusual items such as Russian stacking dolls and books for kids about French culture. If you are willing to live dangerously and wait for the week before Christmas to buy your gifts, Hillwood is holding a Holiday Markdown Sale from December 18 - 31. This shop is not an ideal place to bring children, as they carry many fragile items, but children will be fine if you can keep an eye on them while you browse. There is a small lounging area just outside the gift shop where children can wait while you shop.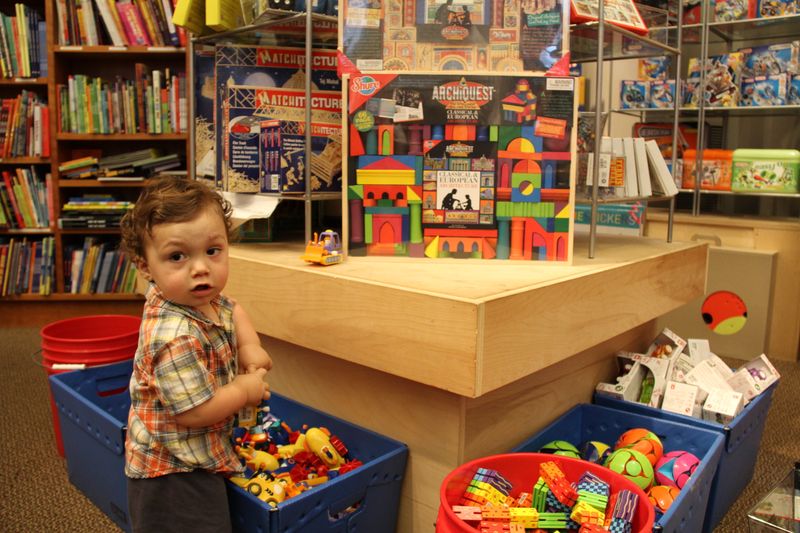 The National Building Museum Shop. Photo by Kevin Allen
REAL LIFE. REAL NEWS. REAL VOICES.
Help us tell more of the stories that matter from voices that too often remain unheard.