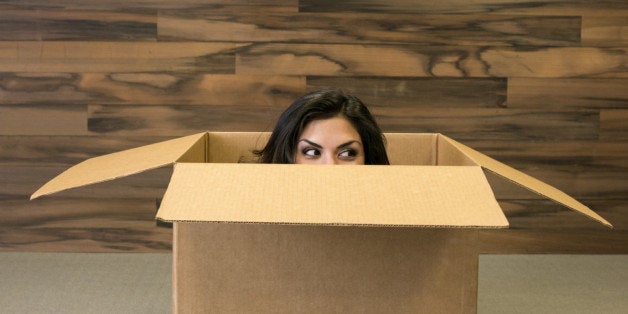 My writer, Jim, hates the expression, "Think outside the box," and I agree with him. What box? Who put you in the box? Why is there a box in the first place? Boxes are barriers, and the saying itself seems like an excuse to me. It's why my book is called Think Big, Act Bigger and not Think Outside the Box.
Great business leaders surpass the box and think big and act bigger. Take for example Mark Wolfe and LeVar Burton, founders of RRKidz, Inc. When I first heard their pitch, it started off with a bang: "We don't work with a-holes." In that easy-to-understand statement, they clearly defined their conditions of satisfaction and the obstacles they faced. You'd think that the people behind Reading Rainbow would be willing to work with anyone, but with over 30 years in the business, both Mark and LeVar knew they could be selective on who they worked with. And they chose to work with everyone but a-holes. That is something I can totally relate to.
After Reading Rainbow was cancelled after 23 years, LeVar and Mark were faced with an audience of parents who trusted and loved the show, and they knew they needed to do everything possible to bring the show back. But relaunching would be expensive - at least $1 million. For two years, LeVar and Mark looked for funding using traditional means with no luck. They had a very specific mindset in traditional funding partners, and because they refused to work with a-holes, money was harder to find.
LeVar and Mark knew they needed to steamroll this particular obstacles, so they adjusted their search to include the audience who loved Reading Rainbow - and crushed their funding goals through the crowd funding platform, Kickstarter. Over one hundred and five thousand backers pledged more than $5.4 million, and an additional $1 million from actor/comedian Seth MacFarlane increased it to a total of over $6.4 million.
How did they do this? They moved away completely from the notion "thinking outside the box" to thinking differently, thinking bigger, and acting bigger.
Another fantastic example of thinking big and acting bigger comes from the Major League Soccer team Seattle Sounders. For the better part of two decades, the Sounders failed to thrive and grow. In 2008, they brought in Joe Roth as the majority owner and won an MLS franchise for 2009. That should have made them explode, right? Wrong. They were now an MLS team that plateaued their fan base at 4,500.
So how did the Seattle Sounders suddenly explode onto the scene despite being a soccer team in Washington State? American football.
The Sounders front office team thought big and partnered with the National Football League's Seattle Seahawks to share management teams, effectively merging their lifestyles and interests.
American football and soccer clubs have long been at one another's throats, battling each other for the term football. So why would a merge work? The idea that 'only traditional methods' would work would have killed the Seattle Sounders. Thinking unconventionally (and big) led them to partner with a team with a rabid fan base, massively successful operations, and CenturyLink Field - a loud and deadly place for visiting teams.
Through this partnership, the Sounders were able to benefit from the Seahawks' experience with digital marketing, fan appreciation, and sponsorship solicitation. The Sounders' GM was able to focus on building the team and their product, where the rest of the business was co-managed with the experience of the Seahawks'. The results were astounding, and they were able to move from a minor league team to major league overnight.
The Seahawks and Sounders have since parted ways, but on fantastic terms. The two share the same stadium still, because there is no other stadium in the area that holds the Sounders' fan base, which continually sells out every single home game. Think about that - a football field sold out for 'soccer' games. That's mighty impressive!
By throwing away the box completely, the Sounders' were able to completely surpass even the wildest expectations. They thought big, acted bigger, and it has paid off dividends for the team, players, and fans alike.
RRKidz, lead by LeVar Burton and Mark Wolfe, and the Seattle Sounders' have shown how effective it is to do away with the saying "think outside the box." By thinking big, and acting BIGGER, they were able to steamroll their obstacles and blow past their goals in big ways. How will thinking big and acting bigger change your life?
Calling all HuffPost superfans!
Sign up for membership to become a founding member and help shape HuffPost's next chapter