WASHINGTON ― A new think tank led by men associated for years with conspiracy theories about Muslims is now advising the White House on an ongoing dispute between Qatar, a predominantly Muslim country that hosts more than 10,000 U.S. troops, and other U.S. partner nations in the Persian Gulf, the group's senior vice president, David Reaboi, told HuffPost.
Reaboi founded the think tank, dubbed the Security Studies Group, earlier this year with Jim Hanson, its president. The new group's most prominent staff members have long histories of making controversial statements.
Reaboi has warned of "the infiltration of the conservative movement" by GOP figures who ask the party to consider American Muslims' concerns and see Islamophobia as real. SSG's social media director, Nick Short, wrote last year of "the sheer amount of money being allocated by Congress to fund what is essentially an invasion of the third-world in the form of refugees and illegal aliens [which] is outright treasonous." Hanson has described the Orlando shooting as "in keeping with totalitarian Islamic code" and suggested that a homemade clock brought to a school by a 14-year-old American Muslim "was half a bomb." And all three men spent time working at the Center for Security Policy, an organization whose founder, Frank Gaffney, has claimed President Barack Obama was a Muslim and that Gen. David Petraeus submitted to Islamic Sharia law.
Gaffney is so controversial that the Trump administration once felt compelled to distance itself from him. When the New York Times and the Wall Street Journal reported last year that Gaffney was informally advising the Trump transition team, politicians from both parties protested and both Gaffney and the Trump camp soon denied any link.
But SSG and Reaboi are eager to show that even if Gaffney is persona non grata at the White House, people who echo his views are still welcome there. Reaboi, who has spoken of knowing controversial White House adviser Sebastian Gorka for "years," was happy to brag of his group's sway. "We have plenty of back-and-forth with them about it, on [the Qatar] issue and other issues as well," he told HuffPost in a July interview.
Reaboi is connected to a number of powerful White House figures. He has been described as a friend of the influential National Security Council spokesman Michael Anton, who like Reaboi and SSG contributor Angelo Codevilla is connected to the conservative Claremont Institute in California, and he wrote for the website Breitbart while chief White House strategist Steve Bannon was running it. He also spoke of chatting with Derek Harvey, who until his dismissal last week was the top National Security Council official working on the Middle East.
Last week, Short tweeted a photo implying he'd visited Gorka at the White House. And Hanson has a particularly personal tie: Victoria Coates, another top NSC official, worked with him (and Gaffney) last year while she was serving as the top foreign policy adviser on Sen. Ted Cruz's (R-Texas) presidential campaign.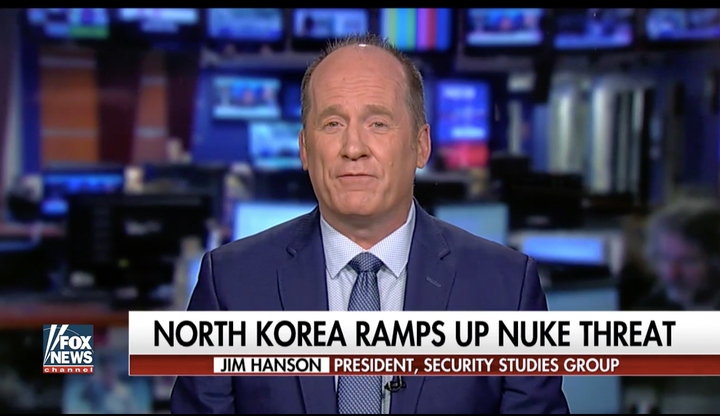 The White House declined to confirm any of Reaboi and Short's claims, and it's unclear where in the administration Harvey, a right-wing media favorite, will now work. But Anton, Bannon, Coates and Gorka are still serving the administration. And SSG ― which presents itself as a defender of Trump's campaign trail message on militant Islamism and the flaws in Washington orthodoxy ― remains ascendant, Reaboi argued.
It's not an unreasonable claim. Until recently, men like Reaboi and Short weren't welcome anywhere near the West Wing. Their relationships with White House officials speak to a broader trend: the rise of people who combine deep skepticism of Islam and immigration with innate distrust of the Republican foreign policy establishment.
In his interview with HuffPost, Reaboi was true to form, blasting national security adviser H.R. McMaster and Defense Secretary Jim Mattis for their faith in experienced, conventional experts, particularly at the Center for a New American Security think tank. He argued "the national security smart set" would try to hinder Trump's agenda, and that Secretary of State Rex Tillerson is failing to carry out Trump's vision by urging caution with regard to Qatar.
The narrative that SSG weaves neatly combines domestic right-wing worries — that the American Muslim community is being radicalized, notably by the transnational Muslim Brotherhood movement — with foreign policy concerns. The latter include the way Qatar's support for the Brotherhood has angered other U.S.-friendly regimes that see the group as a threat to their power, like Saudi Arabia, the United Arab Emirates, Egypt and Israel.
Although the group does not accept foreign funding, it often promotes anti-Qatar material from The Qatar Insider website, which is part of an expensive media blitz run by the Saudi American Public Relation Affairs Committee. It also endorses the UAE's suggestion that the U.S. should have its biggest base there rather than in Qatar.
SSG is not affiliated with Gaffney's center, Reaboi said. But its members have frequently pushed the kinds of claims that made Gaffney notorious.
Writing on Breitbart from 2010 to 2012, Reaboi repeatedly attacked Suhail Khan, a prominent Muslim-American Bush administration official who has frequently received death threats since conspiracy theories about him began to spread. Reaboi wrote that he was concerned about "the infiltration of the conservative movement by people like Khan and others who attempt to silence criticism of Islam on national security grounds as 'Islamophobia.'" (Gaffney agrees, and has said anti-tax activist Grover Norquist plays a similar role by urging the GOP to try appealing to Muslims.)
In other pieces, Reaboi defended the fringe theory that Hillary Clinton aide Huma Abedin risked U.S. national security because of distant associations with Islamists, attacked Sen. John McCain (R-Ariz.) and others defending Abedin, and warned of leftist support for Shariah law. On June 5, 2011, he wrote a blog post based on a pro-regime Iranian media report that described a Washington gathering of American Muslims supportive of hardline Iranian cleric Ruhollah Khomeini. The Americans' statements in the segment, he suggested, proved the West must acknowledge that some Muslims will always reject "any form of government that does not implement" Sharia.
"They are living in the United States, and consciously reject this form of government," Reaboi wrote. "Arguments that focus on teaching western or American values in far-flung tribal areas on the other side of world will invariably fail, because it's not a matter of ignorance; we need to admit that some people may be educated and still agree with Khomeini."
This year, Reaboi wrote a lengthy piece in The Federalist with an associate who still works for Gaffney entitled, "The Trump Administration Should Treat Islamists Like The Mafia." Presenting talk of anti-Muslim discrimination as a smokescreen to hide nefarious Muslim scheming, he and his co-author demanded greater scrutiny of American Muslim organizing and savaged the Council on American Islamic Relations advocacy group, relying on a favorite trope in Islamophobic circles: the government once calling CAIR an unindicted co-conspirator in a terror finance case. They condemned the New York Times for not reporting on a judge blocking CAIR's effort to have that description revoked, while themselves neglecting to mention that two federal courts criticized the government's action.
Reaboi told HuffPost he left Gaffney's center in 2013. Short and Hanson stayed until this summer, however. "I hope you're not gearing up to call us Islamophobes, [especially] as we've got great relations with Muslims from Egypt to UAE to Pakistan," he added. "I know that's the usual line of attack, but it's both incorrect and boring."
"There are plenty of peaceful Muslims whom I am happy to live side by side with," Hanson wrote in January. "But there are a significant number, more than most care to admit, that do not share my tolerance. They believe that violence to support the cause of Islam is acceptable. That is not something any of us should tolerate. But somehow pointing out that hateful behavior makes me a hater? That doublethink would make Orwell weep."
Reaboi is optimistic that he and others whose ideology he believes Trump has adopted will eventually see their policy goals enacted, whether on Qatar or on designating the Brotherhood as a terror group ― despite their belief that McMaster, Tillerson, Mattis and government bureaucracies are trying to prevent that.
"As things move along in this presidency, I think you're going to see the president reassert himself, because I think that he's begun to see that some of the people that he's brought on don't necessarily share his priorities and his vision," Reaboi told HuffPost, adding that any president "deserves and requires" people who can "carry out his vision."
"So to the extent that we can have more of that, the better," he said.
Popular in the Community