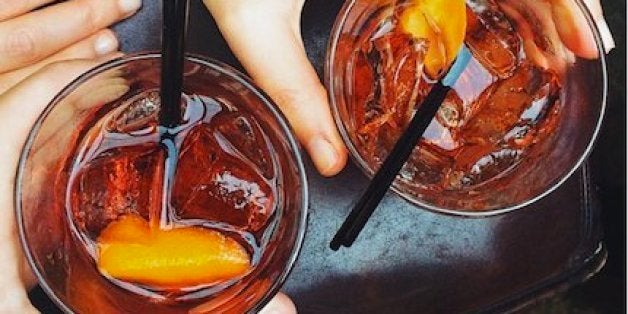 By now, you've heard of the negroni. Note that I didn't say "probably". By now, every last cocktail drinker on Earth has crossed paths with the classic cocktail, famously made with equal parts gin, Campari, and sweet vermouth. I've evangelized on behalf of the cocktail countless times, extolling its uniquely bitter flavor profile and extremely easy-to-remember recipe.
But not everyone likes the classic negroni.
"It's too bitter," some say.
"Too much booze," others exclaim.
That's okay--because there's an entire universe of Campari-based cocktails beyond the classic negroni that solve all of these problems, while maintaining the spirit of the drink.
Welcome to the world of negroni variations.
Almost immediately after the negroni became the cocktail of the moment a few years ago, an entire subset of drinks made with similar ingredients and adhering to an equal-parts formula gained popularity. I mean, there are whole Pinterest boards dedicated to the subject!
Some are classics, some are new, but all of them are delicious. Here, a list, organized by problems you might have with the negroni:
You're Not a Fan Boozy Cocktails: Equal parts of three different, highly boozy spirits isn't a recipe for the faint of heart. Luckily, there's the Americano. A classic cocktail in its own right, the Americano replaces gin with soda water, making it the perfect cocktail for hot days.
You Can't Deal With Bitter Drinks: If you find Campari a bit too bitter for your liking altogether, the White Negroni substitutes in Suze, the bittersweet French liqueur made from the gentian root. Couple that with the use of Lillet Blanc instead of sweet vermouth and you've got a cocktail that's not only beautifully clear in appearance, but less, well, intense for those that want the spirit of a negroni without the bite.
You're on Permanent Vacation: If you can't stand the idea of not having rum in your drink--you constantly dream of Mai Tai's and beachfront property, perhaps--the Kingston Negroni is here to solve your problems. Just swap out gin for your favorite Jamaican rum.
You Must Have Bourbon In Everything: You need bourbon. Always. Meet the Boulevardier.
You Need More Smoke in Your Cocktail: For the mezcal-obsessed among us, there's the Smoky Negroni. Substitute your favorite mezcal (more on that here) for gin and mix with equal parts sweet vermouth and Campari. Done.
You Can't Stand Three-Ingredient Cocktails: For many, the simple recipe is one of the main things the classic negroni has going for it. But, maybe you've got a well-stocked bar to burn through or you're just looking for something a bit more complex--either way, you'll likely want to try the Negroni Leoni. This modern cocktail dials back the Campari and replaces gin with a good amount of rum and a touch of mezcal for smoke.
You Can't Not Drink Tequila: Maybe you just can't get down with a cocktail unless it's got the familiar bite of tequila associated with it. Fear not, the Tequila Negroni is here. Using blanco tequila, this drink retains both the equal parts mixture and accompanying ingredients that make the classic negroni a go-to.