The best time of year to sell is a hotly debated topic. Many experts agree that spring is a safe bet, and industry research backs this up. But, a recent Redfin report also brings some surprising data to light. Read on to learn which seasons will help you sell faster and for more money in your metro.
Spring Selling is Usually a Safe Bet:
As expected, homeowners who decide to list in the spring tend to do pretty well when it comes to selling fairly quickly and getting a good return on their real estate investment. This is often attributed to the fact that nicer weather and more free time tend to prompt more buyer activity. More activity means more competition in the market, which helps drive prices up. But if waiting until spring isn't your ideal scenario - you've got options.
Winter is a Surprisingly Good Time to List:
While you'd think people tend to hunker down in the winter and are less likely to home shop, Redfin's data proves otherwise. They pulled numbers on over seven million home sales across the US that occurred over the past four years. In their analysis, they discovered that winter sellers are actually on pace with spring sellers when it comes to getting over asking price and selling quickly. Part of it has to do with the fact that winter shoppers tend to be more serious buyers and part of it has to do with other factors that impact local and national real estate markets, a number of which are outlined here. Check out Redfin's data, organized by major metros, below: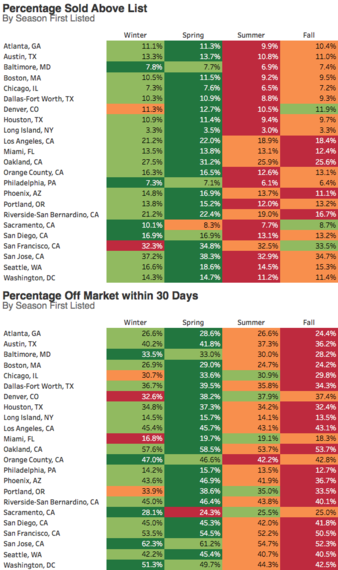 click to view larger image
Summer and Fall Lag Behind:
Summer break can get busy for people when the kids are out of school and fall gets busy as the holidays approach. Knowing that, it's no surprise to see that these two times of the year come up short when it comes to faster sales and higher payouts. But be sure you take a look at the impact on your specific city. In some cities, the differences are negligible. In other major metros, the impact is more severe, which means listing in slower seasons can translate into making significantly less money on your sale.
Don't Forget to Consider Your Motivation to Sell:
The real estate market is fluid and is impacted by a variety of factors, so what's true now may not be true six months from now (or even one month from now). For example, rising interest rates are driving a lot of activity now, as buyers try to lock in low rates on their home purchase. But the same may not be true this time next year.
All market trends aside, your motivation to sell should also play a big role in determining when you should list. If you have an immovable deadline, all you can do is price right and do everything in your power to make the best of current market conditions. But, if you have more flexibility with your timeline and your local market tends to favor a particular season, it may be worth it for you to time your sale in a way that allows you to take advantage of the optimum selling season.
In any case, it's always a good idea to consider historical data, current market trends, and your own needs as you work to decide when it makes the most sense to sell your home.