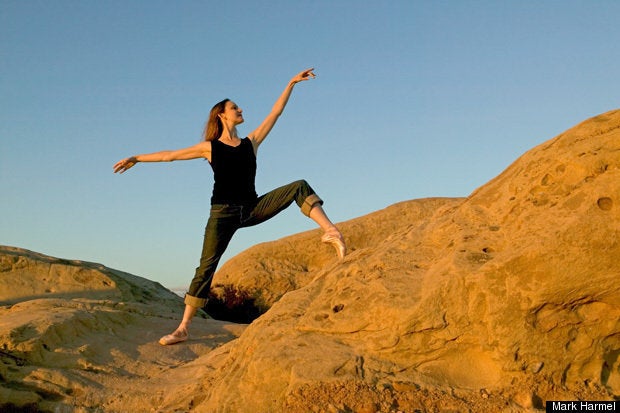 So you call yourself an LA. fitness junkie? You've been a member of the trendiest and grungiest gyms and studios LA has to offer. You've been shooed away by cops for doing crunches after conquering at least 10 sets at the Santa Monica "Stairs." You've tried every combination of trails to the peak of Runyan Canyon (with or without your pooch). And maybe you've even made a few laps up the Manhattan Beach sand dunes (R.I.P.) just for fun. Are you ready to claim the title of Angeleno Fitness Freak? Not so fast, turbo! Before I can dub you King or Queen of the LA fitness scene, you have one more quest to complete your journey.
Here are a few more workouts to check off your list:
1 - Burn 60 studio in Brentwood. It's a cross training workout of treadmill and strength training segments. You'll be running elbow to elbow with Westside soccer moms and A-list Oscar noms. It's trendy enough for you to bump water bottles with the brattiest of reality show stars, yet challenging enough for you to test your mettle. For those of you who are tight on time, co-owner, Drew Gerstein, says this is a great way to get your cardio and weights into one workout. Multi-taskers will definitely get their burn on in 60 minutes. Single classes start at $28 and go down as you buy more.
2 - The Bar Method, several studios in LA area and franchises nationwide. Played out on Pilates? If you've been around the studio scene long enough you may remember the old Lotte Burke method. If so, you have a taste of what the Bar Method feels like. It's a low impact, full body-toning workout that appeals to women who like to feel the muscle burn without jarring the joints. If you're looking to change up your Pilates or yoga routines, check it out at a studio near you. If you have a dance background, you'll get the technique right away. My friend and Spinning student, Nancy - a gym rat in her own right (I mean that as a compliment) - says it's, "challenging and effective to the point it's addicting. Every women who takes this class has a rather lifted and shapely rear end and toned arms." She says her favorite moves are the pretzel and the fold-over, because they are the hardest moves. Go figure! " ...and no matter how strong I become, I always feel my glutes and hip muscles the next day." Starting at $22/class, It's not a cheap addiction to have if you want to do it several times a week - but much better for you than 4 Venti Lattes or say, crystal meth. Fortunately you can scratch your itch as often as you like if you buy the DVD. Search for it on Amazon.

3 - RealRyder, 3200 Airport Avenue, Suite 21, Santa Monica. If Spinning or indoor cycling is your fitness fix of choice, then Real Ryder is indoor cycling on 'roids. You know how addictive Spinning is, once you've found the right instructor. If you want to try taking your indoor group cycling experience to the next level, you have to try RealRyder at least once. My friend, and colleague from Gold's Gym, Adam Reid says, this is the only, "unstationary stationary bike in the world...that accurately simulates a real bike by leaning and turning.... And it provides a 5-in-1 (core, upper body, legs, cardio and balance) workout." Adam is the manager of customer care for the company, so you'll be in good hands if you give his class a test ride. It's a lot harder to master than normal indoor cycling bikes. Adam says his first experience on the RealRyder® Indoor Cycle was like swimming in ocean swells after training for years in a pool.
4 - CrossFit, a franchise of fitness facilities nationwide - several are located in the L.A. area. If the 3 previous workouts make you laugh, then CrossFit will make you cry. Literally. I did one of their easiest workouts when I was on vacation a few months ago, (I forgot whether it was "Mary" or "Jane" - yes, like your car or guitar, they have women's names), and let's just say the next few days of my vacation were hampered by the fact I couldn't stand or walk normally! CrossFit is basically the Advanced Placement course for cross training. It's so hard, you need a 20 minute warm up. Scared yet? Andy Petranek, founder of CrossFit LA in Santa Monica, says this training, "appeals to people who easily get bored, who like to be challenged, who are competitive, and who like the idea of taking on workouts that seem rather impossible." Did I mention it's also for people who aren't afraid to push themselves to the limit and aren't averse to puking during a workout? I'm not joking actually. Get in touch with your inner Navy Seal and give it a try... if you dare! Again, not a cheap jones to fill, but if you go onto the main CrossFit website, you can download the workout of the day and do it for free. You may need some formal classes to learn how to do the moves though - unless you already know how to do cleans and jerks, burpees and thrusters.
Related
Popular in the Community