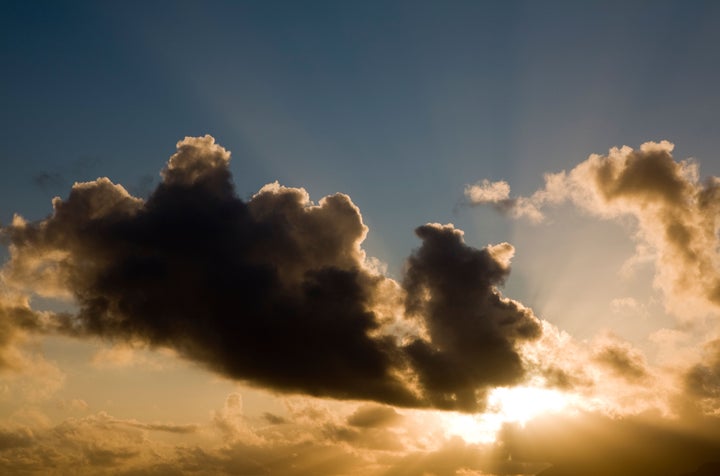 We concluded the funeral liturgy on December 24, 2010 by singing an old hymn with these lyrics:
When we all get to Heaven
What a day of rejoicing that will be
When we all see Jesus,
We'll sing and shout for victory!
I planned this liturgy taking into account my mother's deep faith and her liturgical preferences. As a Protestant clergywoman, I have sat with grieving families to plan a number of funeral liturgies before, but this time was like no other, because I am an only child who planned the funeral liturgy for her beloved mother's Christmas Eve funeral. That hymn embodies a hope that has accompanied the journey of this last year of mourning for me. The hope is of Heaven as a sublimely wonderful place of union with God and reunion with beloved ancestors.
There is a picture that often comes to mind -- an actual photograph. It is a small, misty, black-and-white shot. In the photo, my mother is young and beautiful. She is dancing with a debonair man in a tux. The man is her father and they are waltzing during her Debutante Ball. He is handsome, strong and of upright posture, unlike the paraplegic granddad that I knew and loved. I presume that my grandmother snapped the photo. So, there they are: the three people that I have loved most in the world (until I had my own children) together in a wonderful place with music, dancing and blurry beauty. My deep sadness about my mother's death and absence from my life has been somewhat lessened by imagining that when her soul left her sick and failing body last December 21st, it entered some such lovely scene somewhere. Maybe somewhere is a placed called Heaven?
I am remembering Ms. R, a patient in the hospital in the Surgical Intensive Care Unit to which I was assigned as a Chaplain-in-training and newly ordained minister. Ms. R was a woman in her mid-30s who had come to the hospital with a persistent headache that evidenced an aneurysm. By the time I encountered her, she was in the process of being removed from life support machines. She had a lot of family around, but they were all men and all smokers. Her male kin gathered when the Priest came to provide the Sacrament of Anointing the Sick, but afterward they quickly scattered again to smoking areas.
There I was, wet behind the ears in everything that mattered here, and yet I did not want to leave Ms. R to die alone. So, I determined to stay and try to pray with and for her. When I opened my mouth to pray, no words came. What I was supposed to say? I took a deep breath and focused less on my ministerial insecurities and more on the profound situation in the hospital room. When I tried to pray again, words came from a deep place inside me. I did not even know I had memorized (a paraphrase of) Jesus' words from the Gospel of John until that moment:
Let not your hearts be troubled. Believe in God. Believe also in me. For in my father's house there are many mansions. If it were not so, I would have told you. I go to prepare a place, so that where I am, you may be also.
The year since my mother's death has been emotionally difficult. At one point, an emotional mess, I tried to start therapeutic counseling. I sat in the therapist's office and wept about the sadness and grief that I was feeling. As I blubbered on, the therapist attempted clarification: "So, you are sad because your mother died and you worry about where her soul has gone?" Her question was like the moment in a storm when the sun makes a brief, lovely appearance. I responded to her, "Well, yes, I am deeply sad to lose my mom, but, no, I have no worries about where her soul has gone." I felt strengthened to be able to affirm that my mother's faithful life had made a space for her soul to be somewhere beautiful -- possibly even a celestial mansion, depending on the Biblical translation.
There's an old African American spiritual that proclaims: "everybody talking 'bout Heaven ain't goin' there." It is obvious that the danger of my ruminations is that I know nothing of what I write. Who can give a factual report on Heaven? The grounds for these reflections are patched together from Biblical texts, tradition and spiritual wisdom. From the Bible, I read or infer that: 1) God created Heaven in the great act of Creation; 2) Heaven is God's place of residence; 3) Jesus ascended to Heaven after being resurrected from the dead; 4) over the millennia, lots of stuff has come from there, including voices, angels, food (manna), precipitation, and; 5) eventually, in the Eschaton, Heaven will get a complete makeover, as does earth.
This list is sparse scaffolding on which to chart a grieving journey, as well as build a life and further plans for a life-after-life. My sense of a Heaven somewhere is energized by the work of quantum physicists who are exploring string theory. The idea that there may be parallel universes, or as Prof. Brian Greene of Columbia University calls it a "multiverse" has some weird scientific-theological possibility of updating the notion of Heaven as expressed in the King James translation that is to be embedded in my psyche. I also have come to realize more deeply than before that I desire to live in such a loving and faithful way that I might discover Heaven myself. I am living with the hope that my soul may one day find union with God and reunion with my ancestors -- especially, my beloved mother who made her homegoing one year ago.
REAL LIFE. REAL NEWS. REAL VOICES.
Help us tell more of the stories that matter from voices that too often remain unheard.