Many people know about some of the harms associated with smoking: lung cancer, heart disease, strokes. But there are a lot of negative health effects related to tobacco that are less obvious. In honor of National Nutrition Month, here are several ways in which tobacco negatively impacts nutrition: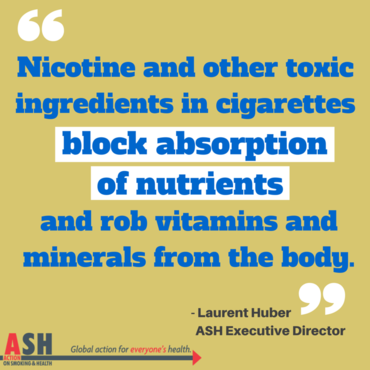 Nutrients: Smoking affects nutrient intake, or how nutrients from food are absorbed by your body. Nicotine and other toxic ingredients in cigarettes block absorption of nutrients and actually rob vitamins and minerals from the body. For example, smoking negatively impacts the absorption of vitamin D, which leads to higher rates of osteoporosis in smokers than in nonsmokers. Smoking just one cigarette drains the body of 25mg of vitamin C, which is as much vitamin C as is found in one orange. Read more here.
Taste buds: Smoking can lead to decreased taste sensitivity, making food less palatable. This has been particularly documented with bitter tastes; smokers have a harder time identifying the bitter taste, like coffee. Read more here.
Finances: Tobacco use in developing countries has been linked to malnutrition in children. Why? The financial cost of smoking. Researchers found that in Indonesia, households of nonsmokers spend on average 75 percent of their budget on food, whereas households in which at least one person smokes allocate 68 percent of their budget to food and 10 percent to cigarettes. Research shows similar issues in other countries. Read more here.
Co-risk factors: Smoking and poor nutrition are also co-risk factors for many non-communicable diseases, or NCDs. Some of these diseases include cardiovascular disease and numerous types of cancer. Read more about risk factors here.
Tobacco and nutrition are not independent, stand-alone issues. As the world works to solve the tobacco epidemic, it must also work to solve nutrition issues.
Several new international documents seek to address both, for example, the United Nations Sustainable Development Goals, which contain goals for both tobacco and nutrition.
These are health problems that can, and must, be solved.