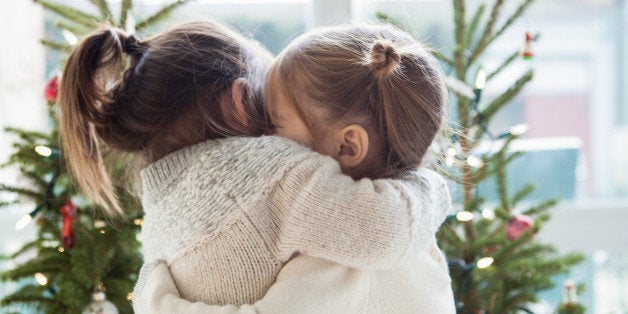 Beginning with Thanksgiving and traveling right through to Hanukkah, Christmas, Kwanza and into the New Year, family time is precious and plenty and for some, the adoption experience can take on a particular level of poignancy. Regardless of religious affiliation or belief system, many of us take a very spiritual journey through the holiday season. We are flooded with ideas and images of a miracle baby messiah, wrapped in swaddling clothes and lying in a manger, surrounded by wise men, the baby's mother Mary and the man that will play the role of his father, Joseph. Long before relationship statuses on Facebook, "it's complicated" absolutely applied to Mary and Joseph.
In the Christmas story we learn that Mary was to marry Joseph, but before they were married, she became pregnant, only not by Joseph, by The Holy Spirit. In other words, God was Jesus's biological father. Even with this magical nativity, it is clear that there are two elements that come together to create the child: an earthly mother (Mary) and a spiritual father (God). Whether you believe in the Christmas story or not, today in the modern world we know there was only one Immaculate Conception and there won't likely be another one. Even with an extraordinarily complicated situation and as the story shows, it appears that Mary, Joseph and God operated with Jesus' best interest in mind. Make no mistake, it was not going to be easy but they were going to make it work.
Today, with modern advances in both relationships and science, families are being created and expanded and parents can be partnered-up or single, gay or straight, couples can successfully co-parent when a separation takes place, birth families and adoptive families can create life-long extended bonds and those creating their families with the help of modern medicine can be open and honest about a child's true identity and biology. This all can and does happen when adults are informed and educated, take the highest road possible and are acting with the child's very best interests in mind. Sadly, it does not always happen in this manner. While there is far less stigma surrounding different family forms today, adults that decide to parent and the professionals who guide them in becoming parents in non-traditional ways have a great responsibility to behave with an ethical and evolved spirit, putting the healthy development and well-being of children first instead of their own need to become parents.
Part of what I love about the Christmas story is realizing God had a plan for Jesus. His plan was clear and Mary and Joseph acted on this plan with integrity. God did not abandon Jesus, instead he became his spiritual father and Joseph stepped up as his earthly father. Again, whether you believe in this narrative or not, quite a poignant example of fatherly responsibility and shared parenting. When I think about all of this in relation to adoption, I can't help but think of the many ways we can practically improve the process on so many levels especially related to fathers.
As an adopted person and an advocate for all families, I can relate to the complicated Christmas nativity. I have amazing parents by adoption, know a bit about my biological mother with some wonderful connections to extended family members, but I have no earthly connection to my biological father. I connect with him only in spirit because I have no idea who he is or where he is. Part of what makes my professional and personal journey so remarkable is exploring my adoption experience, and in doing so connecting to so many members of the extended family of adoption where I find understanding, insight, healing and inspiration.
One such member of the adoption community is Darrick Rizzo, entrepreneur and author of "The Open Adoption: A Birth Father's Journey". Darrick has made his personal journey public in order to help others. Brave people like Darrick that share insights help all of us understand the many layers of this very personal experience. I recently sat down with Darrick to learn more about his adoption experience.
April: How has adoption changed your life?
Darrick: It opened my eyes to how good open adoption could be if done the right way. It has made me a believer. I have also learned how to forgive and overcome obstacles that I may not have been able to had I not gone through this experience. Now I travel all over the country being an activist for open adoption. It has also strengthened my relationship with God.
April: What is a lesson for your adoption experience that could be life-changing for all families?
Darrick: When you're 18 years old and faced with an unplanned pregnancy, even though you are considered an adult, I would strongly recommend having your parents or other people close to you that you trust involved in all meetings while discussing options.
April: What life-lessons have you learned from your experience of being a first/birth father?
Darrick: Get as much information as you can about the adoption laws in your state and find licensed professionals to guide you during the process. I never knew birth fathers had rights -- now I know we do.
April: It is rare that we hear the voices of first/birth parents, rarer still to hear from first/birth fathers, can you tell me why you think that is?
Darrick: I think it's rare for birth fathers to speak out because the stereotype is that birth fathers don't exist. They are not around or there to support the birth mother. I truly feel there are a lot of birth fathers out there like me but they don't have the courage to speak up and share how they feel. That's why I feel my voice is important and I hope I can help other birth fathers on their journey as well.
April: You have been such a strong voice in the adoption community - can you tell me why it was so important for you to write your book about open adoption and share your very personal experience?
Darrick: Once again, I feel as though birth fathers are known to be non-existent. I think many of us are scared to voice our true feelings or don't know how to share it. Fortunately, I'm blessed to have the heart and wisdom to share my birth fathers experience. I really feel that my experience with open adoption is important to share so what happened to me doesn't happen to someone else. I truly believe birth parents and adoptive parents can learn from my story.
April: What do you hope people will take away from reading your book and hearing about your experience of being a first/birth father?
Darrick: First, be careful of the promises you make in the open adoption world. I don't think anyone should promise the world to someone not knowing if you can follow through or not. If open adoption is done the right way, it can be a beautiful experience for everyone involved. Second, I want you to take away from the story that no matter what someone does to you, you can forgive them. And last, birth fathers like me are out there. They have feelings, they care and want to be a part of their child's life.
April: What changes would you like to see made in adoption?
Darrick: I am not an adoption expert, so I don't know if this has changed or not, but there should be some kind of legal documentation regarding all promises made between the adoptive parents and birth parents. Also, I think all states should approve making birth parent records available to adopted people so they can get vital information and possibly make connections if they choose to. Lastly, I would change the reference of "first parent" to "birth parent".
It was enlightening to learn from Darrick, especially as we see more and more news stories about birth fathers fighting for their rights and their children. Understanding the different perspectives of the people closest to adoption is imperative. With this in mind, my hope is that individuals faced with a complicated situation and an unplanned pregnancy, as well as the professionals that surround them, will put the health, safety and well-being of children first. And that, when and if adoption becomes an option, all parties will operate in an evolved and ethical manner guided by licensed professionals that put the children's best interest at the center.
We don't all have to aspire to be like Mary, Joseph and God, but don't we do owe it to all of our children to be responsible and thoughtful parents, taking all we know from research and best practice to upgrade how we operate? As we move on from another holiday season, the real miracle will be working towards keeping families intact and when that is not an option, upgrading the way we practice adoption, moving from the transactional nature towards a process that is much more transformational.
Darrick Rizzo is an accomplished entrepreneur, author and activist for the adoption community. You can learn more about his book here.