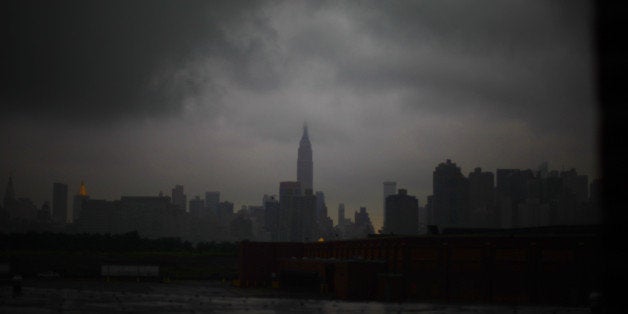 Crippled infrastructure and stalled economic activity is on no government's wish list. Realizing that climate change could make them a recurring reality, cities are ramping up their climate adaptation and resilience projects. Too often, however, low-income communities and communities of color are overlooked for this investment. That needs to change.

Senator Chuck Schumer recently announced that New York City will get $176 million in federal funding for storm protections. The ambitious project will fortify the Lower East Side and Southern tip of Manhattan, a densely populated coastline that is vulnerable to flooding. The plan includes state-of-the-art sea walls, temporary floodwalls, and expansive grass river beams to absorb waves and double as recreation areas when the sun is shining. It will improve the resilience of an area that needs protection against increasingly extreme weather and shield vulnerable public housing as well as the city's financial nerve.

This proactive project will protect jobs, residents and critical infrastructure--proving the value of considering climate change in long-term city planning. But it ignores the needs of the extremely vulnerable in other parts of New York and New Jersey. Low-income and working-class communities in the region, like the Rockaways, Newark, and Hunts Point, continue to be under-resourced in terms of climate resilience and adaptation. Their homes, businesses and economies continue to be threatened by rising sea levels, floods, torrential precipitation, extreme heat and powerful storms.

The reality is that the United States has a structural deficit when it comes to funding climate resilience projects across the board. This deficit is exacerbated by the deteriorated infrastructure and lack of services in the most vulnerable communities. Low-income communities--often communities of color--experience the worst climate impacts and are usually the last to get help.

The Lower Ninth Ward in New Orleans bears testimony to this. This majority African-American area of the city was devastated in Hurricane Katrina and support for recovery was shamefully sluggish. While most of the pre-storm population is back in the rest of New Orleans, less than half of the mostly African American residents have retuned.

Environmental injustice is just one facet of the pernicious inequity threatening to tear America's social fabric. That the communities most in need of support are often the last to receive it is not new or surprising. But that doesn't make it right.

Investing in climate adaptation projects in low-income communities should be at the top of our priority list. The prolonged drought in California has disproportionately impacted communities of color and the poor from tribal, rural and farming communities. Farming communities in places like Porterville are seeing their wells dry up and have no reliable water infrastructure to fall back on. Poor-quality housing and infrastructure, proximity to environmental hazards and lack of economic security have hampered communities and individuals' ability to survive and recover from climate related disasters. Unless their needs are met with government investment, these communities could witness a complete collapse. Flint Michigan is yet another reminder of the devastating effects of government negligence, poor infrastructure and the legacy of environmental injustice that climate change can exacerbate.

In addition to catalyzing innovative adaptation planning, the National Disaster Resilience Competition--which brought the $176 million project to New York City--also aimed to promote innovative, local resilience projects across the region and the country. The prize money was meant as a starting point, bait to get cities to start moving in this forward-thinking direction. We must take this momentum and run with it to every corner of every city.

Some projects -- like the storm water drainage systems being installed in flood-prone neighborhoods in Queens, New York--are underway. Other projects like decentralized micro-grids, green spaces in urban heat islands, and other interventions are needed. But Mother Nature got a big head start on climate change and we are playing a dangerous game of catch up. It's up to us to make sure that no one is left behind.

Ana Baptista is the Associate Director of the Tishman Environment and Design Center at The New School.
Related
Popular in the Community