My mosque, the Mecca Center, held its first candidates' forum in a community center because early voting has begun in Illinois. Although it is an election year, we are concerned about issues that affect us as Muslim-Americans no matter what season it is. These issues included: 1) gun safety, 2) Islamophobia, 3) immigration, 4) refugee resettlement policy, and 5) state budget deficit spending.
Thankfully, a range of candidates attended across different levels--including candidates running for U.S. Congress as well as State Representatives and our local county board. By and large, many Muslim Americans are registered to vote: 300,000 registered in the last four years. Step one, voter registration, is easy. Step two, voter education, is not: Voter education is an ongoing process, and our population is diverse.
Unfortunately, an incumbent, running for local office in the Western suburbs of Chicago, walked in expressing frustration with our issues arguing that they were too Muslim-focused. Apparently, his office did not think our issues were relevant to his position. My response was, "It's a packed room on a rainy, Saturday night. Get to know your constituents -- they are expressing concern over issues that are not all Muslim-focused and actually overlap with other American concerns, like gun safety and promoting social justice." If all politics is local, then #MyMuslimVote community believes that "thinking globally, acting locally" is "relevant."

Voter Education: #MyMuslimVote
The Mecca Center's Outreach committee formed a Candidates' Forum subcommittee to organize this event. This group included Warka Barmada, Shereen Hussain, Lena Kasi Touleimat, Zuka Jabri, Hani Atassi, Lubna Farooq, Salwa Sunbulli, and myself. They came from the legal, financial, economic, education and academic fields. In an effort to remain nonpartisan, we invited both Republicans and Democratic Party candidates at the county and state level to present their positions on four issues that our community remains concerned about in the 2016 elections. Dozens of our friends and family volunteered to ensure the success of the event and tweeted how to exercise #MyMuslimVote. The organization mPower leads the #MyMuslimVote campaign and encourages communities, like mine, through voter education tools.

Candidate Education: #MyMuslimVote
Illinois is among the most recent states to allow 'conceal and carry'. Chicago has witnessed its deadliest month in two decades with 471 gun deaths. At the same time, our country is debating whether to ban semi-automatic weapons at a policy level. My community wants to know what will local candidates do to ensure gun safety for our community and for our non-Muslim neighbors. #MyMuslmVote and my community want to know which candidates receive political action money from the National Rifle Association.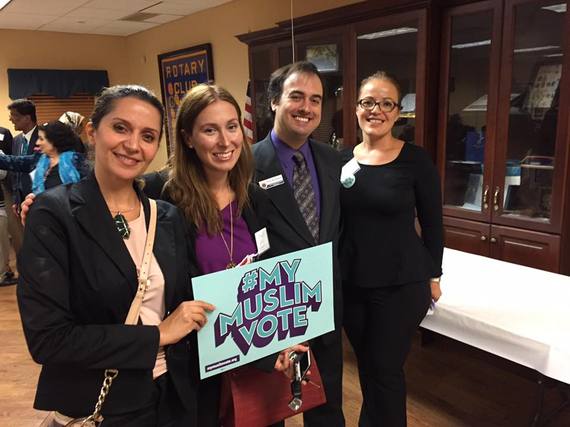 Election candidates need to appeal to Muslim-American voters much like business to business venture (B2B)--unlike a business to consumer approach (B2C). Thinking globally is relevant. Acting locally is relevant. People who organize voter blocs mirror the practices of businesses who strategize how to tap into emerging markets. Candidates who build political capital recognize that they need to appeal to new voting blocs the way businesses try to appeal to new customers. Listening to minority communities in a localized setting is like establishing rapport before agreeing to sole source contracting. Also, when a local candidate agrees to a face to face interaction, this shows that the voter's concern is valid. Much like a small business, the local candidate is responding to the customer's "request for proposal" (RFP). In the small business sense, it is a huge decision to channel all financial resources into one venture. There is no time for "strategerie".
Political campaigns should operate the way businesses appeal to customers. So in our case of the Muslim-American voter bloc, we are talking about social capital: the kind of "wealth" that includes community networking (townhalls, listserves, Whatsapp groups, weekly committee meetings) and social efforts that provide social, financial, and educational services within our community (charity, Zakat funding, and food pantries). On paper, the "customer is always right" basically means that the customer must feel validated. If a business fails to validate the customer, then the business loses; if a candidate fails to validate the voter-bloc, then the candidate loses voters. Therefore, Mr. Incumbent: we hope that you took notes at our townhall--even if you are not directly responsible for policy-change--we may invest our social capital (votes) into your success so that you influence your colleagues who are in those positions "relevant" to our concerns: gun safety, denouncing hate crimes--like Islamophobia, immigration, and socially conscious state budgets.